New York City Council
Reports say Corey Johnson is steps away from becoming the next New York City Council speaker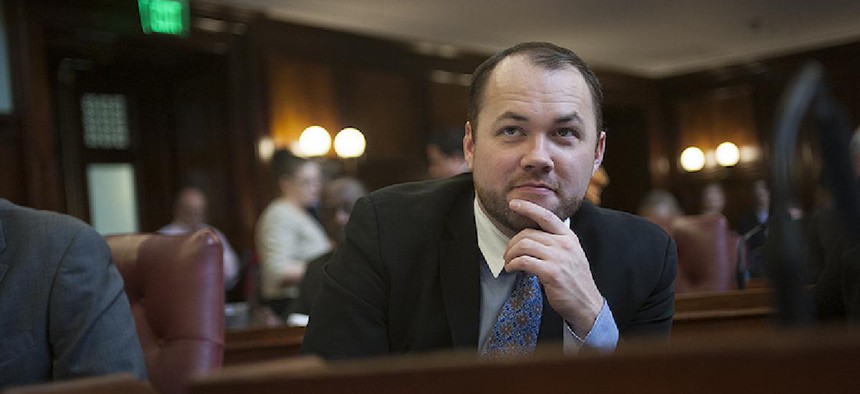 Corey Johnson is steps away from becoming the next New York City Council speaker, according to numerous reports.
The Daily News, The New York Times and Politico New York are among the outlets reporting that county leaders from Queens and the Bronx have reached an agreement to support Johnson, a city councilman representing the the West Side of Manhattan.
Queens County Democratic Party leader Joe Crowley and Bronx Democratic County Committee leader Marcos Crespo are among the biggest players in choosing the next speaker. While fellow City Council members will actually cast votes for the leader of their body, most votes are pledged to county leaders or other coalitions ahead of time.
Gerson Borrero reported for City & State in November that whoever Crowley supported would be the next speaker and that Crowley had secured well over a majority of votes in the council.
RELATED: Who's a player in the New York City Council speaker's race?
While Johnson has received a steady stream of congratulations over Twitter today, Johnson himself has not declared victory. He has not responded to a request for comment, and neither have Crowley and Crespo.
Another city councilman, Robert Cornegy, vowed to keep up the fight. "Nothing has happened between yesterday and today to change the dynamics in the Speaker's race," Cornegy tweeted. "We continue to run our positive, vigorous campaign to make history."
Cornegy has been considered among the leading candidates in the eight-man race, along with Johnson and City Councilman Mark Levine. Levine declined to comment on today's news.
This speaker's race seems to be following a very different script than four years ago. Then-City Councilwoman Melissa Mark-Viverito declared victory that year with a Dec. 18 press release touting support from 30 of the council's 51 members. Mark-Viverito did not have Crowley's support, however, and the congressman vowed to keep pushing for his preferred candidate, City Councilman Dan Garodnick. The lobbying continued until the bitter end, and it wasn't clear that Mark-Viverito would win until minutes before the members voted.
Former City Councilman Sal Albanese predicted more drama may unfold this year as well. "You can't rely on commitments from most members until day they cast their vote," he opined on Twitter, suggesting that Johnson "should take all  his 'committed' colleagues &  lock them up in a hotel like sequestered jurors," until they vote on Jan. 3.
Johnson would be the fourth speaker in a row from Manhattan, following Gifford Miller, Christine Quinn and Mark-Viverito. Johnson is white, and would have to be elected despite the preference of the council's Black Latino and Asian Caucus for a speaker of color.
You can read more about this year's process in our Dec. 3 cover story about who really matters in the race for speaker.