This Week's Headlines: Two speeches and a coronation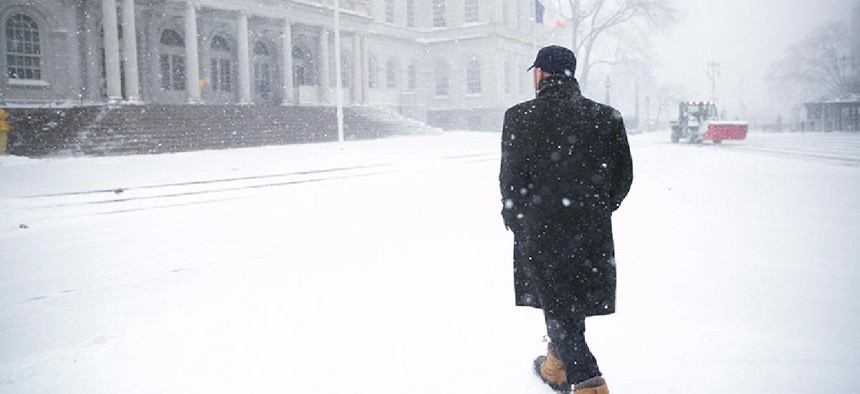 The week started out bitterly cold with subfreezing temperatures, despite what some subway countdown clocks might say. The week ended with a nor'easter, or more specifically a "bomb cyclone," dropping several inches of snow on New York City, Long Island and the surrounding areas. Although the weather may seem all-consuming, see what else happened in this week's latest headlines.
Return of the mega-lectern
Gov. Andrew Cuomo gave his eighth State of the State address this week. He laid out his 2018 agenda, promised to fight Washington and got rare praise from his rival, New York City Mayor Bill de Blasio. Cuomo decided to keep it to just the one speech after taking his show on the road last year for a total of six addresses across the state. He also brought back the enormous lectern he used in 2016, dubbed "Podiumasaurus" by one member of the press. State Democrats liked the speech, state Republicans thought it had too much of a national focus, but perhaps the biggest takeaway was that Cuomo has the stamina to give a 92-minute speech.
RELATED: Corey Johnson named new New York City Council speaker
The Coreynation of Corey Johnson
Although it looked like it had already been decided by county leaders, New York City Councilman Corey Johnson officially became the new council speaker in a nearly unanimous vote. The only person not to vote for him was City Councilwoman Inez Barron, who voted for herself. Many council members gave short, heartfelt speeches of support. (Ritchie Torres appeared to have brought Johnson's mother to tears.) And for his part, Johnson told reporters he would not be afraid to challenge the mayor.
De Blasio feels the Bern
On a very cold and blustery New Year's Day, de Blasio was sworn into office for his second term by progressive Democratic icon U.S. Sen. Bernie Sanders. Much to the pleasure of the freezing crowd, de Blasio delivered a short, if somewhat dull, speech. He promised to keep fighting for his progressive agenda in what some saw as another attempt to elevate himself onto the national stage as a progressive leader. Having Sanders there, as opposed to the Clintons four years ago, certainly conveyed that message.