Donald Trump
Tweets show Molinaro cozying up to the Trumps
Tweets show Molinaro cozying up to the Trumps, while the Republican gubernatorial nominee has sought to distance himself from the president.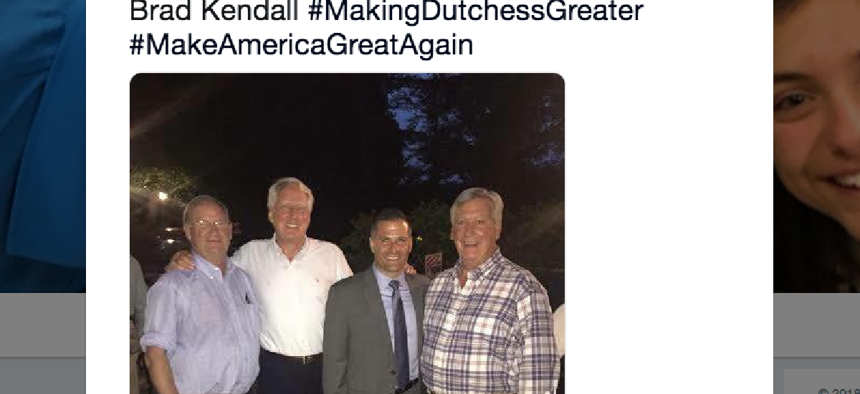 Republican candidate for governor Marc Molinaro has tried to make it clear that he's not a Trump supporter during his campaign, but social media posts from 2015 show him cozying up to the president's family and using Trump's favorite #MakeAmericaGreatAgain slogan.
The president's brother, Robert Trump, hosted a fundraiser for Molinaro on Sept. 30, 2015, ahead of Molinaro's successful re-election bid for Dutchess County executive. Robert is reportedly retired and living in Millbrook, in Dutchess County. He used to work in his father Fred Trump's real estate empire, and was featured in the New York Times' investigation into the Trump family's tax schemes. Molinaro promoted the fundraiser heavily on his Twitter and Facebook pages. At one point he even tagged Dan Scavino, then the social media director of Trump's presidential campaign, apparently hoping for acknowledgement from the influential account. Scavino didn't seem to engage.
About a month before the fundraiser, Molinaro posted a photo with Robert Trump and two other local politicians, tagging it with "#Trump" and "#MakeAmericaGreatAgain."
#Trump Robert w/@SheriffButchDC & Clerk Brad Kendall #MakingDutchessGreater #MakeAmericaGreatAgain pic.twitter.com/Yb5b0l5dus

— Marc Molinaro (@marcmolinaro) September 4, 2015
Then on Oct. 17, 2015, Molinaro posted a photo with Donald Trump's son Eric, taken at an event for St. Jude Children's Research Hospital. The Eric Trump Foundation raised millions of dollars for St. Jude, but the younger Trump resigned in 2017 following allegations that he misled donors.
Molinaro noted from the very beginning of his campaign that he didn't vote for Trump in the 2016 general election, instead writing in the name of former Hudson Valley Republican Rep. Chris Gibson. Despite that, Gov. Andrew Cuomo's campaign has repeatedly called Molinaro a "Trump mini me," hoping the association with the president, who has a 37 percent approval rating in New York, would hurt his fellow Republican. Molinaro did not respond to a request for comment.
Donald Trump's presidential campaign was gaining steam in September 2015, at the time when Molinaro was courting his family members. Trump was leading in many Republican primary polls. The day before Molinaro posted a photo with Robert Trump, Donald hosted a theatrical press conference at Trump Tower pledging to not run in the general election if he were to lose the Republican primary.
Molinaro made few mentions of Trump in 2016 after the Republican field thinned. Though Molinaro thanked Trump on Facebook for visiting Dutchess County on April 12, he didn't come to the candidate's defense when commenters expressed disgust. "We invited (all the candidates) and I believe every vote should be earned, every voice heard and every candidate should earnestly seek the support of the voters," Molinaro wrote.
But Molinaro's relationship with the Trumps wasn't over. Two days before Donald Trump was elected president, Robert hosted another $250-per-plate fundraiser for Molinaro. Molinaro did not appear to advertise it on his social media accounts.
Robert Trump continues to support Molinaro, and donated $25,000 to his campaign for governor on June 28, according to campaign finance reports with the state Board of Elections. Robert Trump previously donated $6,500 to Molinaro's campaign for county executive.
Of course, Molinaro's ties to the Trumps seem to fall short of Cuomo's, though the governor's came much earlier. Donald Trump has donated $64,000 in total to Cuomo's political campaigns, most recently in 2009. Cuomo has declined to return the contributions. And though The New York Times reported that Trump and Cuomo have "never been particularly close," Trump appeared in a video for Cuomo's bachelor party in 1990.