The endorsements for NYC public advocate candidates
Who has endorsed whom in the New York City public advocate special election? With candidates running on their own lines, recommendations may play a larger role.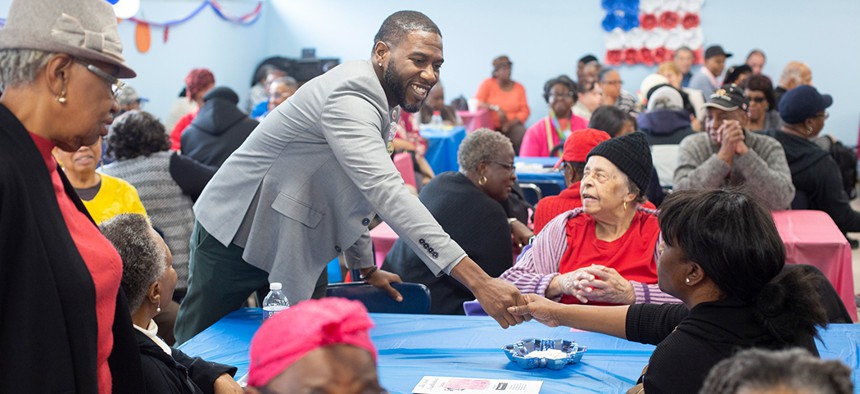 Sorry, low-information voters. This race isn't going to be as easy as "just vote for the Democrat." The special election for New York City public advocate is nonpartisan, meaning every candidate will be running on a party line of their own creation.
That fact, plus the the crowded field and the unique, mid-winter timing of the election, means endorsements are likely to be more important than usual in this race, as elected officials, unions and political clubs tell New Yorkers who to vote for on Tuesday, Feb. 26.
These are the 17 candidates that have been approved by the New York City Board of Elections – though not all are happy about it. Assemblywoman Latrice Walker suspended her campaign and tried to get off the ballot, but the Board of Elections ruled she was too late.
We scoured press releases, social media and candidates' websites to compile the list of endorsements, which is accurate as of Feb. 24.
---
Manny Alicandro
Michael Blake
Organizations: Bay Ridge Democrats, Citizens Union, Elmer H. Blackburne Democratic Club, Guy R Brewer United Democratic Club, Independent Neighborhood Democrats of Brooklyn, Liberty Democratic Club, The People First Democratic Club of ENY Brooklyn, Slay The Vote, Thurgood Marshall Regular Democratic Club, United for Progress Democratic Club

Labor: DC37 Local 372, BAC Local 7 Tile Marble & Terrazzo, Local 1113 DC37

Public figures: Reps. Eliot Engel, Greg Meeks and José Serrano, state Sens. Jamaal Bailey and Luis Sepulveda, Assembly members Carmen Arroyo, Jeffrion Aubry, Jeff Dinowitz, Nathalia Fernandez, Alicia Hyndman, Victor Pichardo, José Rivera, Rebecca Seawright, Michele Titus, Tremaine Wright and Robert Rodriguez, New York City Council members Donovan Richards, Rafael Salamanca, Ritchie Torres, Mark Gjonaj and Justin Brannan, former Lt. Gov. Dick Ravitch, former state Comptroller Carl McCall, The New School Senior Vice President Maya Wiley
David Eisenbach
Organizations: Brooklyn Progressive Alliance (joint with Williams)
Rafael Espinal
Organizations: The Liberal Party, Freelancers Union, Der Yid (newspaper)

Labor: Teamsters Joint Council 16

Public figures: New York City Councilman Stephen Levin, musicians Marky Ramone and Lance Bass, filmmaker Darren Aronofsky, environmental activist Lauren Singer, Satmar grand rabbi Zalman Teitelbaum
Anthony Herbert
Ron Kim
Organizations: Lexington Democratic Club

Public figures: Assembly members Peter Abbate, Yuh-Line Niou and Dan Quart, New York City Councilman Paul Vallone 
Nomiki Konst
Organizations: Millenials for Revolution, New Queens Democrats

Public figures: Rep. Ro Khanna, New York City Councilman Costa Constantinides, actresses Rosario Dawson and Susan Sarandon
Melissa Mark-Viverito
Organizations: Lambda Independent Democrats of Brooklyn, Latino Victory Fund, National Association of Social Workers - NYC Pace, New York State Immigrant Action Fund, Allewaa Alarabi newspaper, National Organization for Women – New York City, #VoteProChoice, El Diario, FDNY Vulcan Society, Streets PAC, Taxistas Unidos NYC, The Weekly Bangla Patrika

Labor: United Sanitationmen's Association Local 831

Public Figures: Rep. Adriano Espaillat, Assemblywoman Catalina Cruz, New York City Council members Diana Ayala, Margaret Chin, Andrew Cohen and Mark Levine, LGBTQ activist Melissa Sklarz
Daniel O'Donnell
Organizations: The LGBTQ Victory Fund, Stonewall Democrats of New York City, Broadway Democrats

Public figures: Former Rep. Charlie Rangel, state Sen. Liz Krueger, state Sen. Robert Jackson, Assemblywoman Inez Dickens, former Rep. Joe Crowley, former state Sen. Franz Leichter, Assembly members Michael Benedetto, Michael Cusick, Maritza Davila, Deborah Glick and Cathy Nolan, former Assemblyman Ed Sullivan, Manhattan Democratic Committee Chairman Keith Wright, actress Rosie O'Donnell
Ydanis Rodriguez
Organizations: Bengal Democratic Club

Public figures: New York City Councilman Ruben Diaz Sr.
Jared Rich
Organizations: Stonewall Veterans' Association
Helal Abu Sheikh
Dawn Smalls
Organizations: East River Democrats and Executive Women for Her, Downtown Women for Change

Public figures: Former U.S. Health and Human Services Secretary Kathleen Sebelius
Eric Ulrich
Organizations: New York Daily News, New York Post, Bronx GOP, Brooklyn GOP, Manhattan GOP, Queens GOP, Staten Island GOP

Public figures: New York City Councilman Robert Holden 
Latrice Walker
Public figures: Rep. Yvette Clarke, New York City Councilwoman Alicka Ampry-Samuel, 32 Christian pastors
Jumaane Williams
Organizations: 504 Democratic Club, Brooklyn Progressive Alliance (joint with Eisenbach), Central Brooklyn Independent Democrats, Citizen Action of New York, Coalition for a District Alternative, Community Voices Heard Power, District Council 9 New York, Ernest Skinner Political Association, Four Freedoms Democratic Club, Indivisible Nation Brooklyn, Jim Owles Liberal Democratic Club, New Kings Democrats, New York Communities for Change, New York Progressive Action Network, North Brooklyn Progressive Democratic Club, Shirley Chisholm Democratic Club, Working Families Party, Brooklyn Democratic Party, Korean Americans in Action, Vanguard Independent Democratic Association, 350 Action, The Jewish Vote, New Downtown Democrats, The New York Times, NYC Kids PAC, United Democratic Organization

Labor: 100 Black Construction Workers, Building and Construction Trades Council of Greater New York, DC 1707, Laborers Local 79, Metallic Lathers Local 46, New York City District Council of Carpenters, New York State LiUNA, Professional Staff Congress CUNY, Sheet Metal Workers Local 28, SSEU Local 371, UA Local 1, Alliance for South Asian American Labor, Bricklayers and Allied Craftworkers Local 1, International Union of Elevator Constructors Local 1, Teamsters Local 814

Public figures: Manhattan Borough President Gale Brewer, state Sens. Kevin Parker, Roxanne Persaud, Julia Salazar and James Sanders, Assembly members Rodneyse Bichotte, Vivian Cook, Mathylde Frontus, Walter Mosley, Diana Richardson, Al Taylor, Helene Weinstein and Jaime Williams, New York City Council members Laurie Cumbo, Vanessa Gibson, Ben Kallos, Andy King, Brad Lander, Daneek Miller, Antonio Reynoso and Jimmy Van Bramer, former New York City Public Advocate Mark Green, Kings County Democratic Chairman Frank Seddio, former attorney general candidate Zephyr Teachout, Cynthia Nixon and actress Alyssa Milano
Ben Yee
Organizations: Downtown Independent Democrats, Grand Street Democrats, One Queens Indivisible, Village Independent Democrats