New York State
Gillibrand pushes hard to be heard on crowded debate stage
The senator highlighted her support for women's rights in NBC's Democratic presidential primary debate.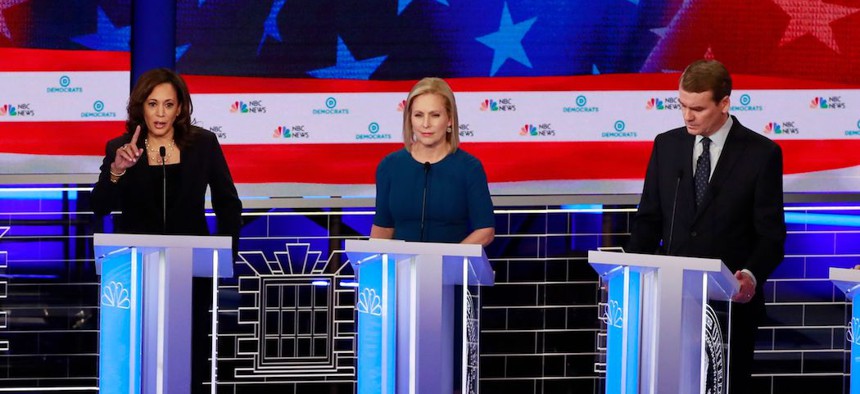 Sen. Kirsten Gillibrand entered Thursday evening's Democratic presidential debate in dire need of a breakout moment. She is down in the polls and there is the perception that her candidacy isn't going the way she wants. But sticking out among a 10-person crowd on the debate stage is easier said than done.
That was not for lack of trying. Gillibrand asserted herself early on in the debate and continued to inject herself into the back-and-forth, despite receiving only a handful of questions directly from the moderators. The junior senator from New York highlighted her support for issues such as women's rights, publicly funded elections and gun control as she sought to cast herself as an alternative to top-tier candidates onstange like former Vice President Joe Biden, Sen. Bernie Sanders, South Bend Mayor Pete Buttigieg and Sen. Kamala Harris. Gillibrand managed to pack her comments with a mix of policy details and references to progressive boogeymen like the Koch brothers, but the biggest moments of the debate belonged to her rivals such as Harris others. It remains to be seen whether she struck a chord with voters in a way that will significantly grow support for her campaign, which has polled at an average of 0.5% in recent months.
Debate moderators overlooked her early on, with her first opportunity to speak coming 10 minutes in, after an exchange between Sanders – who supports implementing a single-payer healthcare system nationwide – and Sen. Michael Bennett, who opposes abolishing private insurance but would create a public option on the Obamacare health insurance exchanges. Gillibrand cast herself as holding a middle ground between the two. "The debate we're having in our party is confusing. There's a big difference between capitalism on the one hand and greed on the other," she said before launching a quick attack on the NRA and insurance companies. Two minutes later she jumped into the fray again to state her support for a public option. 
But at other times it was apparent that Gillibrand was struggling to get attention on stage. The moderators ignored several of her vocal attempts to grab attention. "Now it's my turn," Gillibrand said at one point in the debate, before stating that she believes health care should be an earned benefit like Social Security, an effort to distinguish herself among a group of Democratic candidates competing to show their progressive bona fides. Gillibrand blasted for-profit prisons, promised funding for border security and referenced her efforts to address sexual assault in the military. Like every other candidate on stage, she took aim at President Donald Trump and how he has divided the country. "He's torn apart the moral fabric of who we are," Gillibrand said.
Harris at times however appeared to stick out in ways that Gillibrand had hoped to. The California senator blasted Biden for his past opposition to school busing and recent nostalgic comments about former segregationist colleagues in the Senate. "It was actually hurtful to hear you talk about the reputations of two United States senators who built their reputations and career on the segregation of race in this country," said Harris, who was the only woman of color on stage. While Gillibrand would repeatedly emphasize her work on women's rights during the debate, she never got a similar chance to contrast herself with Biden, whose handling of the sexual harassment allegations against then-Supreme Court nominee Clarence Thomas – and whose habit of touching women in ways some said they found intrusive – has come under scrutiny in recent months. 
The first votes in the 2020 Democratic primary will not be cast until next year, so there is plenty of time for Gillibrand, and any other candidate, to catch fire. While Gillibrand may not have broken into the top tier yet, she did get to end the night with a closing statement that encapsulated her pitch: that she is the women's rights candidate, the best contrast to a president accused of sexual assault by 16 women, like leading the charge to confront sexual assault in the military. 
Gillibrand was Hillary Clinton's replacement in the Senate and now she is hoping to be Clinton's successor as the candidate of women whose top priority is gender equality. "Women in America are on fire," Gillibrand said. And, in a clear pitch for the former Clinton voters who fear that the country is not ready to elect a woman after all, she added: "But our rights are under attack like never before… now is not the time to be afraid of firsts." 
Powered By
NEXT STORY: Cabán likely to face pushback within Queens DA's office