New York State
Is Chris Collins running for Congress again?
You probably haven't heard the last of the Trump-loving congressman.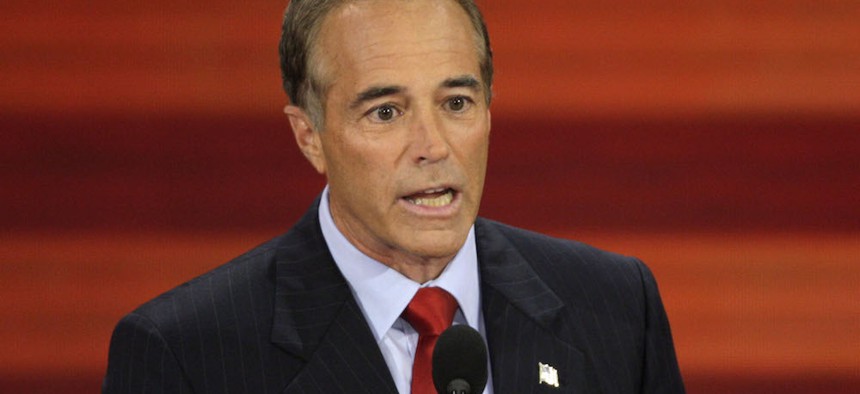 If you thought President Donald Trump's biggest congressional cheerleader was slinking away with his indictment between his legs, think again: Rep. Chris Collins looks to be gearing up for another campaign run. 
After Collins poured $500,000 of his own money into his campaign fund in mid-June, speculation over whether he may be running for his fifth term began to swell in the New York political sphere, The Buffalo News reports. He similarly provided his campaign with $500,000 in 2012, while running against then-Rep. Kathy Hochul. 
Once one of the safest congressional lawmakers, voters grew less enthusiastic about him after he was indicted on insider trading charges last summer.
Collins' former rival and Democratic challenger, Nate McMurray – who came tantalizingly close to beating Collins last time around despite not living in the overwhelmingly red district and is likely to run again, especially if Collins does – also called attention to the congressman's recent activities on Twitter, advising people to "get ready." 
I was sincerely hoping @RepChrisCollins (Trump's number one supporter and our nation's worst Congressman) was just going to go away. He's not.

He put 500 grand into his campaign account yesterday. He thinks he can buy everything. He can't buy us.

GET READY

— Nate McMurray (@Nate_McMurray) July 17, 2019
But Collins isn't just moving money around. The Trumpian congressman also introduced the anti-immigration "Red Light Act" on Monday, which would restrict federal highway funding in states where driver's licenses are provided to "illegal immigrants" – an unusual step of a lawmaker trying to deprive funds to his own state in order to force it to change its laws. The introduction of such legislation further supports the notion that Collins will be running for his seat again, as running hard on immigration was key to Collins winning over his district. 
In 2018, he ran an inflammatory attack ad against his then-opponent McMurray which was widely regarded as having a xenophobic message. The video features McMurray speaking Korean (his wife's native language) with text superimposed over the footage insinuating that McMurray is working with the Korean and Chinese governments to take away jobs from Americans: "Fewer jobs for us … more jobs for China and Korea." However, McMurray made no mention of jobs in the clips shown in the ad, The New York Times noted at the time.
Should Collins jump in the race again, he'll have to face off in the primary against Republican state Sen. Christopher Jacobs, who poses more of a threat than Democrat McMurray, considering the district's conservative leanings. In May, Jacobs publicly called the congressman an ineffectual political leader who would not be "fully capable of advocating for this district." 
Collins has yet to comment on whether or not he's officially running for Congress again, but shared a statement on Twitter Monday, following the news of his dropping an exorbitant amount of money into his campaign fund. "While I will ultimately make a decision about re-election later this year, every one of my campaigns has had the necessary resources to get my message out," Collins tweeted. "This one, should I run, will be no different."
Powered By
NEXT STORY: Poll: Does the MTA need to be restructured?