New York State
Questions on Epstein's death and CVA lawsuits
Rounding up the week's political news.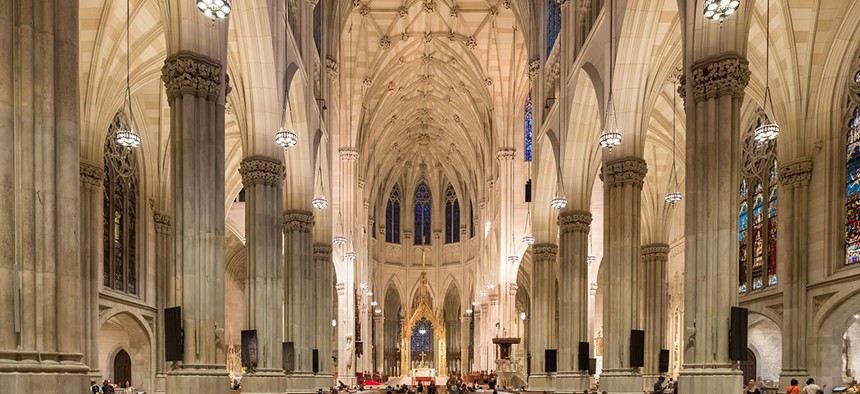 Startled straphangers came face to face with an unusual animal that would be more at home in an actual jungle than its concrete cousin: a giant praying mantis that hitched a ride on the subway.
And when we say "giant," we mean this carnivorous bug looked big enough to snack on small dogs in bags. Luckily, praying mantises are largely harmless to people (and dogs), so the sight was more of an oddity than a cause for concern.
Child Victims Act lawsuits roll in
The Child Victims Act went into effect on Wednesday, opening a temporary look back window for people to file civil lawsuits alleging childhood sexual abuse even if the statute of limitations had passed. People bringing cases have one year to file suits regardless of when the abuse was alleged to have taken place. On the first day, victims brought more than 400 lawsuits against alleged abusers and their institutions, including the Roman Catholic Church and the Boy Scouts. New York City alone had 169 cases. Experts expect more than 1,000 lawsuits will be filed before the window closes.
Questions on Epstein's suicide
Accused child sex trafficker Jeffrey Epstein reportedly hanged himself while awaiting trial in the federal Metropolitan Correctional Center in Manhattan. Troubling facts have emerged about the circumstances leading up to Epstein's death, spurring conspiracy theories online and from New York City Mayor Bill de Blasio, who called it "way too convenient." Epstein was believed to have tried to kill himself several weeks earlier, but he was no longer on suicide watch at the time of his death. He was placed in a cell alone, which was against the jail's policy for those recently taken off suicide watch. Additionally, guards who were supposed to check on Epstein every 30 minutes had not done so in hours, and are suspected of falsifying logs to show they had. Although Epstein's accusers can no longer face him in court, at least one has filed a civil lawsuit against his estate.
Sexual harassment bills signed
Gov. Andrew Cuomo signed a bill that establishes a new standard for sexual harassment and other forms of workplace discrimination in the state. The law lowers the threshold for filing a complaint by eliminating the legal standard that behavior must be "severe or pervasive" to qualify as harassment, which many experts considered to be an unreasonably high bar. The new state law also extends the statute of limitations to file sexual harassment claims with the state and bans nondisclosure agreements as part of settlements. It comes after the state Legislature held the first joint hearing on sexual harassment in the state in decades at the prompting of a group for former legislative staffers who witnessed or experienced abuse.
Bumpy ride for 14th Street busway
About a week ago, it seemed as though the 14th Street busway in Manhattan had a clear path forward, as a judge gave New York City the green light to start construction while a lawsuit filed by West Village residents to stop the project played out. But an appellate judge abruptly overturned the ruling, once again hitting the brakes on the busway, which would ban most cars on a stretch of the road. The lawyer for the residents that sued the city, Arthur Schwartz, has been making headlines by comparing transit advocates fighting for the busway to Ku Klux Klan members and likening himself to a civil rights lawyer. New York City Council Speaker Corey Johnson, despite saying he supports the plan, gave fuel to opponents when he echoed their fears about increased congestion on surrounding side roads.
Mount Vernon has one mayor (finally)
New York City isn't the only place where it has been unclear who's actually running the city. The Westchester County municipality of Mount Vernon had been mired in a muddled leadership battle for weeks following a corruption scandal that brought down then-Mayor Richard Thomas, who pleaded guilty to misdemeanor charges involving misspent campaign funds. Andre Wallace, the council president, was next in line to take over as mayor, but Thomas resisted. Complicating matters, the council then sought to install another legislator, Lisa Copeland, as mayor by making her the new council president. This past week, however, a state judge ruled that Wallace is indeed the mayor through the end of the year – when yet another local politician, Shawyn Patterson-Howard, is the early front-runner to become mayor.
Number of police suicides continues to increase
Two more New York City Police Department members killed themselves this week, bringing the total number of police suicides in New York City to nine this year. The rash of suicides has drawn attention to the issue of untreated depression among police officers and lead NYPD Commissioner James O'Neill to declare a mental health emergency. De Blasio spoke about he he dealt with the suicide of his father while addressing the spike in police killing themselves. Police Benevolent Association President Patrick Lynch also released a video in which he told cops "don't fucking do it" if they are considering suicide, while encouraging conversations about the aftermath of suicide and attacking politicians for anti-police rhetoric.
Anti-vaxxers go to court
A judge began to hear arguments in a lawsuit meant to overturn New York state's new law that revokes the religious exemption from vaccines. Over 1,000 anti-vaxxer parents and activists crowded into the Albany courthouse where the case is being heard, many wearing white in reference to Argentinian mothers who protested the disappearances and murders of their children during a military dictatorship in the 1970s and 1980s. A lawyer for the parents said the law violates the First Amendment and would leave 26,000 children unable to attend school. The state said past case law establishes that mandatory vaccines don't violate the Constitution because religious freedom does not permit someone to endanger the lives or health of others.
Powered By
NEXT STORY: New York politicians love using personal emails