Alexandria Ocasio-Cortez
All the ways AOC has made critics' heads explode
Her opponents watch her like a hawk, but often their criticisms make little sense.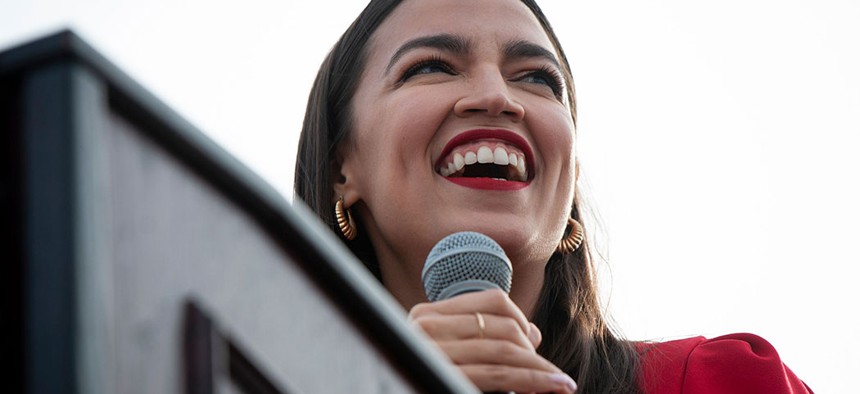 Rep. Alexandria Ocasio-Cortez has angered House Democrats by not sharing her ample campaign funds with the House's Democratic campaign committee, the New York Post reported last week. Queens Democratic party boss Rep. Greg Meeks criticized the freshman congresswoman, who represents parts of his borough and the Bronx, in an interview with Fox News. "Sometimes the question comes: 'Do you want to be in a majority or do you want to be in the minority?'" Meeks said. "And do you want to be part of a team?"
This is a matter of ideological differences, not just stinginess. Ocasio-Cortez has publicly stated in the past that she will not pay her $250,000 dues to the committee, which she has previously criticized for supporting incumbents and blacklisting vendors that work with primary challengers. And in April, 2019, she asked her followers to boycott the committee, telling them to donate directly to Democratic candidates instead.
Ocasio-Cortez responded to the criticism regarding her refusal to provide the DCC with any of her funds, explaining that she's already "fundraised over $300,000" for Democratic candidates. 
I give quite a bit to fellow Dems - we've fundraised over $300,000 for others (more than my "dues"), w/ over 50% going to swing seats.

DCCC made clear that they will blacklist any org that helps progressive candidates like me. I can choose not to fund that kind of exclusion. https://t.co/qqwdwPAqek

— Alexandria Ocasio-Cortez (@AOC) January 10, 2020
I'm also not the only one.

Expanding a House majority is critical, which is why I regularly (and happily) fundraise sizeable amounts for fellow members.

I also believe that a Dem majority should be transformative, which is why I give strategically. Seems fair, no?

— Alexandria Ocasio-Cortez (@AOC) January 10, 2020
Is it surprising that the anti-establishment congresswoman has done exactly what she said she would do? Not really. But Ocasio-Cortez just can't catch a break from the outrage that follows her wherever she goes. Since taking office, there's little she can do that won't result in critics sniping at her – even adopting a puppy is cause for second-guessing. 
At least this recent nitpicking isn't sexist – unlike some of the scolding she frequently endures.
Here are just a couple of instances in which Ocasio-Cortez's actions have resulted in major outrage:
Adopted a "purebred" puppy
Just two days after Ocasio-Cortez announced that she had adopted a French bulldog puppy, named Deco, last Monday, the animal rights organization PETA condemned her for buying a "purebred" puppy over adopting one from a shelter. 
Ocasio-Cortez, however, has not divulged details regarding where she got her new pup and many purebred dogs can often be found at shelters. 
Getting a haircut
On Oct. 9, 2019, conservative newspaper The Washington Times reported that the congresswoman spent $300 on a haircut and low-lights, insinuating that she wasn't upholding socialist ideals by doing so. "AOC is the Eva Peron of American politics," Richard Manning, president of Americans for Limited Government, a man with no apparent expertise in women's hair care, told the paper. "She preaches socialism while living the life of the privileged."
Soon after, numerous women rushed to Twitter to remind everyone that $300 isn't actually a crazy amount of money for women to pay for a haircut and low-lights – especially in an expensive city like New York or Washington, D.C. 
my cut/color is $250 to $300 in alabama so she must have had a groupon to get that kind of deal in DC https://t.co/31nPlVaIER

— Alex McDaniel (@AlexMcDaniel) October 10, 2019
I live in DC & I regularly pay $250-$300 for a haircut & highlight. It's not an elite, status symbol thing; that's just how much is costs to get your hair done when you pay your hair stylist a living wage.

https://t.co/ExqJq5UJTd

— jennie (@jennieology) October 10, 2019
1) this would obvs never be a story about a man

2) this is not an expensive haircut/color for a public figure who is frequently on TV

3) if her hair was raggedy, that would be the lead story instead

4)https://t.co/CyXaQ860ts

— Jessica Valenti (@JessicaValenti) October 10, 2019
Guys, I spend $300 at my stylist in Houston three times a year because that's what a cut and color for long hair costs. Beauty is expensive. It sucks, we all agree. https://t.co/cwMa7a5CRc

— lomikriel (@lomikriel) October 10, 2019
This is a bargain https://t.co/xjfTbey5xW

— Jenna Clarke (@jennamclarke) October 10, 2019
Feels like now is a great time to talk about the disproportionate cost of grooming for men and women that goes well past hair care and into dry cleaning, the cost of clothes, makeup, and on and on... https://t.co/TZrmVR2ttL

— Amee Vanderpool (@girlsreallyrule) October 10, 2019
Travelling in cars
Ocasio-Cortez came under fire from the New York Post – and then some liberal environmentalists – for using ride-hail app services such as Uber, Lyft and Juno since the start of her Congressional campaign in 2017. She was accused of hypocrisy for being a proponent of aggressive measures to combat climate change, such as the Green New Deal, while also frequently opting to travel in cars over public transportation.
Soon after these reports were published, City & State's senior editor Ben Adler wrote an op-ed railing against what he called "the asinine critiques" of her ride hailing. 
"Hypocrisy means demanding that others do something you don't," writes Adler. "But Ocasio-Cortez doesn't demand that people voluntarily avoid driving. The 'Green New Deal' does not propose reducing U.S. emissions through personal sacrifices such as forgoing air conditioning or automobiles. Rather, it calls for national public policies to transition the U.S. energy portfolio, transportation sector and agricultural practices."
Wearing a suit to work
If ever there was a time to wear a nice looking suit, wouldn't it be during your first week at a new job? Well, conservative author Eddie Scarry offered up a much different take in a now-deleted tweet. 
"Hill staffer sent me this pic of Ocasio-Cortez they took just now. I'll tell you something: that jacket and coat don't look like a girl who struggles," Scarry said on Nov. 15, 2018. 
The tweet was likely referencing the fact that Ocasio-Cortez revealed she wouldn't be able to afford an apartment in Washington D.C. until she got her first paycheck just one week prior.
The congresswoman shot back at Scarry, saying that she bought the clothes on sale and noting there's little she could wear that wouldn't solicit some form of ridicule. 
If I walked into Congress wearing a sack, they would laugh & take a picture of my backside.

If I walk in with my best sale-rack clothes, they laugh & take a picture of my backside.

Dark hates light - that's why you tune it out.

Shine bright & keep it pushing.✨ https://t.co/mRq5wn0v9A

— Alexandria Ocasio-Cortez (@AOC) November 15, 2018
Wearing a designer suit for a magazine photoshoot
On Sept. 15, 2018, founder of the conservative student organizationTurning Point USA Charlie Kirk called Ocasio-Cortez a hypocrite for sporting a $3,500 outfit accessorized with $625 shoes in a photoshoot for Interview, while criticizing the rich. 
"Alexandria Ocasio-Cortez, who pretends to be a champion of the people & believes the unemployment went down because (they) were taking two jobs, just posed in a photoshoot with a $3,500 outfit, $625 shoes all while saying the rich have too much power and that socialism hasn't been tried," Kirk said in a now-deleted tweet.
Poor Kirk didn't understand how magazine photoshoots work – the models do not keep the clothes – but the congresswoman filled him in. 
a) The alt-right doesn't seem to understand the concept of magazine shoots

b) You don't get to keep the clothes, duh

c) I don't "pretend" to fight for a Living Wage & Medicare for All. I do it.

d) Get used to me slaying lewks because I am an excellent thrift shopper pic.twitter.com/Nd2m6WoCxF

— Alexandria Ocasio-Cortez (@AOC) September 15, 2018
Powered By
NEXT STORY: Brooklyn state Senate race may be broader referendum