Andrew Cuomo
How Cuomo's authorities keep costs off-budget
Public authorities allow for new investments despite a $6 billion budget deficit.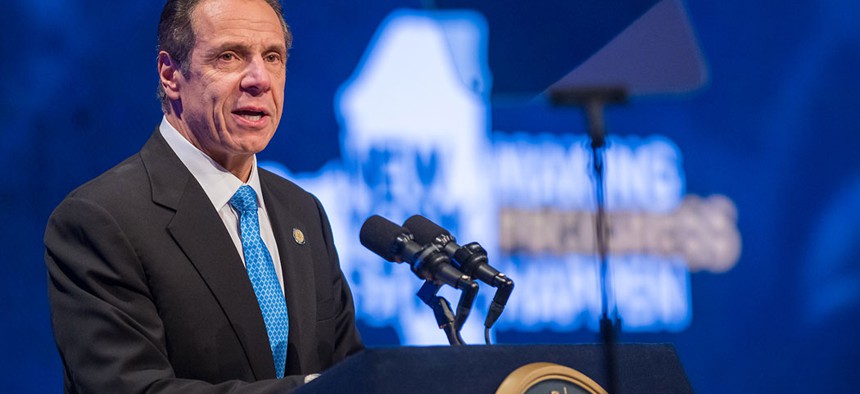 A $6 billion budget deficit presents a quandary for Gov. Andrew Cuomo. He wants to get things done without breaking the bank, but that can be difficult to do without raising taxes or cutting existing spending. His control of public authorities, however, gives him significant leeway to pursue the policies he outlined in his Jan. 8 State of the State without making the deficit worse.
The governor has tasked public authorities with overseeing policy agenda items big and small, including a $300 million effort to redevelop the Erie Canal, various projects totaling tens of millions of dollars that aim to increase New Yorkers' reliance on green energy and the $14 million redevelopment of a ski lodge in the North Country. The extent to which public authorities will allow the governor to keep costs off the state budget will be more clear once he unveils his state spending plan before a Jan. 21 deadline. However, it is already obvious that his current plans for public authorities amount to a significant chunk of spending.
An important feature of public authorities is the fact that they can often spend money that is not included in the state budget, even if the bill falls on the general public one way or another. "Public authorities give a lot of leeway and have different levels of connection to the state budget," said David Friedfel, director of state studies at the Citizens Budget Commission. "It's important that taxpayers – particularly when it (concerns) taxpayer dollars, whether it be through assessments on their electrical bill, or directly through the state budget – have a clear sense of how much money is being allocated to these authorities and how much they're spending."
Cuomo is looking for the New York Power Authority, for example, to raise $300 million over five years through its bonding authority to pay for the redevelopment of the Erie Canal, which became a subsidiary of the authority in 2017. The governor has asked the board overseeing the authority, whose members he nominates, to approve that funding at its January meeting – months before the state budget would be approved. Considering that the canal is already a drain on the authority's finances, it is unlikely that it would ever generate the money to pay back the bonds, according to McMahon, even if the project does accomplish its goals to boost tourism, mitigate flooding and otherwise enhance the areas around it. However, by pursuing the project through the authority, Cuomo will be able to move a policy priority without widening the deficit for the fiscal year that begins April 1. 
Public authorities like the New York Power Authority and the New York Energy and Research Development Authority are quasi-government agencies whose leaders are appointed by the governor but otherwise function much like private companies. They are also intended to be largely self-supporting. NYSERDA gets funding from electrical rate payers and energy auctions. The power authority can issue bonds and pay them off by selling electricity. While governors from both parties have leaned on public authorities to fund their priorities in recent decades, Cuomo has asserted his control over authorities like NYSERDA and the power authority to a much greater extent than his predecessors, according to E.J. McMahon, research director at the Empire Center for Public Policy. "He's dropped any idea of quasi-independence from them," McMahon said. "That's what he does."
State lawmakers would be able to weigh in on one big ticket item on Cuomo's environmental agenda – a $3 billion environmental bond to fight climate change by restoring habitats and mitigating flood dangers if voters end up approving it. And other items that Cuomo is pursuing fall more squarely under his executive authority. This includes a number of initiatives that would be overseen by NYSERDA: $100 million in investments from the Green Bank to promote the manufacturing of electric vehicles, $30 million in funding for building retrofits, and $5 million in consulting assistance to help local communities transition to clean energy. There are also the unspecified costs of additional efforts to promote solar, wind and energy storage projects. Meanwhile, the power authority will provide an "initial investment" to provide charging stations for electric vehicles in areas where little demand is expected at first. 
Cuomo is making political hay from other public authorities as well. The Olympic Regional Development Authority is pursuing a $14 million project to rebuild a ski lodge in the North Country. The Metropolitan Transportation Authority is involved in an effort to expand Penn Station in Manhattan. While this effort will likely cost billions of dollars by the time it gets done, it would not require an amendment to the MTA capital plan that was recently approved by its board. Instead, Empire State Development – which oversees the New York State Urban Development Corporation and the New York Job Development Authority – will oversee the project on behalf of the MTA and Amtrak. The project would be funded by commercial development in the area and payments in lieu of taxes, city money that would go to the state because of the loss of property tax revenue from the project, according to a press release from the governor's office.
Cuomo spokesman Rich Azzopardi said the reliance the governor has placed on public authorities this year is in line with past practice. "Everything you just mentioned is well within the wheelhouses of the relevant agencies and are extensions of tasks they've performed for years," he told City & State. "It would be unusual to not have these projects undertaken by these authorities."
The upcoming budget plan will show how all of these ideas translate to actual dollars and cents. Some initiatives will require bonds. Others will come from revenue streams to public authorities that come from outside the normal budget process. If the budget plan ends up showing that Cuomo is turning toward public authorities more this year than before, it would help him achieve one of his top goals for the 2020 legislative session – getting a deal on a balanced budget without raising taxes.
Correction: The payments in lieu of taxes to fund the Penn Station expansion would come from the city. The source of the money was incorrect in an earlier version of this story.