2020
Will Bloomberg's mayoral record block his presidential nomination?
The former New York City mayor's plan to distance himself from his controversial record isn't going as planned.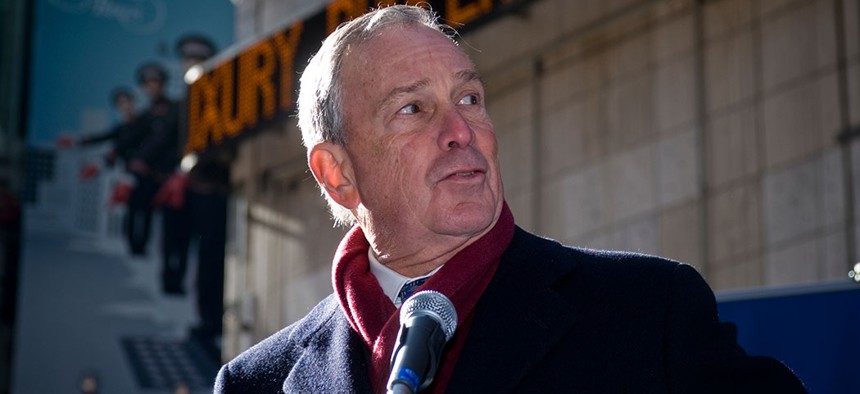 As City & State predicted, Michael Bloomberg's mayoral record is raising red flags for various parts of the Democratic Party's base as he seeks its presidential nomination. 
The arrests of the 2004 Republican National Convention protestors, illegal surveillance of Muslim communities and the increased use of stop-and-frisk policing, among other elements of his three-term tenure in City Hall are coming back to haunt Bloomberg as Super Tuesday grows nearer.
On Monday, 90 New Yorkers of color who lived in the city while Bloomberg was mayor – including state Sen. Julia Salazar, Public Advocate Jumaane Williams and City Councilman Antonio Reynoso – penned a letter urging voters not to support him. "In recent days, Michael Bloomberg has attempted to rewrite his legacy, but we haven't forgotten," the letter says. "The extent of harm, humiliation and terror that the Bloomberg administration's daily racial profiling and police violence caused in Black, Latinx and other communities of color cannot be overstated."
Stop-and-frisk, surveillance of Muslim communities, increased low-level marijuana posession arrests and the cancellation of the Advantage housing assistance program, among other things were brought up in the letter as examples of Bloomberg's "devastating impact" on the city.
"In deep contrast to his immediate predecessor in office, Mike Bloomberg's City Hall was open to and listened to all New Yorkers," Bloomberg's campaign adviser Stu Loeser said in a statement to BuzzFeed News – where the letter was initially published. "But as much as we encourage everyone's right to speak their minds, not all of the facts in this letter line up with Mike's real record. Our critics are welcome to offer alternative opinions, but the broader range of facts presents a different picture."
On Tuesday, The Atlantic published an account of the time Bloomberg had 1,806 protestors – and even a few journalists and random passersby – arrested and detained during the 2004 Republican National Convention. "Bloomberg presided over the mistreatment of Democrats who sought to protest Republicans, violating the constitutional rights of hundreds of dissenters." The Atlantic's Conor Friedersdorf wrote. 
During his first term as mayor, Bloomberg tried to sway both major political parties to hold their national conventions in the city and ended up attracting the 2004 RNC. At the convention Bloomberg praised then-President George W. Bush and endorsed his reelection.
The New York Police Department had been spying on individuals across the country – and Montreal – who planned to protest the convention for almost a year ahead of the convention but didn't uncover any "intention of breaking the law," Activists, journalists and bystanders present at demonstrations were nominally arrested for blocking traffic, although some of those arrests were later deemed invalid in court, as was the "preventive detention" of peaceful protesters – which is unconstitutional. Friedersdorf concluded that Bloomberg's record on the 2004 RNC shows he, like Trump, is an "authoritarian."
During Bloomberg's first national Democratic primary debate on Feb. 19, nearly every candidate criticized the frequent use of stop-and-frisk that occurred while he was mayor. 
In 2013, then-federal judge Shira A. Scheindlin deemed the city's use of the tactic illegal and a violation of the constitutional rights of minorities. Last week, Scheindlin surprisingly came to Bloomberg's defense in an op-ed for The New York Times, stating that she didn't think the former mayor was a racist due to the "many other valuable things he has done for minorities."
"The most I can say is he had a pure heart but an empty head; the stop-and-frisk program was very poorly executed," Scheindlin wrote.
Powered By
NEXT STORY: Young candidates assemble on TikTok