New York City
A pandemic primary and Occupy City Hall
Rounding up the week's political news.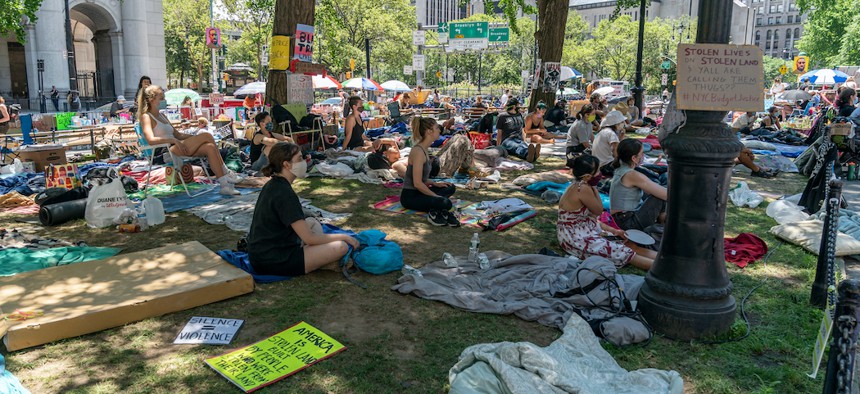 You know all those fireworks going off across the five boroughs, keeping you awake and inspiring conspiracy theories? Well, New York City Mayor Bill de Blasio has finally said he would crack down on the illegal fireworks … and replace them with legal ones. The mayor established a police task force to target suppliers and distributors of the pyrotechnics, though he added that those actually setting them off were not an enforcement priority. But anyone hoping for a reprieve, rest assured, there will be none! The same day he announced the crackdown, de Blasio said that instead of one big Macy's fireworks show on July Fourth, the company would instead put on smaller displays across the city in the three days leading up to the holiday and splice those together for a televised event.
Keep reading for the rest of this week's less noisy news.
Pandemic primary
Voters headed to the polls on Tuesday to cast their ballots with the coronavirus pandemic still lingering in New York. While a top candidate emerged with a commanding lead in some races, many others won't be decided for weeks after thousands of absentee ballots are counted from those who wanted to avoid in-person voting due to the coronavirus. Among the election night winners were Jamaal Bowman, who bested longtime Rep. Eliot Engel in the Bronx and Westchester County. State Sen. Chris Jacobs won the special election for Western New York seat vacated by former Rep. Chris Collins, besting Democrat Nate McMurray. Jacobs clinched his party's nomination for November as well. In Westchester and Rockland counties, Mondaire Jones apparently emerged victorious in the race to replace Rep. Nita Lowey, as did New York City Council Member Ritchie Torres in the South Bronx to succeed Rep. José E. Serrano. In both districts, Democrats are essentially guaranteed victory in November, so if their leads hold, the pair would become the first openly gay Black members of Congress. Across New York City, progessive candidates and insurgents, including some backed by the Democratic Socialists of America's New York City chapter, also performed very well, with many holding early leads over incumbents.
However, Election Day was plagued by numerous voting issues, including long lines, understaffed polling sites and misprinted ballots. Perhaps most significantly, there were widespread reports of Democratic voters in New York City only receiving one page of the two-page ballot. The presidential primary was on one, while state and congressional primaries were on the other. Issues arose in Westchester and Rockland counties, where voters faced long lines, glitchy machines and polling sites that were unable to handle the volume of voters that resulted because of the consolidation of locations. On top of everything else, some people never received an absentee ballot in the mail despite applying for one in time for the election.
Occupy City Hall begins
After weeks of protests following the killing of George Floyd by Minneapolis police officers, New York City activists have coalesced around a single goal: defunding the New York City Police Department. They are calling for a cut to the NYPD's budget by at least $1 billion this year. The City Council said it would meet that number, but just days before the city budget is due, it has not released a detailed proposal on how it would achieve the reduction. So protesters have been camped out at City Hall for days in an Occupy Wall Street-style protest to pressure lawmakers to make good on their promise and commit to further reducing the police department's budget.
Officer faces charges for illegal chokehold
About two weeks after Gov. Andrew Cuomo signed a law criminalizing the use of chokeholds by police officers, and days after the New York City Council passed similar local legislation, an NYPD officer is facing criminal charges for using the move during an arrest, which was caught on camera. Initially, NYPD Commissioner Dermot Shea announced Officer David Afanador had been suspended after the cellphone video surfaced. But several days later, Afanador was arrested, making him the first officer in the city to face charges under the new state law.
Quarantining New York
Once, New York was the epicenter of the coronavirus outbreak in the United States and other states wanted to keep its residents out, or put visitors in quarantine. Now, the tide has turned and New York has among the lowest rate of new infections as states around the country hit new highs. The state has even avoided seeing a new wave of cases following weeks of anti-racism and anti-police brutality protests. So now Cuomo has announced, along with New Jersey and Connecticut, that travelers from new hot spots – Alabama, Arizona, Arkansas, Florida, North Carolina, South Carolina, Texas and Utah – must self-quarantine for two weeks upon arriving in the tri-state region.