New York State
Can Schumer and Gillibrand block Geoffrey Berman's successor?
The U.S. attorney for the Southern District of New York was abruptly terminated and President Trump wants a crony to replace him.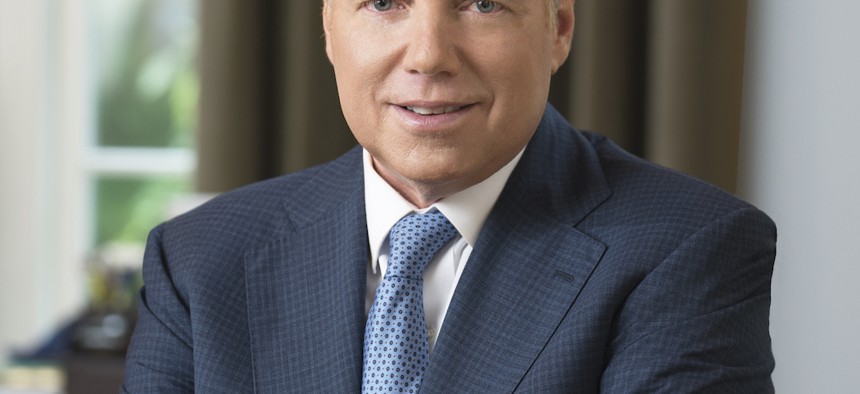 On Saturday, U.S. Attorney for the Southern District of New York Geoffrey Berman was abruptly fired by President Donald Trump after defying U.S. Attorney General William Barr's request for him to resign.
Barr had announced in a press release that Berman would be resigning from his post on Friday – which came as news to the federal prosecutor. Berman quickly responded to Barr's statement, indicating that he had no intention of resigning. "I have not resigned, and have no intention of resigning, my position," Berman said in a statement issued on Friday.
However, later in the day it was announced that he had been fired by the president, though Trump has insisted that the decision came directly from Barr and that he "wasn't involved" in the decision. "Unfortunately, with your statement of last night, you have chosen public spectacle over public service," Barr wrote in a letter to Berman on Saturday. "Because you have declared that you have no intention of resigning, I have asked the president to remove you as of today, and he has done so."
The decision to remove Berman from his post led many to wonder if his ouster was tied to bigger political motivations, as he has been investigating several of Trump's associates, including former New York City Mayor Rudy Giuliani, for possible crimes. 
U.S. Sens. Chuck Schumer and Kristen Gillibrand of New York have already raised concerns regarding Berman's firing, questioning why Trump chose to so brazenly fire an attorney who has been probing his many affiliates.
Here's what you need to know about Berman and his sudden dismissal:
Who is Geoff Berman?
In 2018, Berman was selected as the interim Southern District Attorney by then-Attorney General Jeff Sessions and was personally interviewed by Trump for the position. Although Trump never sent Berman's nomination to the U.S. Senate, which is standard procedure, judges of the United States District Court officially appointed him to the position after 120 days.
Berman's selection for the position was initially met with concern, as the Republican attorney had donated to Trump's presidential campaign in 2016, and many of Trump or his associates potential crimes such as tax fraud and campaign violations would have occurred in Manhattan, under Berman's jurisdiction. But Berman quickly won skeptics over by pursuing investigations involving Trump affiliates.
Why was Berman fired?
There are several contributing factors which are believed to be the reason for Berman's abrupt termination, such as his reluctance to criticize New York City Mayor Bill de Blasio and working on several cases involving Trump associates.
On Thursday, Berman was asked by his superiors in the Justice Department, reportedly under Barr's orders, to sign a letter chastising de Blasio's enforcement of social distancing rules that prevented religious gatherings from taking place while allowing protests, the Wall Street Journal reports. Berman reportedly refused to sign the letter, suggesting that his signing the letter would create tensions between his office and the city. It is unclear how much Berman's refusal to sign the letter contributed to his ousting, but the issue addressed in the letter is important to Barr who is a devout Catholic.
Prior to Thursday's events, Berman launched several probes into the president's associates, including Giuliani, the president's former personal attorney Michael Cohen and Giuliani associates Lev Parnas and Igor Fruman. Cohen pleaded guilty to campaign finance charges and let it slip that he had paid off adult film star Stormy Daniels to keep quiet about her affair with the president. Both Parnas and Fruman were involved in a pressure campaign to get Ukraine to investigate Vice President Joe Biden's son. It is unknown what additional investigations concerning the president's attempts to cover up extramarital affairs or to solicit foreign influence to aid his reelection, or other potentially embarrassing actions, may be ongoing in Berman's office. 
Berman also indicted a state-owned bank in Turkey, Halkbank, in 2019, which was accused of violating the U.S.'s sanctions against Iran by trading billions in gold and cash for Iranian oil and gas. Former national security adviser John Bolton's new book has alleged that Trump promised Turkish President Recep Tayyip Erdogan that he would intervene in the investigation so he could make deals with him.
Though the timing of Berman's firing is unusual, as U.S. attorneys are seldom let go in the middle of a term, the president has the authority to fire a court-appointed U.S. attorney, according to 1979 Justice Department opinion.
Were there similar standoffs in the history of the office?
There have certainly been rifts, but none quite like this according to former Southern District prosecutor David Massey. "While there have always been turf battles between the Southern District and the Justice Department in Washington, and occasionally sharp elbows, to take someone out suddenly while they're investigating the president's lawyer, it is just unprecedented in modern times," Massey, who worked in the office for close to a decade, told The New York Times.
Who will replace Berman?
Deputy U.S. Attorney Audrey Strauss, who was hired by Berman in 2018, will be replacing him temporarily. The White House announced on Friday, that it will be nominating Jay Clayton, chairman of the Securities and Exchange Commission, for the position – a decision that is already being contested.
U.S. Sen. Lindsey Graham, the Republican chair of the Senate Judiciary Committee and a Trump ally, said he would allow U.S. Sens. Chuck Schumer and Kristen Gillibrand of New York to block Clayton's nomination, following Senate tradition of deference to home-state senators. Both senators have already called upon Clayton to withdraw his name for consideration for the position.
"Forty seven years ago, Elliott Richardson had the courage to say no to a gross abuse of presidential power," Schumer said on Saturday, referencing the attorney general who served under President Richard Nixon and resigned following the Watergate scandal. "Jay Clayton has a similar choice today: He can allow himself to be used in the brazen Trump-Barr scheme to interfere in investigations by the U.S. Attorney for the Southern District of New York, or he can stand up to this corruption, withdraw his name from consideration, and save his own reputation from overnight ruin."
Gillibrand similarly echoed Schumer's stance in a statement released shortly after his on Saturday. "I will not be complicit in helping President Trump and Attorney General Barr fire a U.S. attorney who is reportedly investigating corruption in this administration," Gillibrand said.
Schumer has also called for an investigation into Berman's removal. "I am calling for a three-pronged investigation that involves three entities: First, the Judiciary Committee, second, the Office of Professional Responsibility at DOJ and third, the Inspector General's Office at DOJ," he said during a press conference on Monday.
On Saturday, Rep. Jerry Nadler, chairman of the Judiciary Committee, announced that the committee will begin investigating Berman's termination on Wednesday and has invited him to testify. "The whole thing smacks of corruption and incompetence," Nadler told the Times.
Can Schumer and Gillibrand actually veto Clayton's nomination?
The longstanding tradition known as a "blue slip" privilege, allows senators the ability to veto a president's pick for a federal office in their home state, however, the tradition is neither a rule nor a law. It remains to be seen whether or not Schumer and Gillibrand's opposition to Clayton's nomination will be honored.
Who is Jay Clayton?
Clayton, has been chairman of the Securities and Exchange Commission for the past three years and spent most of his career as a corporate lawyer representing financial institutions such as Goldman Sachs and Deutsche Bank. He has no experience as a prosecutor – experience that is normally considered a prerequisite for appointment as a U.S. attorney, especially for a high-profile post and large office such as the Southern District of New York. The Republican attorney is also known to be quite close with Barr and Trump, however, and he has played golf with the president as recently as last Saturday.
The attorney had told Barr in a private conversation that he would be interested in becoming the U.S. attorney for the Southern District of New York, the Times reports. Clayton reportedly saw the position as a way to develop litigation expertise. And in the days ahead of Berman's termination, discussions were being had regarding Clayton replacing the attorney but it is unclear if he was aware of Barr's plans to fire Berman.
Interestingly, Barr reportedly told Berman on Friday that if he agreed to leave his post, he could take over the civil division of the Justice Department or become chairman of the Securities and Exchange Commission.