New York City
Bombshell AG report on COVID-19 deaths and the State of the City
Rounding up the week's political news.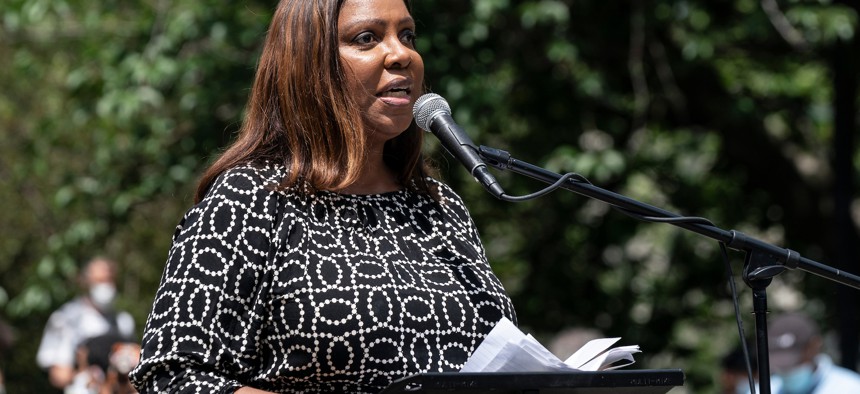 The race for New York City mayor took a couple of turns this week, with Zach Iscol exiting to launch a bid for city comptroller and "Real Housewives of New York City" star Barbara Kavovit hopping in to take his place. And some of the Brooklyn political dysfunction seeped into the race as well. Several candidates, including Dianne Morales, Andrew Yang, Maya Wiley and Scott Stringer, said they would boycott the Brooklyn Democratic Party's upcoming mayoral forum over racist comments that District Leader Lori Maslow made on social media. Although she had already stepped down from her party leadership position, some progressive members of the party wanted her to resign as district leader and called for the boycott until she did. After several days, Maslow resigned, and as of now, at least Yang is once once again taking part in the forum. Keep reading for the rest of this week's news.
AG report exposes nursing home COVID-19 deaths
State Attorney General Letitia James released a bombshell new report that found the state is underreporting nursing home coronavirus deaths by as much as 50%. The investigation also found that many nursing homes did not adequately comply with infection control protocols and were understaffed, which put residents at risk. The official tally from the state Department of Health stood at over 8,700, a number that did not include residents who died after being transferred to a hospital. In the wake of the report's release, state Health Commissioner Howard Zucker finally released data that said the actual death count at 12,743 with hospital deaths accounted for – pretty close to 50% higher. The Cuomo administration had for months stonewalled lawmakers, journalists and others when asked for that information. State Sen. James Skoufis, chair of the Investigations and Government Operations Committee, recently threatened to subpoena Zucker to get the data. Gov. Andrew Cuomo has been criticized for a March directive telling nursing homes to accept recovering COVID-19 patients back into congregate care settings from hospitals, although he said he was simply following federal guidance and asserted that the state did not take any action that contributed to higher rates of deaths in nursing homes. James' report brought with it a fresh wave of criticism for Cuomo and calls for Zucker to resign.
COVID-19 restrictions lifted
As positivity rates trend down across the state after a holiday spike, Cuomo announced that he is easing restrictions around the state. In Erie County, at one point an emerging second wave epicenter, Cuomo said elective surgeries can resume after halting them amid concerns about hospital capacity. He also lifted nearly all "orange" and "yellow" zone microcluster designations in the state, and with them the restrictions imposed on those areas. Lifting the restrictions removes mandatory school testing requirements and permits houses of worship to operate at 50% capacity. Indoor dining is still banned in New York City – that restriction came about through an executive order independent of the microcluster strategy – but Cuomo said it would resume at 25% capacity on Feb. 14 – Valentine's Day. Five yellow zones still remain, and four of them are in New York City.
More street vendors in NYC
In a long-awaited victory for street vendor advocates, the New York City Council voted to lift a 40-year-old cap on street vendor licenses. For decades, the number of licenses available has remained stagnant at 3,000, creating a massive waiting list to get a permit and a thriving black market to illegally rent others' permits. The legislation would create 4,000 new permits over the next decade, with 400 new permits added each year. Although celebrated as an action to help food cart and produce stand owners, others said lifting the cap on licenses will hurt already struggling restaurant owners, who have also been hit hard by the pandemic. Mayor Bill de Blasio has expressed support for the measure, and he's likely to sign it into law.
NYC's State of the City
New York City Mayor Bill de Blasio gave a pre-taped State of the City address, his last one before he leaves office. In the video, he laid out his vision for the city's recovery from the pandemic. De Blasio said he would speed up vaccinations and set a goal of inoculating 5 million New Yorkers by June. He proposed a few new ideas, including a City Cleanup Corps to help clean up graffiti and tend to community gardens, and creating a new protected two-way bike lane on the Brooklyn Bridge. De Blasio also presented a plan to expand and centralize the powers of the Civilian Complaint Review Board, which oversees the New York City Police Department.