Coronavirus
Why experts say resuming indoor dining in NYC is a bad idea
New variants could reverse the state's progress against the pandemic if restrictions are lifted too quickly.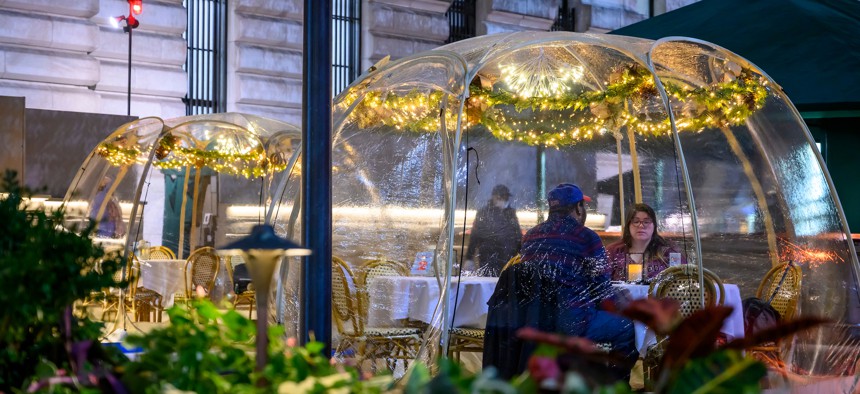 The latest state data shows that the winter surge of COVID-19 cases is losing strength in New York as statewide hospitalizations, test positivity rates and daily deaths continue to drop. More and more New Yorkers are getting vaccinated and herd immunity could be reached sometime toward the end of the year. Things are going so well right now, according to Gov. Andrew Cuomo, that the state will allow indoor dining to resume on Friday in New York City rather than waiting until Valentine's Day, as he previously said.
"We have to walk and chew gum at the same time," Cuomo said at a Monday virtual press conference about loosening public health restrictions. "We respond to the data. We respond to the facts that we face today. Facts may change tomorrow."
New research, however, highlights how new variants of the coronavirus might upend ongoing progress against the pandemic. Vaccines might become less effective and public health experts warn that caseloads could go back up if public health restrictions are loosened too quickly.
"Opening indoor dining in New York City is premature and risky," Wafaa El-Sadr, a professor of epidemiology at Columbia University's Mailman School of Public Health, said in an email. "With the appearance of new variants that threaten our vaccines, it is critically important to do everything possible to stop the replication of this virus." New York City is reporting thousands of new cases per day, and the infection rate and total hospitalizations still exceeds the thresholds cited by the governor when he shut down indoor dining in the five boroughs in December.
South Africa has already paused the distribution of a new vaccine developed by AstraZeneca because of new data showing decreased effectiveness against mild and moderate cases of COVID-19. While evidence shows vaccines manufactured by Pfizer and Moderna holding up against the new variants, the increased transmissibility of a coronavirus variant first identified in the United Kingdom could mean that infection rates will spike. New research, which has yet to undergo peer review, warns of "devastating consequences to COVID-19 mortality and morbidity in the U.S. in a few months, if decisive action is not immediately taken" to better monitor and control new variants of the coronavirus. New York has confirmed 59 cases of the variant, which is expected to become dominant nationwide by March.
Less than 1% of coronavirus tests in the Empire State and nationwide are currently screened for the variant. Efforts are underway to increase screening for variants to 10% of new virus cases in New York City – where the bulk of cases in the state are located – by the end of the month, though officials say meeting that goal requires additional cooperation from the private sector. "Trying to get laboratories that are primarily focused on things like human genome sequencing specifically for cancer or other conditions to shift their interest to work on pathogens sometimes takes effort," Dr. Jay Varma, a senior public health adviser to Mayor Bill de Blasio, told The New York Times. Legislation newly introduced in Congress would allocate $2 billion to the effort to help the country match the widespread variant screening done in the U.K., Denmark, Australia and New Zealand.
Increasing screening to adequate levels will require a national effort, according to new research slated to be published in the scientific journal Cell, but there is still a lot that state and local governments can do to keep new variants under control. School closures and travel bans would not do much to curb their spread, according to researchers. But increasing the number of people wearing masks, better indoor ventilation and the "temporary closure of non-essential indoor spaces where face coverings cannot be worn" could do the trick – if policymakers would only heed the advice of public health experts. "We finally have the chance right now to bring this back under control," Sam Scarpino, an assistant professor at Northeastern University, told ProPublica. "But if we ease up now, we may end up wasting all the effort we put in."
The Cuomo administration has defended its policies on indoor dining by pointing toward the declining number of coronavirus cases and hospitalizations across the state as reason enough to loosen restrictions to help the beleaguered restaurant industry. Other big states like Michigan and California are also moving to lift restrictions on indoor dining despite their current caseloads. The 25% cap on indoor dining capacity in New York City strikes a balance between the demands of the hospitality industry and the 50% limit currently in place in other areas of the state. Some evidence suggests that indoor dining is a relatively minor public health matter compared to the social gatherings in private residences that state officials have said drove the winter surge in cases.
The announcement by the governor that indoor dining would resume on Friday is the latest sign that the governor is just trying to give the people what they want. Events like the Super Bowl highlight how pandemic fatigue is spreading just as widely as the new variants. New Yorkers will have their own chance to vote with their wallets this week on whether the time has come to enjoy eating out no matter how high the public health cost might be. "Why, then, allow restaurants to open their dining rooms at all?" the New Yorker writes. "It's to create the soothing illusion of progress – against the virus, against economic disaster, toward some sense of a return to normalcy."