New York State
Key takeaways from reports on Cuomo's work environment
New York magazine and The New York Times published damning pieces about alleged workplace hostility and sexism in the governor's office.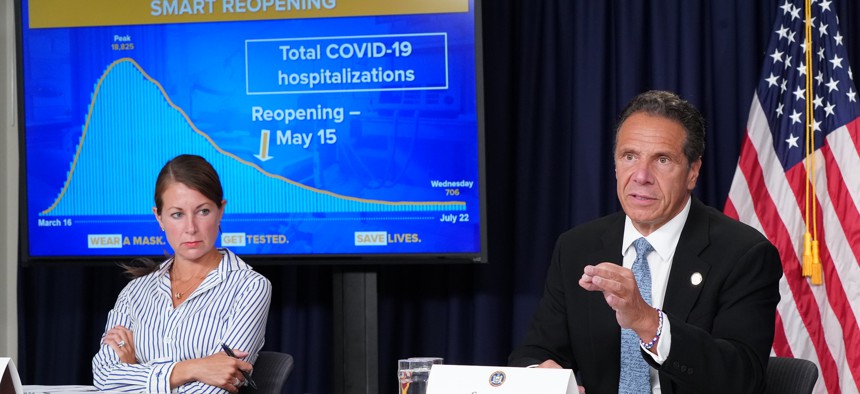 New York magazine's Rebecca Traister, a leading reporter on feminism and politics, published a bombshell report on Friday detailing a toxic work environment allegedly fostered by Gov. Andrew Cuomo. Although previous recent reporting has detailed aspects of the allegedly brutal workplace under Cuomo, Traister's story had several new tidbits reflecting poorly on not just the governor himself, but some of his top aides too – including his right hand Melissa DeRosa. Around the same time, The New York Times put out its own piece examining the work culture for women in Cuomo's office, which also included some similar revelations. Here are the most interesting tidbits and biggest takeaways from both stories.
Melissa DeRosa couldn't recognize top state officials
Traister's article starts with an anecdote about a roast of Cuomo's then-chief of staff DeRosa. It consisted of showing her pictures of prominent state officials and her inability to name them. The situation was met with laughs by senior staff, but with side eyes by the newer folks in the administration. "This was not ha-ha funny," former Cuomo staffer Joel Wertheimer told New York magazine. "This was, 'You guys are bad at your job!' And, 'You're mean!' " Later in the piece, a former staffer said that despite working with DeRosa, and getting berated over email by her, DeRosa introduced herself multiple times, having apparently forgotten who the staffer was.
Looks get you everywhere
Both pieces touched on how women's looks played major roles in the administration. One former staffer, who is identified only as Kaitlin, told New York magazine that the governor hired her after meeting her just once for a few minutes at an event. "We all knew that this was only because of what I looked like," Kaitlin said. She recounted, after being hired, seeing Cuomo talking with a young woman at a bar after a Super Bowl party. The next day, she said the governor asked his team to find the woman's contact information and offer a job. 
Anna Liss, one of Cuomo's accusers, told New York magazine that no woman in the administration was "unattractive," saying it felt like "Stepford Wives but with younger women." 
The Times piece spoke to former employees who said the governor preferred tall, thin, blonde women. His former deputy director of administrative services said he often heard crude jokes about the type of woman Cuomo liked to hire. The Times piece also described an environment where women got choice assignments not based on their expertise or work, but by how good they looked. Women were expected to wear heels and dress a certain way (something the administration has repeatedly denied) and those who stuck to the dress code were favored by Cuomo and would get invited to events. One former female aide said she often got high-level assignments because she adhered the dress code, once being told she got an assignment because she was attractive. Others said they believed there were denied opportunities because they didn't dress the right way. Cuomo senior adviser Rich Azzopardi in the Times denied any woman was hired for her looks, or that appearance had any bearing on workflow.
Policy takes a backseat 
One former Cuomo staffer told New York that the governor often didn't read policy briefs provided to him. And several former employees described an environment where the substance of policy really took a back seat to the optics it provided. Several former aides said that an inordinate amount of focus was dedicated to the governor's State of the State book, where the governor lays out his legislative priorities for the year, and that ultimately, the sheer number of proposals and appearances mattered more than actually improving people's lives and passing meaningful policy. "Someone from the inner circle would call and say, 'The governor wants to go to Orange County. What can we announce?' " one former aide said, noting that policy got passed, just for what felt like the wrong reasons. Some of those interviewed by Traister said that the governor's bluster and showmanship covered up what was really a shoddy work operation that prioritized power over substance. Azzopardi said that any suggestion that policy was not at the heart of the administration is "actual fiction" in an email to City & State, pointing to Cuomo's legislative achievements that show "the exact opposite." He touted the governor's $15 minimum wage (which currently only exists in New York City and will only apply to the city, Westchester and Long Island once wage hikes are completely phased in), free tuition at public colleges (actually referring to the Excelsior Scholarship as public colleges are not free to attend automatically) and gun safety legislation. 
Texts from DeRosa to Alessandra Biaggi
DeRosa, like Cuomo's past close aides such as Joe Percoco, would act as an enforcer. And other reports have emerged of DeRosa allegedly berating critics of the governor, including City & State's own former editor-in-chief Morgan Pehme. The New York article includes screenshots of some pretty intense texts DeRosa sent to state Sen. Alessandra Biaggi. After the lawmaker posted a tweet critical of Cuomo's handling of the pandemic, DeRosa sent a series of sarcastic and hostile tweets. "You are a bad person and you are full of shit," DeRosa wrote in one text. "Given what a big mouth you have, I'm shocked that u knew the virus was coming from Europe and didn't say anything," she wrote in another. Biaggi said she has since blocked DeRosa's number. "I don't want that bad energy," she told Traister.
Trickle down abuse and a cycle of toxicity
Both reports detailed senior staff who would often berate and belittle newer staffers. And there was a sense that whatever was doled out to the higher ups, they would dole out themselves to their juniors. The Times reported that DeRosa would blow up staff for something as minor as misspelling a name. Camonghne Felix, Cuomo's first Black speechwriter, who said her suggestions and writing were consistently ignored, told New York that abuse was simply how people in the administration were taught to behave. She recalled a boss of hers after she moved to the press team who was treated poorly by his bosses. One time when she screwed up a press release, he let loose on her in a way she didn't think was "natural" for him, but assumed it was the way he was treated. Traister asserted that powerful white women like DeRosa "benefited from, and thus worked to uphold, abusive patriarchal power systems," and that those who worked with her said she absorbed a lot from Cuomo. "There is no secret these are tough jobs, and the work is demanding, but we have a top-tier team with many employees who have been here for years and many others who have left and returned because they know the work we do matters," Azzopardi told New York, in response to various claims made in the piece.
Others have been complicit
Volatile and aggressive behavior by Cuomo and his staff has long been an open secret, but it has hardly received any critical attention until now. For that to be the case, there needed to be those who knew about what was happening and remaining silent. Some said that the historically white-male-dominated Legislative Correspondents Association, which covers Albany, has been complicit in Cuomo's behavior by failing to properly cover it, or to defend female colleagues from abusive behavior especially targeted at women. "No one checked him," said Josefa Velasquez, senior reporter at The City, to Traister, regarding male reporters and advisers to the governor.
Powered By
NEXT STORY: Can New York City rescue its taxi drivers?