New York City Council
Crowded field of candidates seeks to replace Daniel Dromm on City Council
Nine leading contenders have lined up to fill the seat representing District 25 in Queens.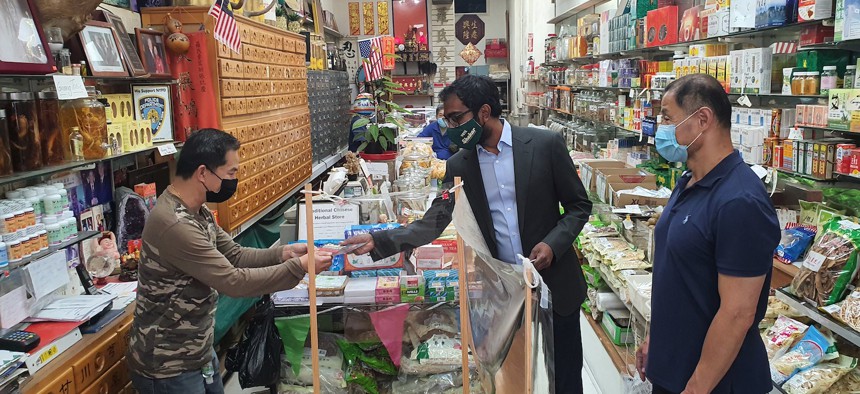 With less than a week to go until the June 22 Democratic primary, candidates in the New York City Council District 25 race in Queens are working to connect with a community that is both one of the most diverse in the country and that became known as the "epicenter of the epicenter" when COVID-19 swept across the city last year. 
It's a crowded race – one that is poised to shift representation in the district spanning parts of Jackson Heights and Elmhurst for the first time in nearly 12 years.
There are nine leading Democratic candidates looking to fill the seat being vacated by term-limited City Council Member Daniel Dromm. Whoever is elected in the primary is also all but certain to take the office in January, because of the district's heavy Democrat leanings. 
According to 2010 Census Data, there are about 162,560 people living in the district and 42% are Hispanic, 15.2% are white, 5.8% are Black and 34.5% are Asian American. The district is also known for having many first- and second-generation immigrants, including large Ecuadorian, Colombian, Nepali, Indian and Bangladeshi populations. Borough-wide, more languages are spoken in Queens than in any other place on Earth, and about 47% of the population is foreign-born. 
Among the candidates running in the primary are civil rights lawyer Shekar Krishnan, who scored Dromm's endorsement earlier in June; Alfonso Quiroz, a Con Edison spokesperson and the former deputy chief of staff to former Council Member Helen Sears; Carolyn Tran, Dromm's former chief of staff; Andy Yi Chen, a medical supply store co-owner; Fatima Baryab, co-founder of nonprofit SUKHI NY; Liliana Melo, 34th Assembly District district leader; and Manuel Perez, Queens County Democratic Organization district leader. 
Two other candidates, Rajesh Ranot and William Salgado, are also listed as Democrats running in the race, but little information about them could be found online. According to Campaign Finance Summary 2021 Citywide Elections, Ranot has $200 in private funds while Salgado has $10,766. 
City & State spoke with several of the candidates about their campaign platforms.
Of the candidates, Krishnan and Chen have raised the most private funds with $81,734 and $133,485 respectively as of June 16, according to the Campaign Finance Summary 2021 Citywide Elections. In third and fourth for the amount of private funds raised, Quiroz has $79,610 while Tran has scooped up $47,538. 
Leading in the number of endorsements is Krishnan who has been endorsed by a number of different officials and organizations including Congressional Rep. Nydia Velazquez, State Senators Julia Salazar and John Liu, the Black Lives Caucus, Make the Road Action, and the United Federation of Teachers, among others. 
Tran, who was fired from her position with Dromm, according to a February Queens Daily Eagle article, has received endorsements from Women of Color for Progress, Progressive Women of New York, the National Association of Social Workers, Met Council Action, Muslim Democratic Club of New York and State Senator Jessica Ramos, among others. On her dismissal from Dromm's office, Tran said she was told her services were no longer needed. She wrote a Medium post addressing the incident in February. 
Community member Alpana Choudhury, founder and executive director of private practice Wove Therapy, said the opportunity to get a fresh person representing Jackson Heights and Elmhurst gives the community an important opportunity to rethink how things have been done previously in the district.
"We have racial diversity and we have more than that — we have nationality diversity, ethnic diversity, income diversity, gender diversity — so many different intersections of identity," Choudhury said. "It takes someone I think with a really thoughtful and open mind to recognize that and then respond accordingly." 
Whoever that person is, she said, will need to be someone focused on understanding the needs of the community and has the policies and track record to back it up. Personally, Choudhury said, she feels that person is Krishnan which is why he is her top pick. She explained she feels that while many of the candidates have very interesting backgrounds and identities, some seem to be asking voters to make assumptions on how they will connect with them based solely on their identity. 
The district, candidates and community members note, has also become more progressive and politically active within recent years. 
Choudhury said this increased political interest has a lot to do with how the national political scene has "kickstarted folks" who might have been otherwise okay with some level of complacency and that people, both within and outside of the district, are starting to question systems that have inflicted harm on the community. 
Issues of inequity, particularly within health care, housing, education, and racial justice, are big themes driving the election, particularly given how the pandemic impacted existing issues. 
Pandemic's impact on district 
Candidates touched on the pandemic's disproportionate impact on their community during interviews, pointing to platforms crafted to address inequities and boost funding for vital government services like healthcare. 
"COVID didn't create these issues for our neighborhoods, it exacerbated them for everyone to see," said Krishnan, who is the son of South Indian immigrants. "I think that the fact that Jackson Heights and Elmhurst were the epicenter of the epicenter of this pandemic wasn't any accident. It was the result of decades of disinvestment in our neighborhoods."
Krishnan points to his experience as a civil rights lawyer fighting for housing justice as the reason he decided to run for office, saying Jackson Heights and Elmhurst have experienced years of systemic inequities where the community has not gotten the resources and services it needs from the government. 
To address this, he said, the city needs to truly invest in services — not temporary fixes or patches. On the healthcare front, Krishnan is in favor of significantly expanding city funding for Elmhurst Hospital as well as instituting a citywide moratorium on hospital closures and increasing language accessible services within health care. 
Tran, who is the daughter of Vietnamese refugees, supports a universal healthcare system that is accessible to all regardless of a person's immigration or economic status, including the New York Health Act campaign and Medicare for All, according to her website. 
She said seeing what the community went through during the pandemic is part of the reason she decided to run as well as the fact that the "status quo was not working even before the pandemic."
Quiroz is also calling for increased funding for Elmhurst Hospital as well as the reopening of St. John's Hospital or another hospital to increase the number of beds in the community. On why the district was hit so hard by the virus, Quiroz said it shouldn't come as any surprise. 
"This is a very high immigrant area, a lot of undocumented immigrants here and a lot of these people were afraid to go to the doctor," he said. In addition to increasing the number of beds, part of his platform focuses on making sure immigrants feel safe when accessing healthcare.
Affordable housing is also a hot topic in the district and candidates said one of the reasons the virus was able to rip through the community with such force is because so many people are living in overcrowded housing due to high housing costs. 
"Where your home is affects everything else — the resources that we need but don't receive for our public hospitals, for our public schools, for our mental health services," said Krishnan, adding that housing is the most central crisis in the city. 
Krishnan and Tran are both in favor of legalizing basement apartments which make up many of the housing units in the community. Quiroz said he also wants to look into safely housing people in alternative parts of apartment buildings like basements. 
District 25 also ranks among the lowest in the city in terms of environmental and health standards, making open space another hot topic in the race. 
Outgoing council member Dromm and Krishnan both wrote op-eds on Streetsblog NYC calling for part of 34th Avenue to be converted into a linear park — the stretch was previously converted into an "open street" during the pandemic to give residents more room to stretch their legs and seek solace out of their apartments. 
Quiroz said he's supportive of 34th Avenue being an open street, but there are a few things he'd like to see resolved such as finding a way to tackle speeding motorcycles that sometimes go down the street, carrying out a transportation study to see its existences' impact on the parallel streets, and he wants to make sure elderly people living on the street still have access to ride services. In regards to it being further converted into a park, he said he'd like more information on how it would work before making a decision. 
Connecting with voters 
Candidates talked extensively about how their backgrounds and identities give them an important perspective to help address and advocate for their community. 
Quiroz said that as a gay Latino, the district's acceptance of him when he moved to the city from Chicago about 20 years ago with neither job prospects or a place to live meant a great deal to him. 
"Representation matters. This is the largest LGBTQ- Latinx community in New York City," he said. "It's extremely important that we have proper representation for that community." He noted that not everyone is given the same acceptance that he was, which is why he wants to make sure all receive an equally warm welcome in the district. Exiting City Council member Dromm is also gay and a major advocate for the LGBTQ community during his time in office. 
Krishnan said his platform is the result of the contributions of many different movements across the community. Language access, and making sure that's a big part of his outreach, is also something he pointed to as one of his priorities. 
"If we don't prioritize language access in our city, then the laws and the rights that — especially in communities of color -— have mean very little because then the city government isn't going to be reaching with the services or resources that it needs to be reaching," Krishnan said.
If elected, Krishnan could also become the first South Asian elected to New York City Council. 
Tran said her platform was created in conjunction with community organizers and movements — it wasn't just one person sitting down and putting pen to paper — her coalition is made up of people who have been traditionally ignored within politics. 
"It's not about me, it's about what our community has been doing and amplifying that work because at the end of the day it's always the groups that are doing that work," she said. "They should actually be informing our solutions."
Of the race in general and why it's such an important one, Tran pointed to its historic nature. 
"Not only do we have an open seat, we also have all people of color running, immigrants, children of immigrants — so homeland politics also heavily plays out in this district," she said. "Ideas have shifted and people are feeling that not only are we a part of the community, not only do we operate business and attend schools here, our government should reflect that as well."