This Week's Headline
The New York City primaries and upstate shake-ups
Last week, Gov. Andrew Cuomo practically declared "mission accomplished" with regards to the COVID-19 pandemic.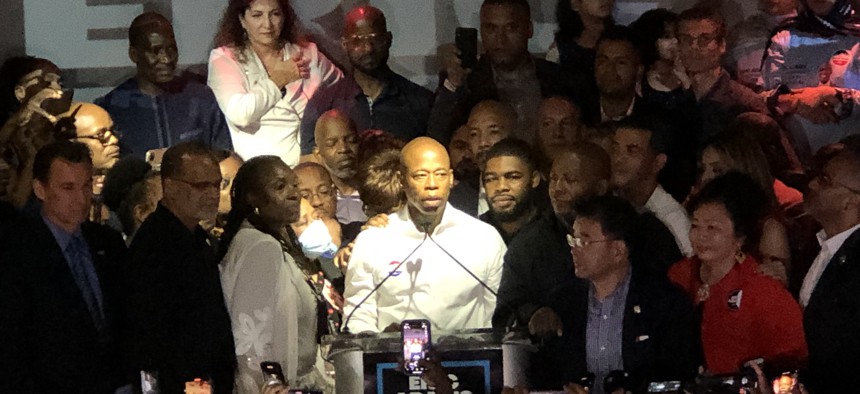 Last week, Gov. Andrew Cuomo practically declared "mission accomplished" with regards to the COVID-19 pandemic. And this week, he made it more official – he ended the state of emergency he declared over a year ago, bringing to an end the expanded powers he's had throughout the crisis. While nearly all restrictions had already been lifted, it did bring an abrupt end to the popular allowance of to-go cocktails. The state permitted the boozy takeout only through emergency powers, and restaurants are now lamenting the sudden loss of one of their best sources of revenue keeping them afloat during the pandemic. Plenty more happened this week, so keep reading for the rest of the news.
Adams is NYC's first choice for mayor
Brooklyn Borough President Eric Adams has been waiting to become mayor of New York City for at least 16 years, when, as a newly minted captain in the New York City Police Department, he started telling friends that one day he'd lead the city where he had lived his whole life. But even though Adams leads the Democratic primary for New York City mayor with 31% of the first-place, in-person votes, he will have to wait a little longer before he can officially declare victory.
"We know there's going to be twos and threes and fours," Adams said at his election night party Tuesday, referring to ranked-choice voting. "There's something else we know – that New York City said, 'Our first choice is Eric Adams.'"
This is the first citywide election with ranked-choice voting, and since Adams didn't earn at least 50% of first-ranked votes, Democrats' lower-ranked votes will be counted and allocated toward the total in the coming weeks, after absentee ballots are also received. That "instant runoff" may close the gap between Adams and either Maya Wiley, the former counsel to Mayor Bill de Blasio, who is in second with 22% of first-place votes, or Kathryn Garcia, the former New York City sanitation commissioner, who is in third place with 19.5%. Garcia aggressively promoted ranked-choice voting by campaigning with another opponent, Andrew Yang, and polling suggested that Garcia was among the least polarizing candidates in the field, which should help her pick up lower-ranked votes from New Yorkers who gave other candidates their No. 1 selection. However Adams' lead was large enough that it's unlikely for any other candidate to overtake him.
In a celebratory, though measured tone, Adams came close to declaring victory Tuesday. "What a moment. The little guy won today," Adams said, emphasizing his humble upbringing in South Jamaica, Queens, and presenting his success as a triumph for blue-collar New Yorkers. Adams would be the first mayor to have attended New York City public schools since Abe Beame, who left office in 1977. Adams later added: "We have been chosen by our neighbors to lead this city." Read more here. 
Lander rides progressive wave
For weeks, New York City Council Speaker Corey Johnson was the presumed front-runner in the race to become New York City's next comptroller, judging by most polls in the Democratic primary. He came under fire for being absent from the campaign trail at forums and from his job, fending off tough criticism in the first New York City Campaign Finance Board sanctioned debate.
However, at the end of election night, New York City Council Member Brad Lander was ahead of Johnson in first-place votes, leading the field with more than 31% of first-place votes to Johnson's 22.5%.
Lander had initially been considered a strong candidate before Johnson, who enjoyed greater name recognition, entered the race in March. But the progressive left coalesced behind Lander, who was endorsed by U.S. Sens. Bernie Sanders and Elizabeth Warren, Reps. Alexandria Ocasio-Cortez and Jamaal Bowman, the Working Families Party and The New York Times. In a recent poll by left-leaning think tank Data for Progress, Lander led Johnson by 8 points, which was close to his lead on election night.
"I'm feeling great," Lander told City & State, speaking from the Threes Brewing bar in Gowanus, which is in his Brooklyn council district. "It's too soon to make declarations, we have more results to come in tonight. I'm a supporter of ranked-choice voting, so we need to see the ranked-choice tabulations, but we are feeling great. This is a meaningful lead, we've built a broad coalition across the city and we're thrilled with what we're seeing." Lander, who had not yet spoken to any of the other comptroller candidates when reached, credited the "broad and energetic" coalition he built in recent weeks with other elected officials, unions and community groups for his boost in the polls and said he believed he was always doing better than the polls predicted. Read more here.
Queens borough president surprise
Former New York City Council Member Elizabeth Crowley has become better known for losing high-profile races than winning them, after losing a congressional race in 2012, her own reelection bid in 2017 and a special election for Queens borough president in 2020. But the cousin of former Rep. Joe Crowley seemed to be close to pulling off an upset in the Democratic primary for Queens borough president, as the unofficial returns showed her trailing incumbent Donovan Richards by just 1 percentage point.
Four of New York City's five borough presidents are term-limited at the end of this year, but Queens had already chosen a borough president last year, when Richards comfortably defeated Crowley in a special election 35.8% to 28.8%.
So many political observers were shocked when the election night results showed Crowley trailing by only 2,076 votes. A political consultant who works in Queens, but wasn't involved in the race and asked for anonymity so as to not speak for his clients, may have captured the sentiment best in a phone interview: "What the fuck happened there? That is insane! Insane! God bless Liz Crowley."
It's extremely rare for candidates who lose special elections to come back the next time and win. All five City Council members elected in special elections in the past six months have comfortable leads, if not outright victories based on first-place votes on election night. And as New York City political savant Louis Cholden-Brown noted on Twitter, a Queens borough president hasn't lost reelection since 1957.
As Queens-based political consultant Sam Goldsmith put it, "I've been speaking with political insiders for weeks and months. And months ago, the thought was Donovan's a sure thing, and weeks ago the thought was Donovan's a sure thing. … The incumbent was always supposed to win this election, and Liz Crowley was never on anybody's mind." Read more here.
Money doesn't buy Manhattan DA
The election night results from the packed primary race for Manhattan district attorney showed former state Chief Deputy Attorney General Alvin Bragg with a 3-point lead.
Throughout the course of his campaign, Bragg was able to win over progressives and moderates with his work experience and plans to reduce incarceration, along with his promise to not prosecute a number of minor offenses. Bragg has been vocal about how his own experience of being stopped and frisked by the police shaped how he thinks about the criminal justice system. Trailing close behind Bragg in second place is Tali Farhadian Weinstein, who spent millions of her own money on advertising.
While this was one of the few races, aside from the judicial primaries, to not use ranked-choice voting, as the position is technically a state elected office, voters are still going to have to wait for results from absentee ballots to be counted before we know the official winner. The winner of the race will likely inherit an ongoing high-profile investigation into former President Donald Trump's finances after the November general election.
Two upstate mayoral shake-ups
The upstate primary mayoral elections were a test of the strength between established political party interests and partisan insurgents, with incumbent mayors in Albany, Buffalo, Rochester and Syracuse battling challengers who wanted to deny them another term in office.
Four-term Buffalo Mayor Byron Brown ignored his socialist opponent India Walton, who now has a significant 7-point lead over him. Two-term Albany Mayor Kathy Sheehan actually debated her opponent and cruised to victory. Two-term Rochester Mayor Lovely Warren had to deal with an array of scandals and lost in a landslide to Malik Evans, an upstart member of the City Council with no such political baggage. First-term Syracuse Mayor Ben Walsh is a political independent who got to rest easy as Democrats and Republicans faced off for the right to run against him in November. The final results in the races will depend on absentee votes that have yet to be counted. Read more here. 
City Council sea change
The vast majority of New York City Council seats were open this year, and over 300 candidates were filed to run across the city. After election night, much remained uncertain, but Council Members Carlina Rivera, Rafael Salamanca Jr. and Farah Louis were a few of the incumbents that won easy victories. Manhattan Borough President Gale Brewer appears to have a very good chance of heading back to her old council stomping grounds. However, Council Member Darma Diaz was far behind challenger Sandy Nurse. And Erik Bottcher could very well end up winning former boss Corey Johnson's old seat.
Election Day had somewhat mixed results for progressives, many of whom were focused more on the council races than the mayoral in hopes of having an even more left-wing legislature to counterbalance a potentially moderate mayor. Only two of the six Democratic Socialist of America-backed candidates led on election night, and roughly half of the candidates endorsed by the Working Families Party had the most first-choice votes so far. A handful of the races were close, with the DSA or WFP candidate finishing in a close second that could flip thanks to ranked-choice voting – but the reverse was true as well, with some progressives holding tenuous leads as well.
Rudy's up and down week
After weeks and months of perpetuating false claims of voter fraud in the 2020 presidential election, a New York judge revoked former Trump lawyer Rudy Guiliani's license to practice law in the state. According to the judge, an interim suspension like he imposed on Guiliani is unusual and reserved for the most serious of misconduct. But the former Big Apple mayor was still feeling the love in his hometown, appearing on stage Republican mayoral candidate Curtis Sliwa on election night as he gave his victory speech. He was greeted by cheers and chants of "Rudy!" from an enthusiastic crowd of conservatives.
Very high turnout
There will be an estimated 930,000 votes cast in the Democratic mayoral primary, once everything is counted. That would be the highest number of votes in a mayoral primary since 1.1 million Democrats came out in 1989 to help the city's first Black mayor, David Dinkins, unseat the incumbent Ed Koch. And if anything, this year's total is an underestimate, since more mail-in ballots are expected to trickle into the Board of Elections in the coming days, adding to the 111,119 received as of last Thursday. About 180,000 Democrats voted early, and about 641,000 did so on Election Day. But while the raw number of votes exceeded expectations, the percentage of Democrats that turned out wasn't all that high, historically, given how much the party's enrollment has grown over time.