New York City
New York City should require green roofs
Urban farms, reduced pollution, lower energy costs, even sound-proofing – what's not to like?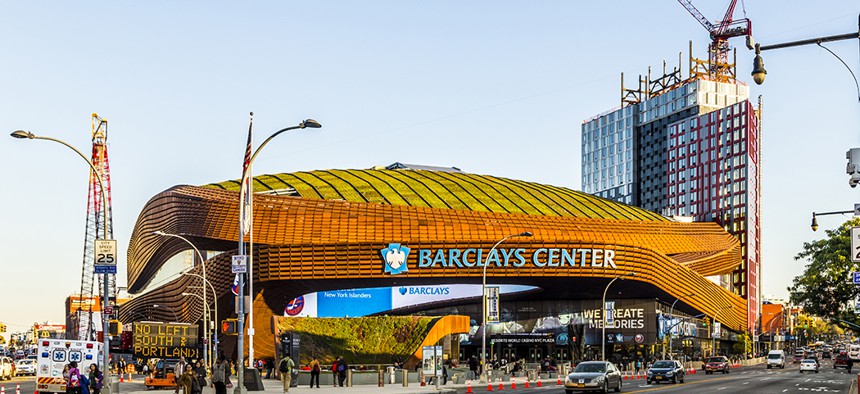 When the new concert venue Brooklyn Steel opened its doors a couple years ago, it brought a state-of-the-art cultural amenity to north Brooklyn – a place where people could see their favorite bands, enjoy local food and drinks and dance the night away. But hidden from view was something that truly set the new venue apart: a green roof.
This wasn't just for aesthetic reasons. Green roofs, which are roofs that are partially or completely covered in some form of vegetation, are tremendous assets to neighborhoods and the environment. They can be used to sound-proof buildings by acting as a sound insulation barrier, as Brooklyn Steel did. They can also cut energy usage, reduce stormwater runoff, improve air quality and reduce the urban heat island effect, which refers to a phenomenon where cities have higher average temperatures than surrounding areas. In addition, they offer green space for urban farming, which is the model over at Brooklyn Grange, a network of commercial rooftop farms in New York City.
Given their myriad benefits, it's no surprise that several large buildings throughout New York City, such as the Javits Center, the Barclays Center and the VICE headquarters have installed green roofs.
Still, these projects represent a small fraction of all rooftop space in New York City. According to a recent estimate by the Nature Conservancy, green roofs cover about 2.6 million square feet of rooftop space in New York, which accounts for about 0.15 percent of all rooftop space citywide. Compare that to Chicago, which boasts about 5.5 million square feet or Washington, D.C., which has committed to installing green roofs on 20 percent of all rooftops by 2020.
Global cities are taking the plunge to incentivize green roofs or even to mandate them. In 2010, Toronto became the first city to require green roofs on new buildings, followed by San Francisco and Denver in 2017.
New York City should join the ranks of these environmental trailblazers. That's why I am sponsoring legislation in the City Council that would put our city at the forefront of the movement to green our rooftops and make our city more sustainable. My bill would require many new buildings throughout the five boroughs to cover 100 percent of available rooftop space in a green roof system, small wind turbines, solar panels, or all three.
We cannot continue to sit on our hands. Inaction would be devastating, especially to our low-income and communities of color. My district has some of the highest asthma rates in the city due to the poor air quality that has persisted for decades. While green roofs would not undo the decades of environmental racism that created this public health crisis, they can mitigate air pollution, absorb climate change-causing carbon pollution and provide much-needed green space in these underserved communities.
In a rapidly warming world, city residents – especially the elderly and those with chronic illnesses – will also suffer from higher temperatures. Last year, Quebec and Japan experienced devastating heat waves, leaving over 100 people dead. These kinds of heat waves will only become more common in the future, and they are exacerbated in cities due to the urban heat island effect, which occurs because dark surfaces such as asphalt absorb more heat, and less vegetation in urban areas means less shade. Fortunately, green roofs can turn down the thermostat by reducing heat islands, thereby reducing the risk to vulnerable residents. Studies have suggested that installing green roofs throughout a major city could reduce ambient temperatures by up to 12 degrees.
Not surprisingly, the real estate lobby has expressed concerns about the legislation. They fret that a green roof requirement will drive up costs, making it harder to do business in the city. But counterintuitively, green roofs can actually help building owners savemoney over the lifespan of their building by providing better insulation and increasing property values. For example, the U.S. Postal Service has estimated that it saves about $30,000 in energy costs annually at the Morgan Processing and Distribution Plant in Manhattan since installing a green roof in 2008.
In fact, the business community should be welcoming green roofs with open arms. They would be a huge boon to New York City's job market, with the potential to create hundreds of middle-class jobs. Currently, there are green infrastructure job-training programs available for at-risk youth and formerly incarcerated individuals in the city, which could help us scale up this technology quickly.
Expanding green roofs would be a win for our environment, our economy and our communities. At a time when the Trump administration has turned its back on our planet, it is up to cities like New York to lead the fight against climate change. To do that, we have to adopt policies that take advantage of our unique, untapped assets.
For too long, New York has held the dubious distinction of being a concrete jungle. For a more sustainable future, we need to make it a green oasis.