Erica Vladimer changed Albany. Now she's aiming for Washington.
A Q&A with one of the candidates challenging Rep. Carolyn Maloney.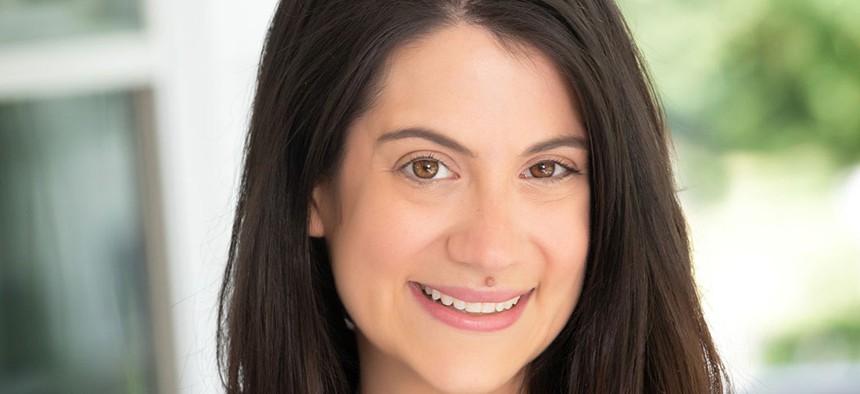 A few years ago, Erica Vladimer was just a "government nerd" who had become a lawyer to craft education policy. But everything changed when she decided to accuse then-state Sen. Jeffrey Klein of sexual harassment, saying he forcibly kissed her one night in Albany while she was working for the Independent Democratic Conference. Vladimer became a part of the Sexual Harassment Working Group, which found success in pushing state lawmakers to confront the state Capitol's culture of harassment.
And now, Vladimer is running for Congress, one of at least three Democrats who are hoping to unseat Rep. Carolyn Maloney in New York's 12th Congressional District, which spans parts of Manhattan, Queens and Brooklyn. She spoke with City & State about moving to the district, what she's heard from the committee investigating her harassment complaint and whether she'll bring pandas to New York. This interview has been edited for length and clarity.
Why are you running against a loyal, 14-term Democrat in Rep. Carolyn Maloney?
I'm running because I've seen firsthand how our government continues to shut out the very people whose voices are most needed in redefining what it means to, A, be a Democrat, but, B, to be a compassionate and progressive diverse community. And it's maddening. And I think that we're seeing a shift, especially recently in electoral politics, where people who have previously been marginalized – including a new generation of ambitious, thoughtful women – are elevating our voices and lifting up the voices of our most vulnerable neighbors and community members. 
Unfortunately, our current representation is more following the crowd – following the crowd instead of leading the call for impeachment. And Maloney voted for things like the catastrophic and generationally destructive Iraq War. And even most recently, ignored the pleas and expertise of those who would be most affected by SESTA/FOSTA and voted in favor of that sex-trafficking law that even the Department of Justice said would not be a deterrent to such evil and abuse. But she used outdated, divisive rhetoric as opposed to actually sitting down at the table and having conversations with advocates and people like those who started Decrim NY.
You identify as a straight, white Jewish woman. Do you represent any diverse communities, or did you mean that in a larger sense?
In a larger sense. The city is segregated. But overall, it is a diverse city – as is our district. And I think there are too many parts of our community that have gone unrepresented. It shows a lack of understanding and ability to represent the diversity that is within our district.
What's your history in the district?
I live on the Upper East Side, and I moved here when I first started working for the city. I was originally living with my aunt on Roosevelt Island for about a year. I was really fortunate, after looking for three or four months for a place to live, that I was able to find a place – a tiny studio apartment I now call home – and also campaign headquarters.
When did you move in?
The winter of 2017. I grew up in New Jersey but I was raised by New Yorkers. I was really sick as a kid and all my doctors were in the city. I have a personal connection and a really big place in my heart for having an upbringing that really included the city.
You worked in government, both for the state Senate and the New York City Independent Budget Office. How has that shaped your politics and your campaign?
I've seen firsthand what happens at budget negotiation tables, and when legislation is being crafted. And I think if we are going to advance the progressive policies that many of us insurgent candidates stand for, we also have to overhaul the process in which those policies are drafted, negotiated, redrafted, renegotiated.
I'm not ashamed to say that I'm a government nerd! And I'm fascinated by the process and finding ways that we can be better and create a better system and a better process in advancing policies by bringing more people who should have been at the table a long time ago, and giving them those seats to lead those conversations.
You've also been an activist with the Sexual Harassment Working Group. How has that informed your campaign?
I have both the activism and advocacy side from the outside, as well as the experience from the inside. My work on workplace protections has really helped me solidify wanting to be a congressional representative because I understand the need to work within the intersections of not just policies but the different levels of government.
When did you last hear from the state Joint Commission on Public Ethics, which is investigating your sexual harassment case against former state Sen. Jeffrey Klein?
As far as I know, my case is officially still open. That's really as much as I know. I'm waiting. I'm trying to be patient. But there's a lot more to be done. As I've said from the beginning when I came out with my story, this is bigger than just me. There was a whole system that was failing victims and failing to protect state workers from becoming victims. That needed to be addressed.
You advocated for changes to sexual harassment laws that passed earlier this year. Do you see these legislative wins as justice, even if Klein isn't personally punished?
I do. This shows that those who have been long ignored are finally not just demanding a seat at the table, but are actually claiming their place there and are succeeding at changing human rights laws so they actually reflect what we need as humans, as workers.
A lot of people are calling it the AOC effect. Did Rep. Alexandria Ocasio-Cortez's victory inspire you to run?
It was certainly a part of it. I think a big part of it for me, too, was seeing the critical mass win on the state level. People like state Sens. Alessandra Biaggi and Julia Salazar and Jessica Ramos and Andrew Gounardes and Brian Benjamin. All those amazing wins on the state level, and seeing this new generation of voices and elected officials, and seeing them work together. We're definitely seeing that with AOC, we're seeing that with her and Massachusetts Congress member Ayanna Pressley and Minnesota Rep. Ilhan Omar, and we're also seeing that on the state level. And it's seeing that critical mass and how much they're able to accomplish on behalf of people who haven't had a voice. That's really inspiring.
Are you a member of the Democratic Socialists of America? Are you gunning for their endorsement?
I'm not a member, but I'm going to be seeking the endorsement of any organization that I feel that my values align with theirs. DSA is definitely one of those organizations. 
Like Maloney, do you commit to bringing pandas to New York City?
(Laughs.) I commit to bringing more Title I-A (funding) to our 1.1 million children. I also commit to fighting for more investment in our public housing and making sure that it's done with the "Green New Deal" framework. And I also commit to imposing a self-term-limit while fighting to codify term limits in Congress.
How many terms?
Twelve years total. If that's got to be six two-year terms, so be it. But I'm really going to be fighting to expand congressional terms from two years to four years, and then term limit to three four-year terms.