Donald Trump
Elise Stefanik wants the unthinkable: more women in the GOP.
The upstate congresswoman is fighting to elect more Republican women. The only thing in her way is the Republican Party.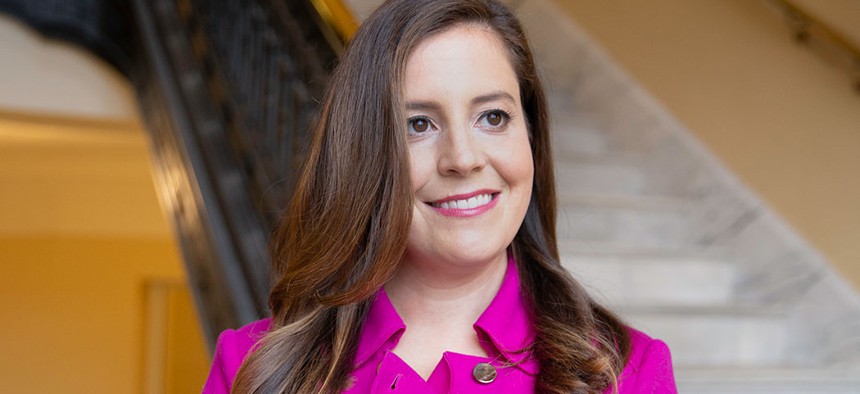 Last year, Rep. Elise Stefanik suffered a devastating failure: As the first woman to serve as the National Republican Congressional Committee's head of recruitment, she had wrangled more than 100 female candidates to run in the midterms but just one won. Most of the women she recruited didn't make it past the primaries; the one who secured a seat, Rep. Carol Miller, represents a deeply red district in West Virginia. With the defeats, the total number of Republican women in the House fell from 23 to 13 – the lowest number since 1994. By contrast, there are now a record number of Democratic women in the House: 88 in total, 34 of them freshmen. The problem Stefanik had set out to solve had only gotten worse.
Seven days after the 2018 election, at a forum for candidates seeking Republican House leadership positions, Stefanik, who represents New York's 21st Congressional District, stood up, gesturing to the room full of white men, and said, "Take a look around – this is not reflective of the American public," according to The Washington Post. She then asked the two white men gunning to be House minority leader how they would elect more women and later told the newspaper she was "struck that (she) didn't really get an answer."
Nearly a year after the forum, when asked why so few GOP women were elected under her watch, Stefanik pointed to "the lack of financial infrastructure that the Republican Party has had historically" to advance female candidates. On the Democratic side, groups like Emily's List fund women in the primaries; in 2018, that organization, which aims to elect pro-choice Democrats, spent $14 million in the primaries and considerably more in the general election. "There's a number of Democratic organizations that invest very early in women candidates," Stefanik told City & State. "Republicans just haven't developed as built out of an ecosystem and we're trying to change that." She paused, then added, "I'm trying to change that."
She can't, however, change it from within. Unlike the Democratic Congressional Campaign Committee, the NRCC doesn't publicly or financially support candidates during the primaries. So, in December 2018, Stefanik stepped down from her recruitment role, telling Roll Call she wanted to "play big in primaries." "Oftentimes getting through the primary is the toughest challenge for Republican women candidates, so I made the decision to identify and support the top female candidates early," she told City & State.
Since then, Stefanik has expanded and refocused her political action committee, Elevate PAC, or E-PAC as it's known, to recruit, develop, fund and mentor top-tier female Republican candidates. "Women bring a unique perspective," Stefanik said. "I think having more at the table makes us more effective policymakers."
As of June 30, E-PAC had about $273,000 in cash on hand to support its efforts. In October, the first slate of "Rising Star" female candidates E-PAC is endorsing for the 2020 elections was unveiled, including Nicole Malliotakis, the assemblywoman from Staten Island hoping to challenge Rep. Max Rose, and Chele Chiavacci Farley, the state Republican Party's former finance chairwoman for New York City, who is taking aim at Rep. Sean Patrick Maloney's Hudson Valley seat.
But there are many roadblocks standing in the way of Stefanik successfully electing GOP women. The NRCC chairman, Rep. Tom Emmer of Minnesota, called her plan to get involved in primaries "a mistake," and the Republican leadership overall doesn't seem all that interested in getting women elected, often dismissing such efforts as playing identity politics. (Stefanik hit back at Emmer, tweeting, "NEWSFLASH I wasn't asking for permission.")
"The ethos within the Republican Party is, 'We just want the best candidate, it doesn't matter to us if it's a woman or a person of color," said Debbie Walsh, director of the Center for American Women and Politics at Rutgers University. There have been other groups like E-PAC, such as the RightNow Women PAC, started by a former George W. Bush official in 2014, that have proven ineffective. "Gender isn't prioritized, so when you come out and say, 'I'm about getting more Republican women elected,' you're coming up against the culture of the party," Walsh said.
On top of that, this is generally a difficult time to elect Republicans, particularly candidates who would lean on the support of female voters. The party is led by a man who once said, "Women, you have to treat 'em like shit." President Donald Trump has been accused of sexual assault by about two dozen women and his approval rating is consistently negative because it is much lower among women than men. The GOP got hammered in the midterms, performing especially poorly among women, who favored the Democratic candidate in their district by 19 percentage points, according to the Pew Research Center. Next year isn't looking any better: A slew of House Republicans are retiring, including two of the party's 13 female incumbents. An additional bad sign: One of the women retiring is Rep. Susan Brooks of Indiana, the current head of recruitment for the NRCC.
The NRCC chairman, Rep. Tom Emmer, called her plan to get involved in primaries "a mistake." Stefanik hit back, "NEWSFLASH I wasn't asking for permission."
So it's not all that surprising that the men contending to lead the Republican Party in the House couldn't tell Stefanik how they would get more women elected. But perhaps Stefanik realized she didn't need them to figure it out: She already knew how it was done.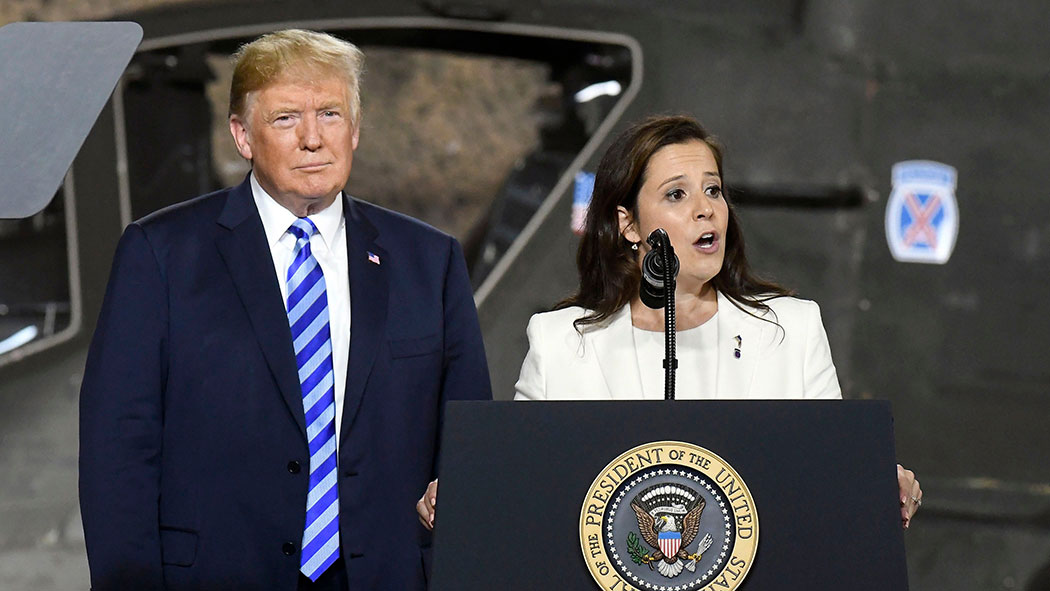 There's a historical reason that Stefanik, whose sprawling rural district stretches from below the Adirondacks to the Canadian border, is particularly interested in tackling the challenge of bringing more women into political office. "My district is the birthplace of Elizabeth Cady Stanton, one of the most prominent voices who fought for women's suffrage," she proudly noted, adding that she was part of a recent bipartisan effort to mint a commemorative coin for the 100th anniversary of women's suffrage next year.
Despite being reliably Republican – and conservative, at least by New York standards – the North Country has a track record of electing women, according to state Sen. Betty Little, whose district overlaps with Stefanik's. "I don't think there is any bias against women being in office here," Little said. "I've never really experienced that."
The state Legislature, however, has historically been notorious for its clubby, male-dominated culture and underrepresentation of women – particularly on the GOP side. Of the 213 seats in the Assembly and state Senate, 69 are held by women, up from 60 last year; just five of the 22 Republican state senators are women. "It was a little bit difficult in the beginning, when I was outnumbered so much that I didn't have a lot of colleagues or friendships," Little said.
Stefanik agreed. "My district is very forward-leaning," she said, observing that, besides her and Little, North Country voters also elected state Sen. Patty Ritchie, whose district hugs the St. Lawrence River and the northeastern shore of Lake Ontario, and numerous female district attorneys and town supervisors. "So there are lots of role models who have come before me and paved the way."
But that's not to say Stefanik was greeted with open arms back in the summer of 2013 when she announced her intentions to run for Congress as an unknown 28-year-old first-time candidate. She had moved to the district from her hometown of Albany just two years prior, settling in Willsboro, a town of roughly 2,000 on the banks of Lake Champlain, where she spent summer family vacations as a child. (She and her husband, Matt, now live in Schuylerville, near Saratoga, in the southern portion of the district.)
At first, local Republicans laughed her off, even though she had worked in the George W. Bush White House and as an aide for then-Rep. Paul Ryan of Wisconsin, whom she prepped for the 2012 vice presidential debate. "There were a lot of naysayers," Stefanik recalled. "And look, I understand you have a lot of people who say they want to run for Congress and they don't have the fire in the belly – but I had that fire." She said the doubters forced her to work harder; soon, she was crisscrossing the vast district in a Ford F-150 pickup. Her ad-maker Russ Schriefer told Roll Call at the time that she would drive "five hours to meet with half a dozen people," ultimately racking up more than 100,000 miles on the truck. "I met with county leaders, various activists, local businesses – really building a campaign from the bottom up," Stefanik said. Rather than apologizing for her age or inexperience, she used it as an asset: "I leaned into the fact that I was young and a woman and would bring fresh energy to the job," she said.
But while she was building support locally – she won a crucial endorsement from the North Country Republican committee chairs in February 2014 – in Washington, D.C., the party was coalescing around her primary opponent, Matt Doheny, who lost to Democrat Bill Owens in 2010. Owens had only narrowly won and, before him, Republicans had held the seat since the 1870s, so the GOP viewed the race as a pickup opportunity. Roll Call reported that the NRCC liked that Doheny had name recognition from his previous run and, as an investment fund manager, they also liked the size of his wallet. "I was not recruited by the NRCC," Stefanik told City & State. "They were looking for candidates who quote-unquote had run before or had the ability to self-fund."
She might not have been able to finance her campaign with her own money, but she did have some rich and powerful friends from her time in Washington. Ryan endorsed Stefanik during the primary, and she received an extra boost when her other former boss's strategist, Karl Rove, whose American Crossroads favored Stefanik, spent $750,000 on her campaign. "We think it's time for a fresh start in this district," Paul Lindsay, a spokesman for American Crossroads, told the Syracuse Post-Standard at the time. It was the first time the super PAC had supported a candidate in a Republican House primary.
Stefanik ultimately beat Doheny by 22 percentage points and later trounced Democrat Aaron Woolf, 53% to 33%, in the general election. (Green Party candidate Mark Funiciello won nearly 11%.) When she was inaugurated at age 30 in January 2015, she was the youngest woman in history to serve in Congress. (Rep. Alexandria Ocasio-Cortez of the 14th District beat Stefanik's record earlier this year when she was sworn in at 29 years old.)
But Stefanik may not have emerged victorious if she hadn't received such generous financial support during the primary. Roll Call reported Stefanik's own polling showed her losing to Doheny by 17 percentage points in April, before the influx of money from Rove and other top-dollar donors came in. Her opponent certainly thought the money was to blame, complaining at the time that national power brokers "would come in and try to buy this election for a 29-year-old who just showed up." Stefanik took note: "Early seed money and support is critical," she concluded.
Early support, whether campaign cash or mere encouragement, is often what Republican women lack. Research by Richard Fox, a political science professor at Loyola Marymount University, found women are far less likely to rate themselves as qualified for electoral office. Just 36% of women Fox surveyed said they were "qualified or very qualified," compared to 57% of men. That's why women often need to be asked several times before they seriously consider running for office.
"Frankly, the change that we've seen on the Democratic side did not just happen. It happened because of organizations that train women candidates at every level, creating a pipeline, so that when opportunities arise, there are women ready to run," Walsh said. "It's not just giving money to women who are already nominees. There needs to be some proactive intentionality – women have to be groomed for candidacy, guided and financially supported in primaries in winnable districts."
But efforts to increase the number of Republican women in Congress are at odds with much of the party's opposition to affirmative action or what they might call "political correctness." A December 2018 survey by Republican Women for Progress, which develops and supports female GOP candidates, found 71% of the party's primary voters were "not concerned" that there were only 13 GOP women in the House. "All of these structural issues have come out of this mindset of, 'We don't need to give women extra help,'" said Jennifer Pierotti Lim, one of the organization's co-founders. "But that fails to recognize that Republican women don't have the same opportunities to run for office that Republican men have had throughout all of history." The problem is that asking Republicans to change that mindset is essentially asking them to think like Democrats. "If you're operating on the belief that there's a level playing field out there, then you think the best candidate will just rise to the top and you don't have to do anything to help or train or raise money or groom more women so they're prepared and ready," Walsh said.
"So many of the women we work with … the party will go out of its way to harass them, ask them not to run, tell them it's not their time." – Jennifer Pierotti Lim, of Republican Women for Progress
Sometimes, the GOP goes beyond inaction. "Republican women were actually discouraged from running for office in 2018," Walsh added, citing the case of Joan Perry, a pediatrician from North Carolina who supports Trump. Perry ran in the Republican primary for a congressional district in a special election last year. "It was a very safe Republican seat, so the idea was, if a woman could win the primary, she would likely get elected," Walsh explained. But prominent Republicans, including Reps. Mark Meadows of North Carolina and Jim Jordan from Ohio, both leaders of the House Freedom Caucus, backed her opponent, state Rep. Greg Murphy, and she lost.
Endorsements aside, Republican voters – especially the social conservatives who play an outsized role in primaries – may be less supportive of female candidates. "The most conservative voters come out to vote in the primaries and they might not be as comfortable with a woman candidate," Walsh said.
Pierotti Lim, of Republican Women for Progress, has also seen how hard the old boys' club can be to overcome. "Not only is there not support for Republican women in the primaries, there's oftentimes active roadblocks put in place," she said. "So many of the women we work with … the party will go out of its way to harass them, ask them not to run, tell them it's not their time." She pointed to Rosemary Becchi, who is currently running in the Republican primary for New Jersey's 7th Congressional District. Becchi told City & State she was asked "fairly early on" by a party official at NRCC headquarters not to run. "He said, 'Look, this person wants to run and we think he should be the guy, so you shouldn't run,'" she said, referring to her opponent, Thomas H. Kean Jr., a state senator and son of a former governor. (The NRCC did not respond to requests for comment.)
She did some polling and decided to run anyway, raising $287,000 from other donors, and loaning the campaign $100,000 herself, as of Sept. 30. (Kean Jr., by comparison, has raised nearly $1 million.) After seeing the money Becchi had raised, Bill Palatucci, a Republican National Committee member for New Jersey, sent an email to area party members reminding readers that Kean was the preferred candidate and "no one should waste money" on Becchi. "It's flat-out bullying and it's inappropriate, especially when the party's official motto is they don't get involved in primaries," Becchi said. "I've certainly lost donors as a result. You miss out on people who are too afraid of retribution to buck the system and contribute to you."
When asked for comment, an RNC spokeswoman wrote in an email that the committee "does not get involved with primaries." She added, "It's wrong to imply that the Republican Party discourages women from running, particularly as we have a woman serving as chair who has publicly made it a goal since first being elected to get more women involved in politics to continue growing the party." Palatucci told City & State, also via email. "This has nothing to do with gender and everything to do with finding the best candidate," and that "the RNC has no policy limiting my support for any candidate in a primary."
Beyond reluctant leadership, women running for office as Republicans must contend with the orange elephant in the room. "It's complicated for Republican women in the Trump era," Walsh said. "The perception going into 2018 was that it was not going to be a great year for Republicans, in general, and there was an added component for women running in a moment when you have to defend or stand by the administration and its language and messaging as it relates to women."
Those who have stood up to Trump's rhetoric have faced backlash. Rep. Martha Roby, one of the first two women elected to the House from Alabama, condemned Trump after the "Access Hollywood" tape came out, in which he bragged about sexually assaulting women. She only narrowly won her primary against a pro-Trump challenger last year and she announced she will not seek reelection next year.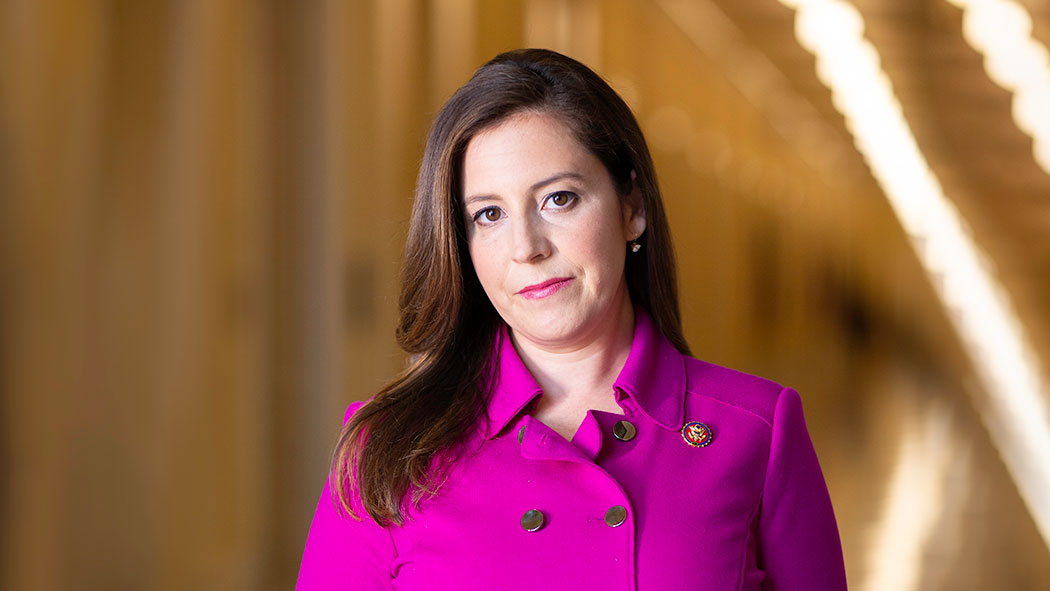 When it comes to the president, Stefanik has toed the party line. "I support the president. I support the president for reelection," she told City & State, a predictable stance in a district Trump won by 14 percentage points. "But I also have an independent record of areas of disagreement. … There are examples when I've spoken out against the president's rhetoric – certainly he communicates differently than I communicate – but he won women voters in my district."
She's been outspoken against impeachment, but she has focused on the investigation's process, which she has called "unfair and unprecedented." Luke Perry, a professor of government at Utica College, who recently published a book titled, "Donald Trump and the 2018 Midterm Battle for Central New York," thinks it's smart politics for Stefanik to publicly criticize and attack Democrats over the process. "That speaks to someone who is very adeptly navigating a political land mine," he said. "She's more muted when it comes to elaborating as to why exactly the president's conduct was OK."
On the first day of public impeachment hearings, however, she complained to House Intelligence Committee Chairman Adam Schiff about his witness list management and argued that Trump's actions themselves were legitimate. Believing her performance was too partisan, Matthew Dowd, chief political analyst for ABC News and the former chief strategist of George W. Bush's 2004 presidential campaign, tweeted: "Elise Stefanik is a perfect example of why just electing someone because they are a woman or a millennial doesn't necessarily get you the leaders we need." He later apologized for that comment.
But that was just a warm-up for Stefanik. The next day, the committee's ranking member, Rep. Devin Nunes, attempted to yield some of his time to Stefanik, in defiance of the rules adopted for the inquiry. Stefanik repeatedly tried to talk until Schiff gaveled her into silence. Stefanik sent an outraged tweet, Fox News breathlessly reported her supposed "gagging," and Stefanik went on to call the day "an abject failure for the Democrats and Adam Schiff." Slate noted that, since Stefanik and Nunes knew the rules of the hearing, "the episode was entirely a stunt, and the incredulity on Nunes and Stefanik's faces manufactured." But Trump was impressed by her performance, especially her effort that day to focus the hearings on Hunter Biden. "A new Republican Star is born," the president tweeted. "Great going @EliseStefanik!"
While Stefanik's star rises nationally, she said she remains focused on constituents' "bread and butter, kitchen table issues" back home by advocating for policies that will benefit the region's economy, whether it pertains to trade with Canada, the agriculture sector or U.S. Army base Fort Drum, which locals feared could suffer funding cuts when Trump diverted $3.6 billion in military funds to build a wall on the Mexican border. Stefanik's district, which was carried by Barack Obama in 2008 and 2012, is "a tough district, a swing district," according to Stefanik. "But," she said, "I work hard to consistently put up double-digit wins."
The polarization around Trump in her district erupted in mid-September outside her office in Glens Falls, when liberal activists who routinely protest outside Stefanik's office clashed with pro-Trump, anti-immigration marchers.
Still, Stefanik predicted that she will win reelection next year by even more than the 14 points she beat Democrat Tedra Cobb by in 2018. She is running unopposed in the Republican primary, as is Cobb in the Democratic primary.
Since Stefanik is confident she will easily win, she can focus on helping women in other parts of the country where the outcome is less certain. After the pushback at the outset, Stefanik said the party came around to her plan to help women win primaries. "Initially, there was some trepidation from the chair of the NRCC, but he has followed my leadership," Stefanik said. She added that House Minority Leader Kevin McCarthy and Minority Whip Steve Scalise "embraced it immediately."
In order to snag an endorsement this time around, each of the 11 candidates on E-PAC's "Rising Star" list had to have "raised at least $250,000 during the first three months of their candidacies, assembled a campaign team and demonstrated a path to victory," according to its website. "What I look for is, do they have the data on what the likely turnout models are going to be in 2020? What is their messaging plan? What is their background? How do they do in media interviews?" Stefanik said. She told The New York Times she personally speaks with the women about the details of campaigning, including budgets and email lists. "These candidates have demonstrated their strength early on in their races," Stefanik said in a statement announcing the list. "I worked with each of these candidates to ensure they are building strong, competitive campaigns, and I'm proud to endorse them."
The PAC is allowed to donate up to $10,000 per candidate; $5,000 in the primary and another $5,000 in the general. In addition to the 11 rising stars, E-PAC released a second list of 18 "Women to Watch." Becchi, the New Jersey Republican who said she was pressured not to run, made that list. Further endorsements are likely to come next year.
The candidates E-PAC is backing range from relatively moderate to far-right. There's Young Kim, a Korean immigrant running in California who supports student loan debt forgiveness in some cases and thinks children brought to the United States illegally should be "treated fairly and with compassion." At the other end of the spectrum is Beth Van Duyne, who as mayor of Irving, Texas, told Fox News that local Muslim leaders were "bypassing American courts" in favor of practicing Sharia, or Islamic law. "Sharia Law Court was NOT approved or enacted by the City of Irving," she wrote in a viral Facebook post in 2015. The Southern Poverty Law Center said Van Duyne "has associated with anti-Muslim hate groups." Stefanik is also endorsing Karen Handel, of Georgia, who as an executive for the Susan G. Komen breast cancer organization, was behind the decision to cut funding from Planned Parenthood, which provides free breast exams. (She resigned amid controversy and the decision was reversed.)
From 2017 until this summer, Stefanik was co-chairwoman of the Tuesday Group, a caucus of around 50 moderate Republicans that was formed to counter the far-right Freedom Caucus. So she leans more toward the center than some of the women she's supporting, but she has no problem endorsing candidates whose positions differ from her own. "I think it's a mistake to view women policymakers as monolithic – frankly, it's insulting," she said. "The advice I give to candidates is, 'You should run to represent your district and what people in your district care about. What a candidate runs on in Georgia is very different than someone who would do well in New York."
There's an early sign that Stefanik's work is already paying off. While it's too soon to know if she'll succeed in getting more women elected, she appears to be changing minds in the party. All but one of the women she endorsed are on another list too: A roster of candidates "on the radar" for the NRCC's 2020 Young Guns mentorship program. When the 43 candidates were unveiled in mid-August, Stefanik said it marked the first time the list had featured more women than men (23 to 20). "You'll notice now that the NRCC touts the historic number of women who have qualified," Stefanik said. "We're moving in the right direction, and I think that's because of the early work I've invested in these women candidates. … The life lesson is that if you're willing to lead, people will support you."