New York State
Q&A: Letitia James is one of them now
The AG on going from public advocate to the head of law enforcement.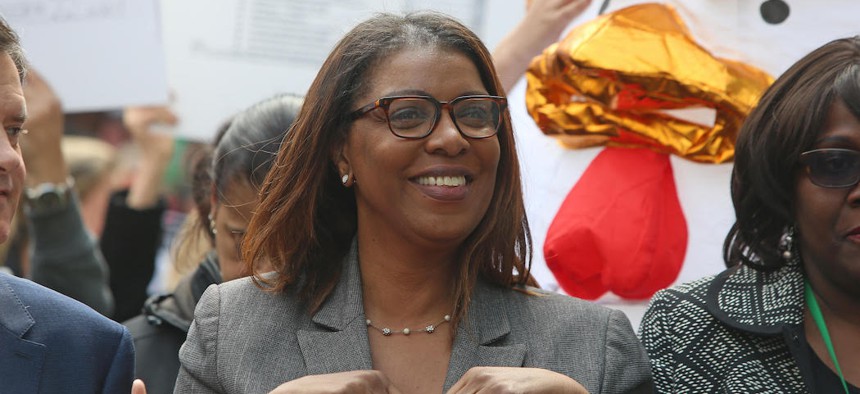 In a ballroom high above Park Avenue, New York state Attorney General Letitia James was speaking to a who's who of law enforcement. There was Manhattan District Attorney Cyrus Vance Jr., former NYPD Deputy Commissioner Larry Byrne and retired New York FBI Director George Venizelos. Dozens more power players sipped brown liquor at the midday fundraiser for the Police Athletic League, a regular luncheon hosted by billionaire and former Republican New York City mayoral candidate John Catsimatidis.
United more by wealth than partisanship, the crowd didn't seem particularly eager to hear about all the different ways that James, a Democrat, has stood up to President Donald Trump's administration this year. (Something you can read more about in City & State's analysis of her first year in office here). And so, perhaps to keep the peace, she didn't mention Trump once during her nearly 30-minute speech, instead focusing on the police. James told the attendees that she would continue working to make New York one of the safest places in the country. "But I cannot take any credit," she said. "All of the credit goes to law enforcement. … They're responsible for our low crime rate, and that is something we cannot ignore."
What was left unsaid is that James is one of them now – the state's top law enforcement official since taking office in January, filling the seat vacated by former Attorney General Eric Schneiderman, who seemed bound to run for governor before resigning amid allegations he physically and verbally abused romantic partners.
It's a role that James has embraced, even after having been largely removed from the legal world for nearly two decades, first as a New York City Council member, then as New York City public advocate.
"She's not a great litigator. She didn't go to Harvard Law School. She didn't work in a big law firm. So nobody really knew what to expect," said James Tierney, a former Maine attorney general and lecturer at Harvard Law School. But he said she's done a great job, particularly when it comes to cooperating with other attorneys general on multistate litigation holding pharmaceutical companies accountable for deaths from opioid abuse and protecting access to birth control and abortion. "And that has been noticed and deeply appreciated," Tierney said.
James talked about her first year in office over the course of a nearly 90-minute interview with City & State in her Manhattan office in the Financial District. Amid recent public backlash against policing in New York City, James discussed her own transition from politics to law enforcement – and how it caused her NYPD detective sister to quit. She also talked about her relationships with former attorneys general, and which one has been secretly testing her office. And James shared what she would say to Trump, given the chance – if he even knows her name – and why it wouldn't be in a courtroom. "I'm trying to appeal to his higher angels," she said.
This is your first year as attorney general, coming back to working in law after a long time away. Do you have any mentors, or people you've looked to for advice on the job?
I go to the attorney general, Bob Abrams, (New York's attorney general from 1979 through 1993) who's mentored me quite a bit.
In fact, I've got to tell you this funny story. So we decided to put forth an election protection platform. And we announced a telephone number for individuals who might be having problems at their poll sites. And so over the weekend, during that early voting period, we received a couple of calls from individuals. And one call in particular, the individual said that they were having a difficult time finding their poll site. And someone called me and said maybe you want to help this individual. And I listened to it, and kept listening to it. And I think he disguised his voice, but I was able to detect – it was Bob Abrams. (Laughs.)
Like, testing you?
Testing me. (Laughs.) Yes, testing us. And we called him back. And we said, "No, you're not going to get a phone tree. You're going to get a live person, and it's Tish James."
That is so funny.
So yes, he does test me.
You were an assistant attorney general under Eliot Spitzer. Do you ever talk to him?
Umm no.
What about Eric Schneiderman. Has he been active in this office?
No, I've respected both of them. I've respected their privacy.
I heard you've been teaching a class at SUNY Empire State College.
I still go by every now and then on Mondays, co-teaching. They are apprentices from (International Brotherhood of Electrical Workers) Local 3. And most of these young men and women have had hard lives and are trying to get their degrees. I was a visiting professor one day, and I got hooked. What they want to know about and learn about is the Constitution (and) how it relates to the labor movement and the relevance in their lives. And it's very interesting, because a lot of them are conservative. And we have a very spirited debate over the Second Amendment. We also have a very interesting conversation over the Fourth Amendment, stop and frisk. Reproductive rights is always a good conversation.
Your constituency has changed over time. First a liberal Brooklyn district in the New York City Council, then representing the whole city as public advocate. Now you have the whole state. Still very Democratic, but –
There are Republican pockets! And you know, we got pushback on, for instance, Green Light, the legislation that would provide driver's licenses to undocumented immigrants.
You've been defending that law from a challenge in federal court.
We're defending that. We've gotten pushback on our investigations into the NRA, on environmental issues, on reproductive rights, on the Trump Foundation. So there are Republican pockets not only upstate, but also in the city of New York.
Have you had to quiet your rhetoric in some ways to make it less aggressive?
I wouldn't describe it as rhetoric. I think what I have always attempted to do, both as a City Council member and as a public advocate, is try to bring individuals together to try to forge a common ground. And some of my rallying speeches, they've been, you know, pretty liberal. But at the end of the day, when you get to know me and my heart, you'll find that what guides me is my faith and the sense that we're all in this together, despite your political affiliation and despite your philosophy and/or your religion. And that we are here to serve a purpose. And for me, it's to serve and to serve others.
As you've changed constituencies, your office has exploded in size. Public advocate had what, 30 employees?
(Laughs.)
Now, 2,000 as attorney general?
1,800. It's huge!
How involved are you with individual cases? Do you review the actual briefs, the arguments?
Every day. Every morning I have a meeting with my executive team. Every Monday, I have a meeting with my deputies, and I get a briefing book with arguments, papers – I want everything. And then I want to meet with the individuals in charge. When you leave here today, I will have a briefing on a number of matters in the Charities Bureau, on a number of cases that I've had questions on. And then I also call staff members. I call them and congratulate them for running the marathon, birthdays, babies – got a bunch of babies over there – deaths, and when they are victorious. And based upon what you've been reading in the newspaper, I've been making a lot of calls, congratulating a number of (assistant) attorneys general. And I am, probably in the next year, going to be selecting a couple of cases that I am going to be arguing. Because this is great – 80% of my job is managing this office. But I've been very involved in the opioids discussion nationwide.
The opioid case is going to trial soon.
So there's two. There's the bankruptcy. Then there's the trial. Then there's a discussion that we are having with AGs as part of NAAG, National Association of Attorneys General, trying to come to some sort of resolution with some distributors. Our office has been a leader, and I've been in involved in that.
You said you're going to argue a couple cases?
I'm looking for a case either in OCTF (the Organized Crime Task Force) or Consumer Frauds (Bureau), or Investor Protection (Bureau). But all of a sudden, I've become very interested in antitrust. That sparked my interest. So, as you know, we have launched an investigation into Facebook and to Google, and so I hope to be playing a role in both those cases.
As Kamala Harris, the former attorney general of California, was running for president, a lot of folks on the left have been saying, as a smear against her: "She's a cop." "She was a prosecutor." "She locked up kids." How do you feel, as a prosecutor? Is that a smear against your progressive ideals?
The vast majority of the cases that we do here are civil in nature, so I won't refer to myself as a prosecutor. I don't know whether or not the California AG is in the same position. And so I think it's unfair. And if she is in the same position as the New York attorney general, it's sort of unfair to say that she's locked up kids. And to disparage prosecutors is also unfair as well. I respect prosecutors, not only in New York, but all across this nation, who have a job to do and to keep us safe. And if an individual is hurting your child or your family, or your community, the first individuals that you're going to in all likelihood are the police and a prosecutor. So let's not disparage law enforcement.
RELATED: Why the Trump Foundation settlement was so unusual 
(After Harris dropped out of the presidential race on Dec. 3, City & State asked James to comment again.) Is it personally disappointing?
It's very disappointing. I thought she would at least survive until Super Tuesday. It's personally disappointing for a number of reasons. One, as a woman of color. Two, she and I both graduated from Howard University. Three, she was the first African-American woman elected as an attorney general. I am the second. When I met her in Washington DC she gave me words of advice and encouragement. I will forever remember that. And so yes, I am disappointed, but nonetheless we have to move on. We've got to identify a candidate who can continue to move this country forward and not backwards.
There has been a lot of anti-police backlash in New York City recently. Are you sympathetic to that?
There's been individuals who have engaged in anti-police rhetoric, and there's not been enough reporting on efforts to try to heal the rift between police and (the) community. I wish there were more reporting on that, as opposed to those who would just bash the police.
How is your relationship with the NYPD?
(Outgoing NYPD Commissioner James) O'Neill's been good. We've had our challenges. We've had our moments, but there's been more good days than bad. And I look forward to working with police Commissioner (Dermot) Shea.
You have a sister working in the NYPD, Detective Loretta James?
Yes. She's retired. Part of it, she retired because I became AG.
Is it a conflict of interest?
No, no conflict of interest, it's just that some comments were being made. And we had a conversation about that. And so to avoid tension, she decided that it would be best to retire.
Regarding the special prosecutor order, the Brooklyn Daily Eagle reported a story where they felt like they couldn't get a straight answer from you. Are you in favor of codifying and expanding the executive order giving the attorney general jurisdiction in certain cases of killings by police?
I thought I was clear that we should codify the existing law. And I support expanding it. However – and this is a big however – I don't want to come out and support without reemphasizing the fact that it's an unfunded mandate, and it requires resources. And we have limited resources.
Some of the recommendations from our reports during these last few months have fallen on deaf ears, including, but not limited to, our cry for more resources for police cameras all across the state. State police do not have body cameras. Two, we need more resources to address individuals who are suffering from mental illness. A significant number of the cases that I've had to review involve individuals who were decompensating and who need special attention.
You made similar comments about the new discovery and bail laws, calling them unfunded mandates. Do you have concerns about the content of the laws?
By no means. I support the criminal justice reform, but in the forefront: bail reform, as well as discovery, and hope that we will go further in the next legislative session. But again, it was passed without resources. And it puts us at a disadvantage.
When you say that, are you standing up for district attorneys across the state? Are you speaking as the top law official here?
I'm speaking as the chief law enforcement officer of the state of New York. When laws are passed that impact and affect the administration of justice, they should come with additional resources. Otherwise there's a question as to whether or not the law can be effective or not.
Back to the special prosecutor. Do you think in general that local DAs can't always be trusted with prosecutions of the police that they work so closely with?
It's not a question of not being trusted. It's a question of the appearance of a conflict. And because of that close relationship between police officers and district attorneys, that symbiotic relationship, it would provide a greater level of comfort for the general public to have an investigation be done by an independent party. And that independent party should be the office of the attorney general.
You're a lawyer, but you're also a politician. Is this job more about the politicking?
First and foremost, I'm a public servant. Less a politician, more of a public servant. I am an attorney. And I work with a talented pool of attorneys and nonattorneys and we're here to administer the law, and to protect the interest of New York state, a sovereign state. And so has the office changed? Has the direction changed? I would say no. We're continuing to uphold the law and continuing to serve as the people's lawyer.
Have you ever talked to Donald Trump? Or at least in the past year?
I have never met President Trump. But I would be willing to talk to him, if he would have me in his office. And what would we talk about? A potential conversation with President Trump is: "How can we heal our nation? And how can you be a little bit more of a president with a heart, and less of a president with a steel backbone?"
So in this situation, you would actually be trying to have a conversation with him rather than deposing him?
Correct. Because if you seek to depose him, you're obviously going to turn him off. And so I'm trying to appeal to his higher angels.
He's famously avoided saying your name in tweets for a while. I believe that changed and he finally said James at one point?
Oh he did? No, it was a press release. He refers to me as the governor's attorney general. It's a badge of honor. It's a badge of honor that he recognizes that the office of attorney general is on top of its game, and that we're standing up on behalf of the residents of the great state of New York, and the Constitution, both the federal Constitution, the state constitution. And so I'm proud of that. But I would like for him to know that I'm independently elected, and that I'm not the governor's attorney general.
He's a Floridian now. He doesn't know the specifics.
Well, yeah, but we still have jurisdiction over him because he still has his properties here, and so he still has to pay taxes here. And so it's really of no moment that he moved to Florida as far as I'm concerned. When he moves out of Washington, D.C., then we'll have a conversation.
Do you think there's a race or gender aspect of him not using your name?
Well, I'm sure he knows by now that I'm a woman and a woman of color. Is there a political aspect to it? I don't know. Far from me to assume to know the thinking of President Trump.
New York has seen the political left grow in influence.
Left. Left I don't know … left.
You were always –
Left of center.
Really left.
No, no. People put me in that space, but I'm sort of – not really moderate, but reasonable. What's so interesting is I travel all over the state. A lot of people are of that impression. And a lot of people during the campaign were like, "No, we can't support you because you're radical." And then after they talked to me, it's like, "You're pretty normal. And pretty moderate." I was like, "Yeah, it's the media that paints me as this radical left nut."
Somebody told me that you once screamed at (former Brooklyn Democratic boss) Vito Lopez. What was that about?
May he rest in peace. But I did. May he rest in peace. Let's not dredge up the past.
Read City & State's profile of Tish James here. 
Powered By
NEXT STORY: Third parties aren't going down without a fight