New York State
A blunt conversation with Cuomo's pot czar
Norman Birenbaum has been heading up the governor's efforts to legalize marijuana.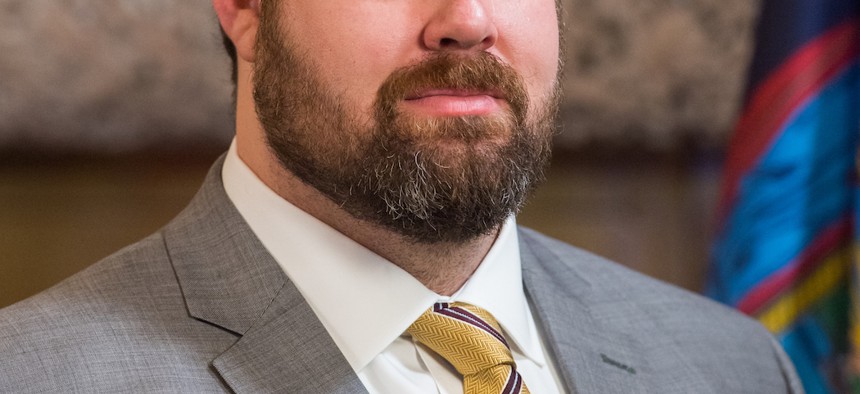 If at first you don't succeed, try, try again. 
That's what Gov. Andrew Cuomo is doing, giving another go at legalizing recreational marijuana this year with the intention to get legislation passed as part of the budget. And this time around, he has some additional help from Norman Birenbaum, who is serving in the recently created role of state director of cannabis programs. Cuomo appointed Birenbaum at the end of 2019 to take the lead on marijuana issues in the state, most notably policy proposals to legalize recreational use. City & State caught up with Birenbaum about what he's been up to, where legalization proposals stand and the possibility of a regulated home-delivery system in the state. This interview has been edited for length and clarity.
What does your day-to-day look like right now since recreational marijuana hasn't been legalized yet?
Right now, day-to-day, I fall into a couple different areas. As the director of cannabis programs, I do help oversee the existing cannabis programs that we have in the state, so that includes the medical marijuana or medical cannabis program and then also our industrial hemp program. We've seen a lot of changes, particularly in the industrial hemp program, or proposed changes that are about to be enacted. Another aspect of what I'm doing day-to-day does pertain to the budget. It includes going through different comments that we have received, either internally or externally, about our proposal, making sure that as we're seeing even more information come out of other states. And then continuing the conversations with our legislative partners. And then the third thing that I'm doing is preparing for passage. The governor has been very, very clear that this is a priority for him. So if we do have a legalized adult use cannabis on April 1, that's going to require a new office being set up, new regulatory structures, a lot of operational changes in terms of building a new staff, getting different things in place and building the infrastructure so that we can move quickly and in scale.
Is there an expectation that you would take over that new agency and become the executive director of the proposed Office of Cannabis Management?
I don't think there are any expectations right now. That's going to be something that's a separate process. If and when the proposal passes, I'm really focused right now on making sure that the best policy is put forth and and passed. And then also making sure that the existing programs that we have here in the state are working as well as possible and in a position to quickly be transitioned over under a new regulatory office.
What's the biggest lesson New York can learn from what's known about implementation in other states?
To boil it down to one key lesson, you need to have flexibility in your regulatory structures. This is an industry that is constantly changing and innovating. And we do not have the type of history and empirical data that we have in other industries that have been regulated for 100 years or more. So being able to have flexibility to move with the industry, both for the industry participants and for business owners, but also to make sure that we have the proper safeguards and tools to protect public health and safety, are really key. To speak with some specifics, there are a lot of very, very, very important lessons. You can look at California and look at the importance of making sure that you're not just trying to displace but absorbing and converting the legacy or illicit market. If you look at Washington or Oregon, one of the largest lessons there is really making sure that you have demand-based limits and market-based limits for production. Looking at Colorado, they went through a huge learning curve when it came to basic packaging and labeling and public awareness.
You bring up this idea of integrating the "legacy" market, or the current black market. Not everyone has been arrested and would qualify for a social equity license. What's being proposed to help these people enter the new legal framework?
We're having conversations right now, thinking what can we do to convert not just these operators, but also their customers. Because if you can't get that customer base to procure from a regulated supply, you're really fighting a losing battle. We have a tremendously effective home delivery program, or home delivery system, right now within our illicit market. So that is something that we're taking a look at. And based off of our preliminary discussions and our planning, we do not expect to take the same approach to home delivery that other states have taken, which is to say, put a pin in that and let's wait and do that maybe in year three or four. We're looking at different ways that we can make sure we're front loading home delivery, and also looking at ways that we can make sure that that's done by qualified operators that are operating now so we can absorb and transfer those operators and their customers over to regulate and supply it.
Where is there still a gap to bridge between the proposal from the Legislature and the one from the governor?
The benefit of what happened last year was there was a real thorough vetting and discussion of what these issues were, that still needs to be worked on. So to the extent that there is a gap, it's getting narrower and narrower and narrower. There were a lot of concerns last year about workplace protections and workplace safety and impaired driving. And those are some of the sections that have seen a lot of new provisions in the governor's proposal this year to address those concerns. And they've been very well received by external stakeholders and the Legislature. So we don't have a lot left to really iron out. There's obviously the question of revenue and exactly how it gets us to meet and achieve our shared goals. The Legislature and the governor have the same goals. So now that we have this general agreement on what we need to do, everyone just needs to get around the table to iron out the details of how that's going to get done.
The Legislature and advocates have been pretty adamant that the legislation earmark a specific amount of revenue for social equity and community reinvestment, while the governor has been adamantly against including earmarks for revenue. Is there a compromise to be made?
This question gets back and ties into one of your previous ones, which is around flexibility. It is hard to say this is going to be the very rigid either allocation or percentage or amount of resources that we're going to dedicate to a certain area when we don't know what those needs will be. We're looking at our public health and safety monitoring and surveillance programs right now – where we have data gaps – being able to establish baseline data on use and how to impact public health and safety. The reason I bring this up is this data is very, very important, because it's going to tell us in the future where we need to dedicate more resources. So everyone has the shared goals, it's just making sure that what we're talking about is setting a floor not a ceiling so that if we need more resources, we have the ability to dedicate more resources.
Is there a way to set a floor, a minimal revenue baseline, for just social equity funding while keeping everything else flexible?
The governor has been really clear on this point that social equity is one of, if not the most important point after health and safety on why we need to legalize adult use cannabis. And his proposal this year includes community impact grants to be issued to these communities so that their future and their success is not just tied to participation in the industry itself. So there's going to be a lot of room for us to find agreement with the Legislature that also wants to see this done, also wants to see investment – that these communities that have been receiving the brunt of disproportionate enforcement and have really been torn down by prohibition, that these communities are repaired and that we have restorative justice in the final negotiated bill.
After last year's regional cannabis summit, how much ongoing coordination has there been with neighboring states on pot proposals?
We're in regular contact with regulators and policymakers in New Jersey, Connecticut, Massachusetts and Maine. So looking at tax structure so we don't have a race to the bottom in terms of pricing and not trying to undercut each other, looking at the basic public health and safety provisions to make sure there are common sense controls over product forms, product doses, product potency, product packaging and labeling so it's not being targeted towards minors. We've recently started to engage in a conversation around testing and testing requirements, looking at updating our own testing regulations to make sure that whether you're obtaining a product in New York and Connecticut and Massachusetts, in New Jersey, everyone can have the same confidence that these products all have the same level of safety.
Powered By
NEXT STORY: Savino isn't giving up on weed