Donovan Richards
Can Donovan Richards find himself?
Queens is both a machine stronghold and the most progressive place on the planet. The borough president hopeful thinks he can have it all.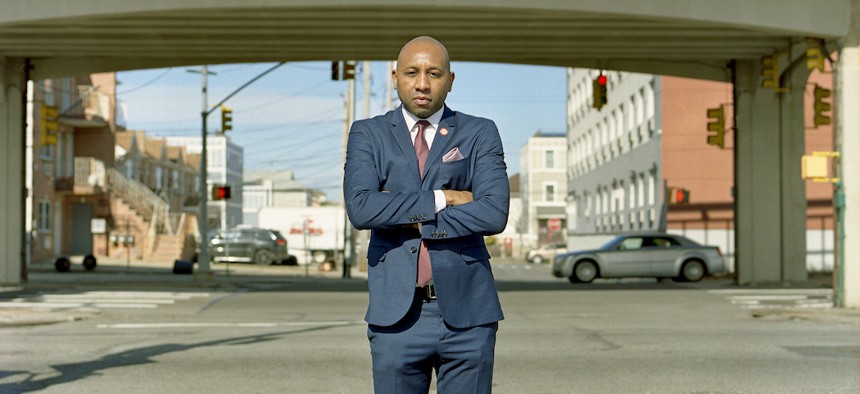 Donovan Richards stood near the altar of the Macedonia Baptist Church in Arverne, in the Rockaways, while a handful of attendees at the forum for Queens borough president candidates heartily booed at him. This was a black church in a majority-black neighborhood that Richards, who is black, represents in the New York City Council, but that didn't seem to mean much to the boo-ers. One of Richards' opponents in the race for borough president, former New York City Councilwoman Elizabeth Crowley, had just criticized him for taking campaign donations from "Big Real Estate," and, already testy from previous attacks on his record, he had responded with what some in the crowd apparently considered a low blow.
In a mocking tone. Richards referred to her loss in a 2017 reelection campaign. He jabbed, "If she did such a great job, she would have got reelected to her seat many years ago." Then came the boos from the crowd, so distracting that Richards just gave up on trying to make a further point, and instead dismissed those jeering as Crowley plants. "I know she brought a few people," he said.
That wasn't the only time Richards got attacked by opponents at the debate, and it wasn't the only time he snapped back. The other candidate there, retired NYPD Sgt. Anthony Miranda, had just teased Richards for being a career politician who's already had a chance to fix the problems he said he's going to tackle now. Then too, Richards pointed to the metaphorical scoreboard, saying Miranda wanted what Richards already had. "He ran for office many years ago and he lost," Richards said. "That's why he's not a politician!"
Queens voters have heard versions of these arguments before, just one year ago, in a race that created the opening in borough hall that Richards now wants to fill. The attacks on Richards – career politician, taking real estate money – may have come from relatively moderate Democrats, but they are straight from the playbook of Tiffany Cabán, the democratic socialist public defender who came photo-finish-at-the-Aqueduct close to beating then-Borough President Melinda Katz last year for Queens district attorney. (Katz's ultimate victory led to her leaving the borough president's office, and the March 24 special election is being held to replace her.) Cabán and her energetic campaign constantly attacked Katz for taking money from real estate donors and her long career in Queens politics. They also questioned the sincerity of her commitment to the liberal platform she adopted. But the race for borough president isn't the race for district attorney, and the young, progressive Richards may be uniquely positioned to weather the criticism and cruise to victory – even if he is, like Katz was, the "establishment" pick. 
Six candidates are vying for the Queens borough presidency in the nonpartisan special election, and early voting started on March 14. But as of the evening of March 15, it seemed like New York City Mayor Bill de Blasio would postpone, or possibly even cancel the election, given the city and the state declaring states of emergency over the new coronavirus. Three of the leading candidates, Richards, Crowley and New York City Councilman Costa Constantinides had already said they would be suspending in-person campaigning and stick to calls, texts and emails.
Among the candidates in the race are Richards, a Democratic city councilman since 2013 hailing from Southeast Queens; and Crowley, the former Democratic city councilwoman from Glendale. She lost reelection in 2017 to Bob Holden, a Democrat who ran on the Republican line because of his staunch opposition to allowing homeless shelters in the district. The trio of current or former elected officials, which might be considered the field's top tier, is filled out by Constantinides, a Democrat from Astoria with a heavy focus on combating climate change. Two other candidates come from law enforcement: Jim Quinn, the longtime top deputy in the Queens district attorney's office, who led the office after the 2019 death of District Attorney Richard Brown; and Miranda, the retired NYPD sergeant and founder of the National Latino Officers Association. Finally, there's Dao Yin, a former robotics executive who has kept a low profile and skipped almost all of the near-nightly forums where the candidates have been making their pitches to voters. Another city councilman, Jimmy Van Bramer, dropped out of the race in January, but that was after his name made the ballot.
This special election is happening outside the usual municipal cycle because Katz, the borough president since 2014, got elected district attorney last year and left Borough Hall behind in December. Of course, you already knew that if you follow politics, since last year's Democratic primary for Queens district attorney was one of the most surprising – and closest – races in recent history. The race had everything – money from a Netflix billionaire, an endorsement from U.S. Sen. Bernie Sanders, and a last-minute dropout by Councilman Rory Lancman that may have secured Katz's 60-vote post-recount margin of victory.
The comparisons are unavoidable. After all, here's another six-candidate, borough-wide race coming just nine months after the last one. Just like last time, we've seen the Queens Democratic Party, much maligned among reformers and progressives, endorse a candidate – in this case, Richards – while the others grumbled. 
Constantinides is trying to be the Cabán of this race. An Astoria resident like her, he's talking about a "people-powered campaign" while racking up endorsements from some of the same progressive political power players that backed Cabán, like the Retail, Wholesale and Department Store Union and state Sen. Michael Gianaris. 
And both races had the law-and-order white guy as an option for the more conservative voter: Greg Lasak, a retired judge, for the district attorney race; and Quinn, the retired prosecutor, for the borough president race. 
But these candidates have some key differences from their forerunners. Richards has only been an elected official for seven years, and he isn't nearly as establishment-identified as Katz, who is white and has been in politics for 25 years. Constantinides, 45, may share some politics with Cabán, 32, but her identity as a radical queer Latina and first-time candidate excited some young supporters.
Additionally, this borough president election is nonpartisan and open to any registered voter in the borough. Nonpartisan elections in the heavily Democratic borough don't necessarily bring out a much larger crowd: 99,305 Queens residents voted for public advocate in last year's nonpartisan special election to replace Letitia James in that post, compared to 90,540 for district attorney in the Democratic primary. With the election's all-but-inevitable postponement, turnout may be down if Queens residents avoid the polls to limit the spread of the new coronavirus, but it isn't clear how that would affect voting patterns. Since the election is nonpartisan, the electorate is likely more moderate than in a race for Democrats only. Cabán and Katz, who both ran on platforms of progressive reform, were the top two candidates in June's district attorney Democratic primary. But a moderate Republican, Queens City Councilman Eric Ulrich, actually won the borough of Queens in the February public advocate's race, with nearly 29% of the vote in a 17-way race. The citywide winner, Jumaane Williams, got less than 23% in the borough. The Assembly district with the highest turnout in that race (outpacing even Astoria's heavily pro-Cabán support in the district attorney race) was Ulrich's home of Assembly district 23, covering much of the Rockaways and partly overlapping with Richards' district. 
Ulrich hasn't endorsed a borough president candidate, but he expects Richards to carry Queens like he did. "Donovan is definitely the front-runner in the race," he told City & State. "His more moderate brand of politics has a lot of cross-over appeal to voters across the borough."
In the 1990s, packs of wild dogs roamed the neighborhood of Edgemere in the Rockaways, and after devastating flooding from Superstorm Sandy in 2012, it still looks more like some forgotten part of the Louisiana bayou than a neighborhood in one of the world's richest cities. But Edgemere got a little love from City Hall on February 19, as de Blasio joined Richards and other local electeds to cut the ribbon on Beach Green Dunes II, a geothermal-heated 100% affordable project with apartments set aside for the formerly homeless. Richards championed the project because he is – as de Blasio put it at the press conference – "obsessed with affordable housing. That's my accusation."
"Guilty!" Richards responded with a laugh.
As one of Richards' campaign staffers drives us through the district, the councilman can't go more than a few blocks without taking credit for some development. There's the brand new Beach Channel Senior Apartments, with solar panels on the roof. There's the soon-to-come Edgemere Commons, which will be one of the biggest affordable housing developments in modern history. And there are the vacant lots, between the elevated A train tracks and the Atlantic Ocean, where Richards actually planted some of the beach grass with his bare hands. When we reach Downtown Far Rockaway, it looks like Richard Scarry's Busy Town. Construction workers are tearing up the street and replacing storm pipes so the area doesn't keep flooding. Police direct traffic as students walk past a massive construction site. What used to be the blighted Thriftway Mall is on its way to becoming affordable housing, 200,000 square feet of commercial space and a school. 
"So that's the difference in this race," Richards said. "There's a lot of people who speak about hypotheticals, talk about what they're going to do." He leaves unsaid the rest of his pitch: Richards has gotten it done. And what he's done in the Rockaways – which the Queens Courier recently reported is poised for "the borough's next real estate development boom following the growth of Long Island City and Flushing" – he could do in the rest of Queens. 
It's a pitch to voters that he's making in TV ads, and it's a pitch that's actually based on the reality of what a borough president can do. The office's power is limited, but BP's can promote development, negotiate the scope of projects and challenge projects they don't like. Queens is the new Brooklyn, which is the new Manhattan – Manhattan south of Harlem now being Monaco – and humble Queens, once a shorthand for modest, middle-class comfort is now among the least affordable counties for renters in the country, in terms of the relationship between rents and the median income. So a focus on affordable housing makes sense, both substantively and politically. But not everybody agrees on how to get there. 
Real estate development is a complicated issue, but it's fair to call the insurgent left skeptical of new, large-scale projects – and even more skeptical of the motives of real estate developers. Look no further than Bernie Sanders jumping into a hyper-local issue while on the presidential campaign trail, criticizing a massive redevelopment project in East Boston.
"There's no developer who comes into my community and gets everything they want. ...But I don't think we need to single out one industry."
But the particulars of Richards' Southeast Queens district, spanning the eastern end of the Rockaway peninsula and many of the low-rise neighborhoods north of John F. Kennedy Airport such as Springfield Gardens, have allowed him to mostly avoid the kind of protests that met Bushwick, Brooklyn Councilman Antonio Reynoso while he weighed the benefits of opening his district to more development. Richards' district is rife with empty plots of land, and land values are low compared to the gentrifying quarters of Western Queens. And he thinks attention to the area is long overdue. "I mean, everybody points to Hurricane Sandy," Richards said. "But the economic tsunami was here prior. Sandy had nothing to do with why this was the way it was for 40 years. It was a lack of investment."
That context has allowed Richards to be seen as both pro-development enough for Republicans like Ulrich to consider him a moderate, but concerned enough with the plight of the working class to earn the respect of progressive colleagues and labor unions. Richards can spin it either way. Perhaps that's why the actual construction that Richards has championed is getting much less attention from his opponents than the money coming into his campaign account from real estate interests. Three of his opponents, Crowley, Constantinides and Miranda, have all sworn off contributions from developers, following a growing trend of Democrats distancing themselves from the real estate industry. 
At the same time, Richards is bringing in donations from the Real Estate Board of New York and employees at builders like Two Trees and the Ciampa Organization. Richards even co-wrote an op-ed with a major developer, writing that a new project would revitalize Edgemere.
Some of his opponents think he's a bit too eager to work with the industry. "He's proud to say that 30% of his contributions come from Big Real Estate," Crowley told City & State. "Big Real Estate is not popular in Queens. Big Real Estate has gentrified areas and over-developed other areas and people are angry about that."
"If you can be compromised by $160 you shouldn't be in politics. You shouldn't be in anything."
(At one point in the race, nearly 30% of Richards' fundraising had come from real estate, according to the Real Deal. He had to return much of the money to comply with new, lower contribution limits, and that percentage has since gone down.)
In an interview with City & State, Constantinides seemed to agree with Crowley. "The calling for real estate money and seeing it coming in – from (Related Companies owner) Stephen Ross in particular – of course, should be talked about." Ross is one of the city's biggest developers, and a major donor to President Donald Trump. The billionaire gave $160 to Richards' campaign – the limit for somebody who has active business before the city government.
Richards brushes the criticism aside, saying that he's been a tough negotiator with the real estate industry. "There's no developer who comes into my community and gets everything they want." That said, there are bad apples in every sector, and "I don't think we need to single out one industry." 
Katz's opponents knocked her for taking real estate money as well, but district attorney candidates could accept tens of thousands of dollars or more from a single donor. When it comes to the borough presidency, the city's low donation limits neuter the influence of any contribution, Richards explained. "If you can be compromised by $160 you shouldn't be in politics. You shouldn't be in anything."
Richards may have the establishment backing, but he looks like change. He's the youngest candidate in the race, at just 36 years old, and he can comfortably switch codes, talking about zoning regulations and the late rapper Chinx's "Feelings" music video – shot on location in the Rockaways – in the same conversation. Richards is quick to laugh, letting out loud guffaws at just about anything, making you feel like you're in on a joke. But his cool confidence can look like arrogance if someone challenges him – like his opponents did at the forum in Arverne. "I wasn't cocky," he said. "They attacked." And on his home turf, he couldn't let that go. "I'm a kid from South Queens and the Rockaways," he explained. And while he sticks to tailored jackets now, "Don't let these suits fool you."
Richards loves to talk about his unlikely path to power. While he's always had family in the Rockaways, and lived on the peninsula for a few years as an adult, he grew up in the mainland of Southeast Queens, bouncing between Queens Village, St. Albans and Jamaica while his young parents found their footing. He was a lackluster student who nearly failed out of now-shuttered Jamaica High School before his parents sent him upstate to Redemption Christian Academy in Troy to get his act together. He studied communications at Nyack College, then switched to Vaughn College of Aeronautics and Technology in Queens to study aviation management, imagining a job near home at JFK. 
But he was pulled into politics by the death of his friend Darnell Patterson Jr., who was shot dead in South Jamaica in 2003. "Leaving that funeral, I left different. Because he was no different than me," Richards explained. "We got in a little trouble together, but no different than me."
Richards entered the world of organizing, and joined the office of then-New York City Councilman James Sanders Jr. – now a state senator. Richards quickly started working on his next move: He challenged then-Assemblywoman Michele Titus for reelection in 2008, but he got booted off the ballot after she challenged his petitions.
Richards stuck with Sanders, eventually becoming his chief of staff. When his boss moved to the state Senate in 2012, Richards won the special election to replace him by fewer than 100 votes. He took office just four months after Superstorm Sandy ravaged the district, and he made recovery a priority. He earned rave reviews chairing the committee on environmental protection, then he filled a vacancy as chairman of the subcommittee on zoning and franchises, where he grew his development expertise. He was also elected co-chair of the Council's Progressive Caucus, burnishing both his leadership credentials and progressive credentials. After winning a second term in 2017, he ran for speaker of the City Council. He didn't win, but he earned a solid consolation prize: chairman of the committee on public safety. His political career, inspired by a gun violence death, had come full circle. He's tackled progressive priorities in the role, grilling the NYPD over its DNA database and passing a bill preventing New Yorkers on probation from getting tripped up for smoking marijuana. 
All that time, Richards played nice enough with the Queens Democratic Party without ever really embracing then-boss Rep. Joe Crowley and the machine. The county committee stayed out of his first City Council race, but supported his reelection once he was already in. He joined the machine to back Christine Quinn for mayor in 2013, but broke with them in the race for speaker, throwing his support behind Melissa Mark-Viverito instead of county's pick, Dan Garodnick. Crowley returned the favor in 2017 by never seeming to really get behind Richards' own campaign for speaker. 
"Progressive, establishment - whatever the hell you want to label me, label me."
The party has helped clear the ballot for him in this election. Assemblywoman Alicia Hyndman and New York City Councilman Paul Vallone were serious contenders – until Richards got the county's backing. Of course, even if there's a temporary aligning of goals in getting Richards elected, there are also personal interests to consider. Richards is young and ambitious and unable to stay on the City Council after this term expires because of term limits. County leader Rep. Greg Meeks would probably rather see him occupied in borough hall than eyeing a challenge to Meeks for his congressional seat. 
Richards' district is geographically huge, split in the middle by both Jamaica Bay and JFK. He's got two district offices – one foot in each community. Richards' key to winning in March may take a wider stretch, drawing on his base in mostly-black Southeast Queens while also reaching out to the progressive-leaning, majority-white Western Queens districts that went heavily for Cabán last year. 
Nevermind the boos he got at the forum in Arverne, this is an area that sticks with the establishment. Southeast Queens brought Katz some of her biggest vote totals in 2019, and a native son, with the local elected officials behind him, will probably do even better. 
But for the other foot, Richards is making a personal plea. "We're what the progressives have been looking for," Richards says, checking off boxes on an imaginary list. Racial diversity? Check. Youth? Check. "They're looking for people who have had the lived experience?" he asked. "I was born to teenage parents. My dad just became a citizen last year." But of course, he can't lean too hard in one direction. He's got to appeal to everyone. 
"Progressive, establishment – whatever the hell you want to label me, label me," he said. "But at the end of the day I am who I am."
Powered By
NEXT STORY: This week's biggest Winners & Losers