Interviews & Profiles
Darma Diaz talks smack after opponents kicked off ballot
The City Council candidate talks smack after everyone else is kicked off the ballot.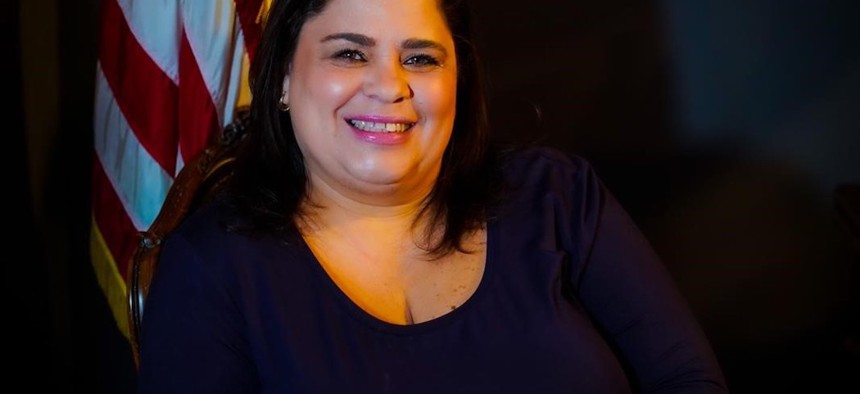 Update, April 30: After this story was published, a Kings County Supreme Court judge reversed the New York City Board of Elections' decision and ordered Misba Abdin and Kimberly Council to appear on the primary ballot, along with Diaz.
Brooklyn, meet your next City Council member: Darma Diaz. At least, that's the way things are looking, since as of Monday, the county party-backed candidate is the only one to qualify for the ballot in the June 23 Democratic primary for the 37th City Council District. 
The district includes Cypress Hills, East New York and part of Bushwick. Four other candidates tried to get on the ballot, but were disqualified by the New York City Board of Elections on Wednesday for not turning in enough signatures. Those candidates are furious, and they may have a reason to be. 
State election law says City Council candidates need to collect 900 valid signatures to appear on the ballot, but that's superseded by the New York City Charter, which says they need 450 signatures. When Gov. Andrew Cuomo enacted an executive order saying that, because of the coronavirus, candidates only needed to collect 30% of the usual number of signatures, there was confusion over whether it applied to the City Council race at all. And if so, would it be 30% of 450? Of 900? 
Attorneys for candidates Sandy Nurse and Kimberly Council argued they only needed 135 signatures – that is, 30% of 450. The board originally argued they needed 270 signatures – 30% of 900 – but then adopted a new argument that the executive order didn't apply to the council race at all, and that candidates still needed 450 signatures. But the revision hardly mattered. Nurse, Council and candidates Misba Abdin and Rick Echevarria all submitted between 147 and 218 valid signatures – so their names were removed from the ballot.
Nurse, who has the support of high-powered progressives including Rep. Nydia Velázquez and the Working Families Party, is challenging the decision in court and has yet to receive a decision. 
The stakes are high, since the winner of the primary is all but guaranteed to win in the November general, given the highly Democratic district. Complicating the matter, Nurse, Council and Abdin had already qualified for a special election originally scheduled for April 28, then moved to June 23. But Cuomo officially canceled that election Saturday, saying the seat would be empty until after the general election.
The disqualified City Council candidates are blaming the "machine" – the Kings County Democratic County Committee. As a district leader, Diaz sits on the party's executive committee. The Brooklyn Dems' leader, Assemblywoman Rodneyse Bichotte, has ardently supported the practice of petition challenges amid the pandemic, helping candidates like Diaz, despite calls from other Democrats to suspend challenges. 
"This is really a new low for the Brooklyn County machine," Nurse said at a video press conference on Tuesday. "My campaign stopped collecting signatures after we got the required amount because we were – and still are – scared."
One voice that's been relatively quiet during the dispute has been Diaz, who may become the next City Council member without having to campaign. City & State spoke with the 51-year-old social worker from Cypress Hills on Monday about how much she's been helped by "the machine" and why her opponents are using the pandemic as "an excuse." 
As of Monday, you're the only candidate who will be on the ballot for the 37th Council District in North Brooklyn, and unless something unexpected happens, you'll be sworn in as the newest council member soon after the general election in November. Did you support the petition challenge before the Board of Elections that got four of your opponents kicked off the ballot?
I was challenged also. And I think it's important for that to be said. We submitted about 1,500 signatures. What I suspect is, they made a general objection, and when they saw the quality of our signatures, that's when perhaps they didn't move forward. As opposed to us, when we saw the quality of their signatures, we were pressed to move forward.
So 1,500 signatures. You were aiming for the higher threshold. You knew that you would need a lot of signatures to qualify for the ballot?
Right. We were working with the 900 number. That's the number that I knew to be the focus. We also started petitioning on day one, where not all candidates can say the same.
Two people successfully challenged the other candidates' signatures – Alexandria Alvarado and Ariana Zapata. Do they work for you?
They work with me. They are petitioners and they're part of civic engagement. They're definitely honorable voters within the 54th (Assembly), 37th (Council) districts. Volunteers. 
Given the circumstances with the coronavirus, do you think it's fair that four opponents were kicked off the ballot for what boils down to a technical misunderstanding of an executive order?
They were not acting genuinely from day one. My view is they are being opportunist and using their lack of effort and respect for the process at this time. So if I'm looking at Sandy Nurse, 10 days into petitioning is when she started. (The Nurse campaign told City & State this isn't true and showed signatures collected on March 1 – six days after petitioning began.) Soon after, coronavirus hits the rules. Then she starts with, we have to cease petitioning. At that point, they didn't have but 100 signatures. So was their behavior genuine in saying it was due to the coronavirus? Or did it say they didn't take campaigning seriously and waited till day 10, now realized, we're in trouble, let's use the pandemic – which is horrific – as an excuse? That's shameful. For the last three weeks, pandemic, pandemic, pandemic. But they don't want to take any fault or acknowledge that their petitioning process was horrible and an insult.
Despite that, do you wish that voters were being given a choice, rather than just your name on the ballot?
We were all given a duty and responsibility. All five of us. Why is it that my team did due process from day one in taking this process seriously? Voters need to know and be comfortable in knowing that in the basic principles, Darma Diaz did right by them. We did right! Everyone knows, within the first seven days of petitioning, that's when you get the most signatures. And that's when you should work the hardest.
Did you get support from the Brooklyn Democratic Party to gather petition signatures?
They did not gather any signatures with me. It was my club members. It was my family. It was my friends. It was me going with volunteers knocking on doors, asking for their support. And I like to add that I did that when I was still working a 9-to-5. Sandy Nurse, Kim Council both run nonprofits. And Misba Abdin is a multimillionaire! So all three of them had time and money on their side. But yet none of them came up with a minimum of 450 signatures.
Are you still working as director of housing services at the homeless shelter run by Overcoming-Love Ministries?
I'm still working. I've got to report to work. I work four days at my office, then I do out-of-my-office. On top of the fact that, people look at me as a leader. I am a leader. I've helped deliver thousands of meals to individuals, thousands of dry goods to people. I work with other elected officials from some other parts of Brooklyn to get masks. Not only for everyday essential workers, but to homebound seniors. I've done the work on top of all the negatives that I've had to deal with. I get up every morning and I do due diligence. As an essential worker, as a candidate and as a leader in my community. On top of the fact that, at home, lives my 4-month-old grandson. So candidates are upset that they're not on the ballot? Had they all done a quarter of what my team did, we wouldn't be having this conversation. How genuine is it, knowing you didn't collect enough signatures to continue with this process? And let's not forget: OK, so Sandy Nurse may have 147 good signatures out of 339. I have 1,500 people to answer to. What about my team? It was cold, it was windy. And they got up and did what I needed them to do for us. Do I stop being the voice?
I understand you've experienced homelessness. Could you tell me a little about that, and how it's shaped your politics?
I was homeless as a young mom. About 31 years ago, it was for about two weeks, no more than a month. My mom's landlord did not appreciate a child being born into a two-family house. Then we moved into another two-family house and once my daughter was born, she was a baby. She cried. My mom was forced to move. I was forced to go from house to house until I was able to secure an apartment in a multi-dwelling. It was definitely not a beautiful homecoming. It was an apartment that belonged to a crackhead. I didn't have a stove for about a month. My first Thanksgiving, I cooked it in a toaster oven. That's how I made my ham.
So I know what it is to be homeless and be broken, and young and destitute and having family support, but having to stand on your own. Because not anyone should have been homeless because of my situation. So, housing has always been a big deal for me. Working for the shelter system, it definitely brings joy to me to be a part of guiding someone from homelessness to keys to their apartment. Those are empowering. Those are my thank yous.
You're a landlord now yourself, in Cypress Hills. How are you dealing with this economic downturn?
I'm a landlord with a tenant that made three times my salary, (but is now) unemployed. Because he made so much, he's not entitled to unemployment, and was not able to pay last month's rent and cannot pay this month's rent. So the individual Darma Diaz, who happens to be campaigning, who wants to be the representative for the 37th Council District, understands the people's plight. I really get it. I'm living it. 
From day one, I called him and I said, I want you to know that we're going to be OK, we're going to get through this. Knowing that he was a construction worker, knowing that he happens to be a senior and a diabetic. So I definitely stand by my tenant. And we're going to do our best to weather the storm. For landlords like me that have good tenants, I beg them to please work with their tenants, and do what they can.
The City Council is considering pausing evictions and debt collection for a year. Do you support the bill?
I support it if someone cannot pay their rent. If it's a genuine situation, then I'm for it. We know that the city has several programs that can help individuals stay within their units, their apartments. We do have answers. We do have programs in place. But I cannot support someone who is still gainfully employed and choosing not to pay.
Criminal justice reform is one of your top priorities. What are your thoughts on the city's controversial plan to close Rikers Island and open four new borough-based jails? If you were in the council last year, would you have voted for it?
I'd rather close Rikers. I want to close Rikers with a plan that makes sense. I believe that the system needs to be revamped. I'm not comfortable with housing people and not giving them fair justice. The trials often take too long. I'm also comfortable in supporting holistic ways of supporting individuals that have been incarcerated. 
You worked at, and briefly owned, a clothing boutique. Can you give me one idea for how the city can better help small businesses come out of the coronavirus pandemic?
We need to have holistic approaches. Understand what is the product that they're selling. Something I'd like to see for the restaurants in our communities: The city programs that we have where you sign up through 311 and have meals delivered are just horrible. How do we give a 62-year-old, a diabetic, someone who has issues with salt intake, a box of chips? Or a box full of starches? I could send you three boxes that I've looked at and only one of the boxes made sense to me. It has meat, it had produce, and it had toiletries. So how would I like to see the city help mom-and-pops? See what products they have to offer and let's redirect the money that is being put into the food program under the Department of Education and work with local CBOs that are interested in buying into this particular pilot program. That's what I like to see. Those vulnerable people need to have real meals that make sense. 
Powered By
NEXT STORY: This week's biggest Winners & Losers