Interviews & Profiles
Yellow taxi and for-hire vehicle drivers struggle through pandemic
The coronavirus outbreak is kicking an industry that was already down.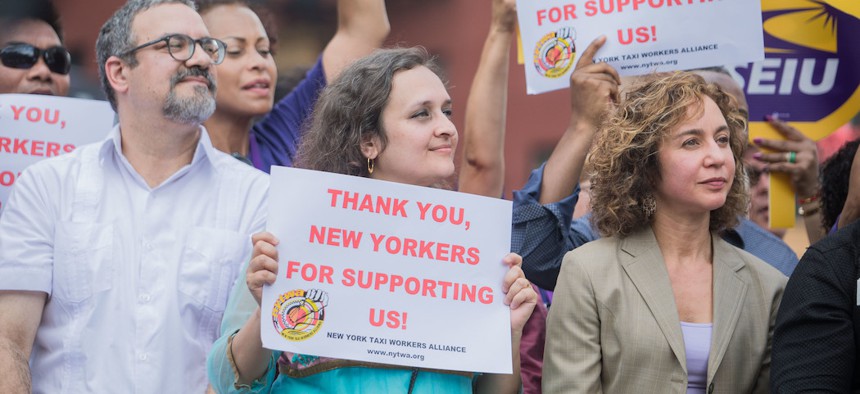 In the past one to two years, anecdotal observations about the decline of the yellow taxi industry in New York City and the dire financial straits faced by cab drivers and app-based for-hire vehicle drivers alike have been brought into sharp focus with reporting on the predatory lending practices to taxi medallion owners and stories of multiple cab and ride-hailing drivers who have died by suicide.
Some preliminary steps have been taken to try to ameliorate that financial strain, like new minimum pay rules for app-based for-hire vehicle drivers in New York City, and a recently convened city task force recommending reforms for the taxi medallion system and relief for drivers. But with these issues far from solved, a colossal new problem has come along to wreak havoc on drivers' livelihoods in a new way.
Not unlike transit workers or grocery store employees, taxi and ride-hailing drivers who are still working as the coronavirus pandemic spreads on a massive scale across New York are at risk of infection every day. City & State checked in with Bhairavi Desai, executive director of the New York Taxi Workers Alliance – which advocates on behalf of taxi app-based and other drivers – on how drivers are responding, the actions she would like to see taken to protect them and more. 
This interview has been edited for length and clarity.
In the past few weeks, as the spread of the coronavirus has intensified, what are the concerns you're hearing from taxi drivers and for-hire vehicle drivers?
The biggest concern is they don't know how at risk they are, given their job. There are many drivers on WhatsApp groups, and pretty much on a daily basis there will be messages from drivers about a friend who's in the hospital, or even drivers who passed away.
That's horrible.
It's really horrible. What it is, is many people just kept working, especially during the week of March 16, when the city started to go into shutdown. Drivers were still working, pretty much en force. I think the moment of pause that many other people had a few weeks ago is the moment that drivers are in right now, knowing that all along, they continue to work. The other lingering thought is if their health stays intact through the virus, what happens to their financial security? Is business going to pick up again? How long will it take before it picks up again? What are they going to do with all their expenses right now? 
From what you're hearing from drivers still on the road, are they able to get access to personal protective equipment, like face masks or gloves?
There's pretty much two categories of drivers from what I've seen. There are the drivers who saw the writing on the wall pretty early. Like in January, once the virus really took over Wuhan, many drivers started to see the writing on the wall because they pick up so many travelers, and they know that they're in close proximity to people. And then after New Rochelle was shut down, it literally brought that fear home for thousands of drivers. At that point, I heard many stories of drivers starting to buy masks and hand sanitizer – maybe even before the broader public did. So you have some drivers who bought those supplies. And then you have the drivers who were not prepared, along with the rest of the public. They've been either working with whatever they can scrape by today from the stores, or if they're leasing from a garage, then the leasing company may help them clean up at the end of the night.
And what kind of services or support are you, at the New York Taxi Workers Alliance, able to provide to drivers right now?
We've been working on multiple fronts. We've been working to make sure drivers know of resources and helping them navigate them. And we've been continuing the political fight to ensure that drivers have rights through this crisis. We've been doing e-blasts to drivers about resources, from food stamps to rental assistance to, of course, unemployment and small-business loans. Last week, we fielded one-on-one calls with 1,112 drivers, mostly regarding financial support through the pandemic.
Offering advice on accessing those resources?
How to access resources for basic financial needs, as well as what to do about their pending payments – whether for medallion mortgages, their home rent or car insurance.
Got it. And you've also been working with drivers on accessing unemployment?
In 2018, we definitively won the right for Uber drivers to access regular unemployment (insurance), the same as other employees. We've been blasting it out to the drivers from pretty early on in March, that Uber drivers have a right to UI, and they should start applying the minute that they start to lose their work. We were also in touch with Congress members about the need for a disaster unemployment type of program for drivers who have been found to be independent contractors, like yellow cab lease drivers. We've been making a push for unemployment for drivers across the sector, regardless of who they're driving for.
That 2018 decision you mention was a state labor board ruling that three Uber drivers – and others similarly situated – were employees for the purposes of unemployment insurance. You recently sent a letter to Uber CEO Dara Khosrowshahi, however, suggesting that Uber was hindering drivers' ability to access that. What's going on there?
That ruling has been the law since 2018. Uber, meanwhile, has not complied by not submitting earnings data on behalf of drivers. What happens is when you file for unemployment insurance, they ask you about your earnings in order for the Department of Labor to assess what benefit rate you're entitled to. They need that data. When they ask you for that data, right now, you have to fax them those documents. You as a driver have to go out into the public, find a place where you can print your stuff and then pay to have it faxed. As opposed to an employee like myself – if I were to file for unemployment, the data would already be on file with the Department of Labor, and the Department of Labor can process my claim and start to send me my payment. But in the case of Uber drivers, because Uber has not complied, in the past it's taken as much as three months on average for drivers to have their applications be completed and receive their benefit. (Asked to comment on that claim, Uber spokesman Harry Hartfield responded in a statement: "We immediately agreed to provide data after the state asked us about a week ago. Any claims to the contrary are inaccurate.")
You mentioned that part of what the New York Taxi Workers Alliance is doing right now is continuing political fights on behalf of drivers. What policies or actions would you like to see taken by the city or state to respond to this crisis?
For Uber and Lyft drivers, it's absolutely about implementing regular unemployment, processing those claims immediately, exercising the state's authority under the law to require Uber to immediately turn over the earnings data. On the yellow cab side, we need there to be a universal suspension of medallion mortgage payments by the lenders. They're never going to be able to collect that money. But what they're doing is putting the burden on the owner-drivers to call the lenders one by one to explain to them why they cannot pay their mortgages right now. Everybody under the sun knows why a New York City yellow cab owner-driver cannot afford to pay their mortgage right now. They can barely afford their groceries. So we need a universal cancellation of the mortgages. The federal government also needs to be ordering lenders to negotiate debt forgiveness for borrowers.
Any other steps you'd like to see taken to protect drivers' health or finances?
The other thing that's important for all drivers is absolutely a rent freeze – a rent and mortgage freeze across the board for the state.
Do you mean a freeze just for those drivers who have been affected by coronavirus, who can point to losing business because of it?
Losing business, losing income, yes. And then "Medicare for All." There are many drivers who don't have health insurance who are experiencing this pandemic. Especially in a state like New York, we need to ensure that the rights of all our people are protected, regardless of immigration status.