New York City
Five things to know about Maya Wiley
De Blasio's former top lawyer is looking to run for mayor.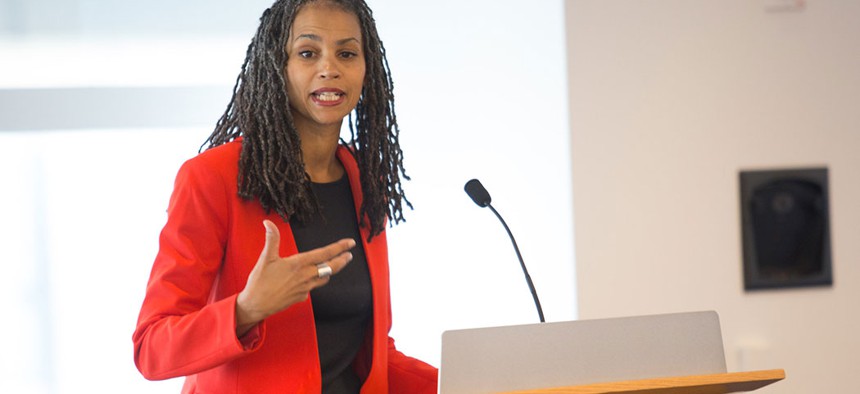 Maya Wiley, the attorney and political commentator, has formed a campaign committee and is raising money to run for mayor of New York City – and rarely has a potential candidacy gotten the city's political community talking so much. After all, Wiley is an instantly credible female candidate in a city that has never been led by a woman, and she is a Black candidate with some police reform credentials in a moment when that's a top issue.
Here are five things to know about Wiley, the 56-year-old former counsel to Mayor Bill de Blasio.
Linked to de Blasio
Wiley had never met de Blasio before he asked her to become his top lawyer soon after being elected in 2013. She served as counsel to the mayor for 2 1/2 years, an influential role that means her fingerprints were on nearly everything coming out of City Hall in those early years. That may be her biggest liability, since her opponents could connect her with particular scandals from the relatively unpopular de Blasio tenure. Among them: the mayor's unsuccessful attempt to hide conversations with outside advisers from public disclosure. The "agents of the city" classification was her invention.
Wiley has occasionally criticized the de Blasio administration since leaving, most recently in calling for the resignation of the mayor's appointed police commissioner, Dermot Shea. But her potential campaign is filled with supporters with de Blasio ties – none closer than campaign adviser Jon Paul Lupo, who worked for de Blasio in City Hall and even advised his presidential campaign last year.
With voters in 2021 presumably looking for an alternative to de Blasio, her campaign is already trying to deemphasize the connection, with Lupo tweeting that her 30-year legal career shouldn't be reduced to her more than two years in the de Blasio administration. And Wiley is preemptively creating distance between herself and any potential "agents of the city" – she has said she won't take campaign contributions from registered lobbyists as well as real estate developers.
She has experience in police accountability and racial justice
Wiley has yet to release a mayoral platform, but real police accountability is likely to be a key part of it, focusing on her one year as chair of the Civilian Complaint Review Board. De Blasio appointed her to the unpaid part-time position overseeing misconduct complaints about the New York City Police Department after she left his office. Critics say the board is weak and hamstrung by NYPD leadership that isn't interested in disciplining cops, so her time there is likely to be scrutinized. But the job lends her credibility when she discusses the thorny issue of how to hold police accountable. She said she left the board in 2017 to focus on her full-time job as a professor and senior vice president for social justice at The New School – a position she still holds today.
Before joining the de Blasio administration, Wiley used her law degree from Columbia University for racial justice work. She was a co-founder and the president of the Center for Social Inclusion, a group devoted to ending racial inequities; a senior adviser at George Soros' Open Society Institute (now the Open Society Foundations), and a staff attorney at the NAACP Legal Defense and Education Fund. She was also an assistant U.S. attorney for the Southern District of New York, working in the civil division.
She comes from a political family
Her father, George Wiley, was a chemistry professor who got heavily involved in fighting for civil rights in the 1960s with the Congress of Racial Equality and founded the National Welfare Rights Organization. An "under-recognized leader of the civil rights movement," Wiley, who was Black, died in 1973 after falling off of a boat in Maryland in front of his then-9-year-old daughter Maya.
Maya Wiley was born in Syracuse and briefly lived in Manhattan as a baby, before being raised in the Washington, D.C., area. Her mother, Wretha Wittle Wiley, who was white, was an art gallery director, but was also an active member of the short-lived left-wing Citizens Party, and even appeared on some presidential ballots as the party's vice presidential nominee in 1980. She died in 2013 and was at one time married to Bruce Hanson, Maya Wiley's late stepfather, who was also a civil rights organizer. Wiley's brother Dan is also deeply involved in politics, serving as district director for Rep. Nydia Velázquez.
Wiley is married to Harlan Mandel, CEO of the Media Development Investment Fund, which funds independent news organizations in countries where the press is under threat, such as Myanmar. They live with their two daughters and four cats in a large single-family home in Prospect Park South, Brooklyn.
She's a cable news star
After years of occasional guest appearances, Wiley became a paid legal and political analyst for NBC News and MSNBC in August 2018, where she has built a devoted fanbase among the networks' engaged, mostly Democratic viewers. She stepped down from the role in July to explore a run for mayor, but she has continued making unpaid appearances in August.
Cable news personalities have a mixed record in recent New York elections. Fellow MSNBC legal analyst Mimi Rocah just beat incumbent Westchester District Attorney Anthony Scarpino in the Democratic primary. But former CNBC anchor Michelle Caruso-Cabrera didn't pose much of a challenge in her 2020 Democratic primary bid against Rep. Alexandria Ocasio-Cortez and former MSNBC host Dylan Ratigan came in third place in a crowded 2018 Democratic congressional primary in the North Country.
She has kept a foot in local politics
While Wiley has mostly focused on national politics in her TV appearances, she's never abandoned New York City completely. She endorsed Assembly Member Michael Blake's unsuccessful run for public advocate in the 2019 special election and publicly backed Assembly Member Yuh-Line Niou and Rep. Yvette Clarke in their reelection bids this year. Wiley also served on the steering committee of Rank the Vote NYC, which advocated for ranked-choice voting, which will be enacted for the first time in the city in 2021.
Wiley has been rumored to be interested in running for mayor for more than a year now, but she has been conspicuous about meeting with local power brokers like Assembly Speaker Carl Heastie, Manhattan Democratic Party boss Keith Wright and City Council Member Justin Brannan in recent weeks. She also attended a neighborhood community policing meeting in August. Wiley also co-chaired the city's School Diversity Advisory Group, which released a report in 2019 that called for, among other changes, eliminating gifted and talented programs.
Correction: Wiley has four cats, not one. We cat believe we made this error and we're feline really bad about it.
Powered By
NEXT STORY: This week's biggest Winners & Losers