Andrew Cuomo
How to get to '50 by 30'
Is New York on pace to generate half its electricity from renewables by 2030?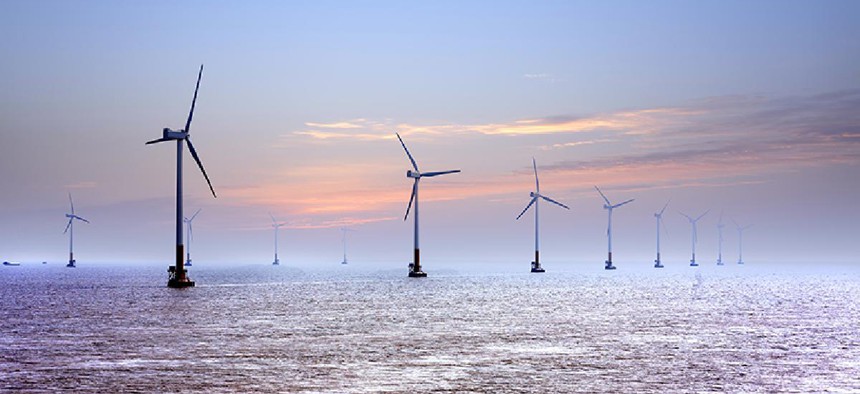 Gov. Andrew Cuomo declared two years ago that New York would generate half of its electricity from renewable energy sources by 2030. The mandate has a catchy tagline to accompany it: "50 by 30." But catchy taglines don't necessarily inspire confidence when the state's last goal, to have 30 percent renewable energy by 2015, failed and still has not been met. 
The state drew 28 percent of its electricity from renewable energy sources in 2017, a 4 percentage point increase from 2016. To reach the 50 percent target, the state needs to generate an additional 29,200 gigawatt-hours of renewable energy, according to a 2018 report by the New York State Independent System Operator. The state produced 36,739 gigawatt-hours of renewable energy last year.
State officials and energy experts seem to agree that the goal itself is inherently possible. In fact, California, another state that has taken on the same goal, may even reach its target by 2020.
"It's very doable," said Karl Rábago, the executive director of the Pace Energy and Climate Center. "There's no great inventions that need to be made in order for that to happen. There will be improvements in technology between now and then that will make it more affordable and easier to do."
"It's very doable There's no great inventions that need to be made in order (to reach Cuomo's goal)." – Karl Rábago, Pace Energy and Climate Center executive director
But that doesn't mean it will be easy. A primary concern from the energy industry is that the state may not be able to give out contracts and execute projects fast enough to accomplish the goal by 2030.
"The speed of play certainly needs to be increased," said Gavin Donohue, the president and CEO of Independent Power Producers of New York, a trade association for energy companies. "I mean, if we're a little bit over halfway, and we have 12 years to get to the other 23 percent or 22 percent to make this a reality, that's a real daunting task. We need to now be more expeditious in releasing the RFPs and getting potential private investors out bidding on this."
Several state agencies are working toward expanding renewables, including the New York Power Authority and Long Island Power Authority. But the largest impact would come from work done by the New York State Energy Research and Development Authority, which has been tasked with spearheading the governor's plan, called the Clean Energy Standard, and arranging contracts with large-scale renewable energy developers.
NYSERDA announced its first round of projects from last year's request for proposals earlier this year. The authority awarded $1.4 billion to 26 projects, including 22 solar farms, three onshore wind farms and one hydroelectric project. 
NYSERDA's second RFP for up to 20 projects ended Aug. 16, with award announcements projected for October. And though the large-scale renewable solicitations are an annual process for 20-year contracts, some worry about how quickly they can be executed.
"If somebody says, 'I'm willing to put up a billion dollars to build a wind farm,'" Rábago said, "and then (the state) says, 'OK great, hold on a second, I gotta go execute six months worth of contracting,' they're gonna go, 'Yawn, my money could be working somewhere else.' So getting the contracting done is absolutely critical because everything else depends on it."
The process of construction is also not as simple as just receiving the contract from NYSERDA. Developers also need to go through a process called Article 10 to receive certification, which requires a public comment period and studies on a project's possible environmental and health impacts. 
"I think we really do need to make the Article 10 siting process more efficient and less time-consuming because it's really beginning to raise concerns among developers and investors that companies aren't going to make it through to the end of that process," said Anne Reynolds, executive director of Alliance for Clean Energy New York, an organization that represents renewable energy companies and promotes renewable energy.
John Williams, the director of policy and regulatory affairs for NYSERDA, defended the state's ability to reach the goal.
"I think the goal is eminently attainable," he said. "It just is a matter of us making sure that we have a routine process in place, which the Clean Energy Standard is doing. And I think we have demonstrated that we are committed to it, at least having the beginnings of annual solicitations." 
The chairman of energy and finance for New York, Richard Kauffman, also argued that the state's previous failed initiatives were goals and not mandates like the governor's plan has set, which makes the "50 by 30" plan more feasible. 
---
Missing the mark
30%: New York's original renewable goal by 2015
28%: Renewable energy actually generated in 2017
50%: Cuomo's renewable goal for 2030
---
Wind energy has especially been seen as a promising resource. After energy production from large hydroelectric plants, wind energy makes up the greatest share of renewable energy output in New York. The interest has spurred early development of offshore wind farms, which has up until now existed in the United States only in one wind farm off the coast of Rhode Island. 
New York has joined other states like Massachusetts and New Jersey in trying to push for offshore wind. Last year, the Long Island Power Authority signed a 20-year contract with the same company that created Rhode Island's farm to build the state's first offshore wind farm. The state is also in the process of procuring at least 400 megawatts from offshore development by the end of the year and 800 megawatts in 2019, Kauffman said. Cuomo also announced this month that the state would conduct a study of large-scale offshore wind projects in Europe to guide his goal of generating 2,400 megawatts of offshore wind by 2030. 
"If we're a little bit over halfway, and we have 12 years to get to the other 23 percent or 22 percent to make this a reality, that's a real daunting task." – Gavin Donohue, Independent Power Producers of New York president and CEO
Even so, offshore wind has been criticized by the fishing industry and coastal residents who fear the turbines would spoil the view. On top of that, ratepayers may see a hike in their electricity bills. But Kauffman said that the expectation for price increases does not take into account parts of the new policy that would also include a more integrated grid system and expanded battery storage. Rábago also noted that any price increases in the short term from renewables should take into account the the long-term savings of having reduced dependence on fossil fuels.
While in the past the biggest energy policy changes have been driven at the federal level, state officials seem to agree that the Trump administration has yet to impact New York's approach to energy policy. Kauffman said the state's relationship with the federal government on offshore farms was "constructive," and otherwise, New York would continue to oppose any efforts by the administration to encourage offshore oil and gas or reliance on coal. Unlike other environmental rollbacks the Trump administration has pursued, renewable energy seems to continue to grow throughout the country, though tariffs on foreign solar panels have begun to hurt some solar projects throughout the country.
Despite his concerns, Donohue made clear that the those in the energy sector have been enthusiastic to work toward expanded renewable energy. Indeed, most new power construction across the country has been from renewable energy. Non-hydro renewable energy made up about 62 percent of new power construction in the United States in 2017, according to a 2018 report created by the Business Council for Sustainable Energy and Bloomberg New Energy Finance.
"It's an ambitious goal, that's for sure," Donohue said of the governor's target. "But it is something that we believe, if the state is putting money in and there's opportunity to bid on those contracts in a competitive way, my members are stepping up doing that."
Powered By
NEXT STORY: More pay-to-play questions follow Trump supporter Elliott Broidy