New York City
What does Universal Rent Control mean?
Democratic primary candidates have struggled to define how they would institute Universal Rent Control.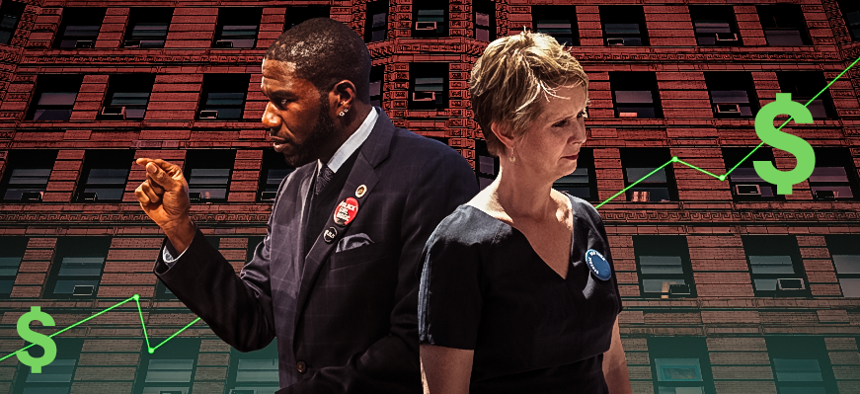 Some Democratic candidates this primary season have promoted the idea of "universal rent control" as a way to bring rental relief to millions of people statewide. What remains unclear, however, is what the term actually means, both in theory and in practice.
It suggests a system that would limit when, where and how landlords could increase rents on all types of housing, whether they are single-unit houses or large apartment buildings. But in practice, things get tricky.
Gubernatorial candidate Cynthia Nixon has been the most prominent advocate of universal rent control, but she, along with her running mate Jumaane Williams, has struggled to define what exactly that would mean in practice. Her public comments and campaign website suggest that she would essentially expand existing rent regulations in addition to reversing past legislation that loosened controls over landlords, an approach echoed by other candidates on the left, including state Senate candidate Julia Salazar.
While the term is spreading rapidly in New York and across the country, as part of ongoing efforts to enact greater protections for tenants, appears to have had little usage until late last year. Google Trends reports few searches for the term in the past 15 years until December 2017, just as the 2018 campaign got underway. Overall, there have been far more searches for "rent control" than "universal rent control," according to Google Trends, indicating a scarcity of usage in recent years.
Related terms like rent control and rent stabilization do have specific meanings in New York. Rent control affects about 27,000 housing units, and refers to apartments where a tenant has lived continuously since 1971, and in a building built before 1947. The regulations for such apartments mean that they have had relatively minor rent increases since the 1970s. A 2014 study found a median gross rent of $1,020 for a rent-controlled apartment.
Rent stabilization, by contrast, applies to more than a million apartment in New York City where rent increases are determined each year by the Rent Guidelines Board.
To really figure out what "universal rent control" means requires an examination of what candidates have specifically proposed and how that fits into the laws, regulations and history of rent regulations in New York.
 
What have the candidates said about "universal rent control"
Nixon and other candidates have focused on legal nuances that allow landlords to increase rents even in units that are stabilized.
Landlords can raise rents beyond the limits set by the Rent Guidelines Board when they claim major capital improvements to the unit. They can also give new tenants what's known as "preferential rents" that are lower than the legal maximum, and then increase the rent to the maximum at the time of a lease renewal. Rents can also go up by about 20 percent once a tenant moves out, and once the rent exceeds $2,733 per month, the unit can be taken out of rent stabilization for good, under current laws and regulations.
Nixon's campaign website calls for ending such rules, but is vague about what would replace them: "Cynthia will work with the state legislature to bring rent stabilization protection to tenants who do not currently benefit because they live in units built after 1974, or live outside of the eight counties (NYC's five boroughs, Westchester, Rockland, and Nassau) where local governments are allowed to opt into rent stabilization."
But she has not stated many details of how the system would be put in place. "Pressed by a reporter to clarify how her rent control policy would function, Nixon did not divulge figures or the details of what she would propose should she be elected," Politico New York reported.
Julia Salazar's website also calls for a similar approach but, like Nixon's, does not include details on how rent rates would be set if and when universal rent control were enacted.
Would rents be based on current rates with future increases limited by the Rent Guidelines Board? Would tenants in buildings that were once under rent stabilization receive a rent reduction to past levels? How would these changes affect units that are currently regulated under the current definition of rent control? These are some of the questions that have yet to be answered by advocates.
 
Who is lining up against the idea?
Critics of the universal rent control say that it would severely curtail the construction of new housing because developers would have lower profits. A New York Post editorial blasted a proposal by state Sen. Michael Gianaris and Assemblyman Brian Barnwell that would give landlords a tax credit when they upgrade their buildings instead of the current provision in the rent-stabilization law that permits landlords to raise rents – a measure that is one element of universal rent control. "You don't have to be a landlord advocate to realize that tax credits could never help them to fully recoup the costs of improvements, much less get financing: Banks require an income stream (i.e., higher rents) to finance new debt," the Post wrote.
Other critics say that the changes proposed by Nixon, Salazar and other advocates of universal rent control would only worsen the housing crisis in New York. "Upending the current rent regulation framework would worsen the housing crisis by discouraging private investment and send the city's rental housing stock down the same road as New York City's public housing," the Rent Stabilization Association and the Real Estate Board of New York said in a statement, The Real Deal reported on May 1.
The real estate industry appears to be the biggest barrier to changing rent stabilization laws. Their contention that universal rent control would discourage the construction of new housing and ultimately worsen the housing crisis – although there was a time in the not-to-distant past when landlords were prevented from raising rents under virtually all circumstances.
 
How does it fit into the history of rent regulation?
On Nov. 1, 1943, New York City rents were frozen by the federal government. While the circumstances of inflationary forces during World War II were the reason behind the freeze, it should be noted that the regulation which froze rents at March 1, 1943, levels marked the beginning of what is now the rent stabilization system in New York, according to a 1993 study by the New York State Division of Housing and Community Renewal.
Such controls were done under the purview of the federal government until the 1950s. The Emergency Price Control Act controlled prices on a wide range of things including the rent of apartments until it expired in 1947. That's when Congress passed the Federal Housing and Rent Act, which continued rent controls for apartments that were constructed before Feb. 1, 1947, while exempting those constructed after that date. This is the same date that currently determines the control status of rent controlled apartments in New York, according to the study.
State control of rent regulations began in 1950 at a time when approximately 2,500,000 rental units were under control statewide. The end of World War II and the Korean War led to an easing of rules that left about 1,800,000 under rent control by the early 1960s. The New York City Rent Stabilization Law of 1969 ushered in the current era of rent stabilization, whereby rents are allowed to increase at controlled levels.
Many of the changes advocated by Democratic candidates this year involve changes to rent stabilization under the Rent Regulation Reform Act of 1993. That's the law that allowed the deregulation of vacant apartments and apartments where rent exceed a certain threshold, initially set at $2,000 per month.
While advocates of universal rent control have yet to detail how they would bring millions of rental units into a system of rental control, history shows that the current system is the result of an evolving and piecemeal approach. Rents were frozen at one time without landlords going bankrupt, although to be sure the rent controls of the 1940s happened under circumstances that are different that the current housing crisis.
While Nixon, Salazar and other advocates have yet to define what universal rent control means, they have outlined some changes to rent regulation that would simply revert to past policies. Whether candidates can prevail by advocating for this emerging idea remains to be seen at the ballot box, but the idea of universal rent control may be pursued in New York for years to come.
Powered By
NEXT STORY: The state of labor in New York City