New York City
Will disadvantaged communities miss out on the marijuana 'gold rush'?
Marijuana advocates and New York policymakers on the equity and regulation challenges and opportunities that come with legalizing recreational marijuana.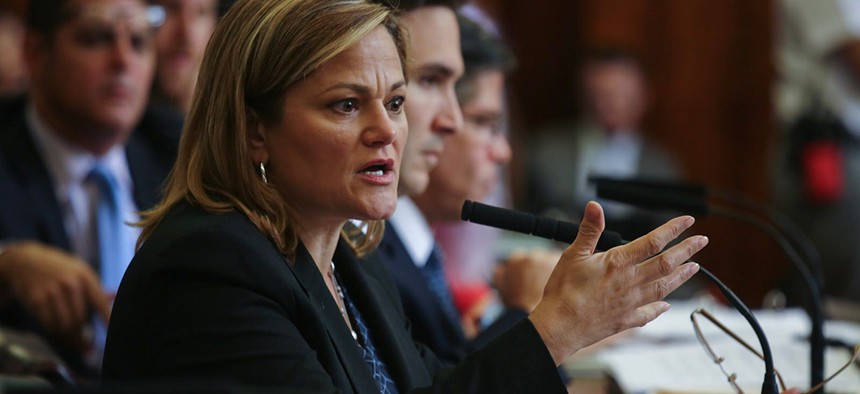 This week, Canada is set to become the largest country in the world to legalize recreational marijuana – a measure only nine American states (and the District of Columbia) have implemented so far. On Tuesday, an array of legislators, advocates and experts convened in Manhattan to discuss the challenges and opportunities presented by what some consider imminent – the legalization of recreational pot in New York.
In 2014 New York legalized medical marijuana, and in New York City the New York Police Department has moved away from making arrests for smoking publicly, issuing tickets instead. Gov. Andrew Cuomo has indicated his support for legalizing recreational use, possibly due to pressure applied by his Democracy primary challenger, Cynthia Nixon.
"Legalization is going to be a 21st century gold rush," said Melissa Mark-Viverito, the former New York City Council speaker and an early supporter of legalizing marijuana. The key next steps, she said, will be ensuring all New Yorkers have access to this gold rush, especially communities of color that have been disproportionately impacted in the number of arrests made for possessing small amounts of marijuana.
"If you're smoking marijuana on East 79th Street and Park Avenue, you are eccentric, groovy, fun," said Mark-Viverito, who made her remarks at a Capalino + Company policy event on the economic implications of cannabis. "If you're smoking weed on 116th and Park Avenue – my neighborhood – you are a punk, a criminal, someone destined for failure who just needs to pull up his pants."
In each of the nine states where recreational marijuana is already legal, the barriers to entry are still high. The process of obtaining licenses for growing the plant or owning dispensaries is often expensive and tangled in red tape.
In New York, the existing medical marijuana program already stands out for its strict regulations, including limits on the number of dispensaries and which illnesses qualify and a prohibition on smoking the drug.
"We cannot extend the same structural inequities that we've seen in the medical marijuana industry," said Melissa Moore, deputy state director of the Drug Policy Alliance. "It's not enough to give a license to somebody, if they can't get a small business loan to sign a lease on a retail or processing space."
Some suggest reinvesting the tax revenue of cannabis into equity programs that provide small loans or offer education in how to apply for licenses.
Speakers disagreed on the degree of vertical integration that a recreational cannabis marketplace should have. One argument is that the need to do everything – grow, harvest and sell cannabis – is a barrier to entry for small minority-owned businesses. Some advocated for eliminating vertical integration entirely, while others took a more nuanced approach.
"I'm not opposed to vertical integration," said John Gilstrap, chief operating officer of the Hudson Hemp Company. "I think it's capitalism, a natural way that businesses grow and expand. I don't think it should be the be all end all."
One priority that nearly all speakers agreed on is the need for legislation that expunges the criminal records of those previously convicted when cannabis was illegal.
Those measures are already included in state Sen. Liz Krueger's bill, the Marijuana Regulation and Taxation Act, or MRTA. But New York could borrow from cities like Los Angeles, which have made further progress on opening up the doors of a new, thriving industry to those who arguably have the most to gain from it.
Yelena Katchko, an attorney whose practice focuses on California's commercial cannabis industry, said that social equity is a large party of Los Angeles' regulatory framework when it comes to issuing licenses for cannabis businesses.
The first tier of people allowed to apply for a license were those applicants whose businesses were at least 51 percent owned by a "social equity" applicant. A study commissioned by the city identified the zip codes where people were most impacted by the war on drugs, and low-income people who reside in those zip codes qualify as social equity applicants.
Despite whatever legislation the state passes, federally subsidized housing prohibits smoking of any kind within the facilities, meaning even those with medical cards may risk losing their housing to treat themselves.
"It's almost counterintuitive – it's legalized, but you can't smoke," said Gia Morón, an advocate and consultant for small and mid-sized cannabis businesses. "What do you do with it? We're not just going to look at it and feel better."
Several speakers called for New York to lead the charge on creating public safe spaces to smoke, which would benefit not only users but non-users as well, Morón added.
"As a non-smoking person, I do have a problem sometimes with smoke," she said. "I may not want to smell like it. I support this industry fully, but there's a time and a place."
California, along with other states where recreational cannabis use is legal, has also struggled with deterring the black market.
"The illicit market in California is actually thriving because of the regulatory market, because of all the excess taxes and additional taxes," Katchko said.
Chanda Macias, who owns a medical dispensary in Washington, D.C., echoed Katchko, pointing to the greater dangers of a healthy black market.
"They provide medicine that is not tested, that has hurt our populations," Macias said. "They have sold medicine that is below market rate, that is not safe. There's no qualifying third party regulation on it."
Krueger's legalization bill, the MRTA, limits home growing to up to six plants for personal use, and prohibits recreational use under age 21 to maintain the goal of keeping young people out of the criminal justice system. However, Krueger says penalties for smoking under 21 would amount to "sort of a slap on the hand."
The future of that legislation may depend on whether Democrats take back the state Senate in November – an outcome in which Krueger feels confident, but one which may not immediately result in the support her bill needs to pass.
"I don't know whether I would actually have enough votes right away to pass this bill," Krueger told City & State. But with the governor hosting listening sessions across the city, and the possibility of a Democratic majority that would at least be more open to legalization, Krueger is optimistic. "I'm feeling pretty good about 2019."
Powered By
NEXT STORY: Facing a doctor shortage, NYC looks to Grenada