Andrew Cuomo
The Democratic divide
The new state Senate majority won't count for much if urban and suburban lawmakers don't play nice.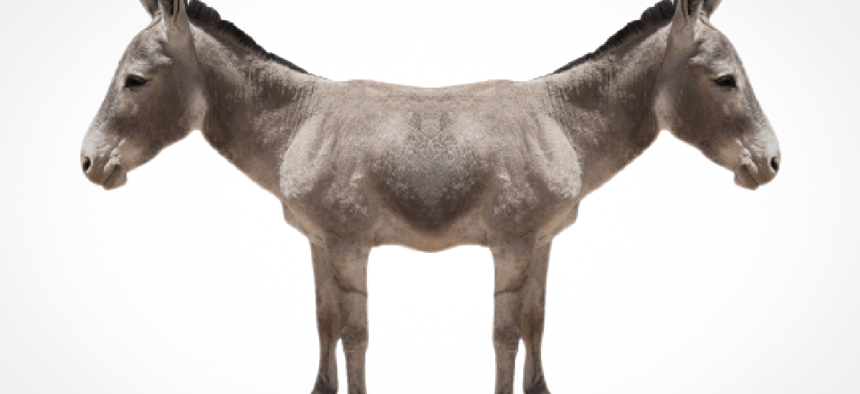 The 2018 election was an assertion of New York City's political power in state government as much as progressive politics in general. Gov. Andrew Cuomo, a Queens native, won a third term on the strength of his downstate support, and the Democratic majorities in both houses of the state Legislature are largely made up of city lawmakers. Upstate senators have held significant sway in the Republican-dominated state Senate – but not next year.
This change has assigned a new task to the incoming state Senate Democratic majority, which will hold as many as 40 out of the 63 seats and has an ambitious legislative agenda: keeping the suburbs happy. Though they are only a fraction of their majority, suburban lawmakers make up the difference between Democrats eking out narrow legislative wins or passing bills with ease. Roughly two-thirds of the Democratic majority will hail from New York City, and city Democrats also make up the bulk of the party's representation in the Assembly. Add to this the fact that Cuomo won re-election despite losing almost every upstate county and it's not hard to see how rural and suburban voters might worry that they would have less influence under Democratic rule.
This fear of downstate dominance was a common talking point for Republicans leading up to the election. The GOP has continued to promote this idea in defeat as GOP lawmakers scramble for relevance. State Senate Republican Leader John Flanagan warned Democrats won't renew a 2 percent cap on property tax increases. Republican state Sen. Catharine Young, who lost her recent challenge to Flanagan's leadership in a 14-9 vote, said funding for education and transportation will dwindle under Democrats. These worries are not only partisan talking points. Western New York also has less sway in the state Legislature now that its four GOP senators are in the minority and state Sen. Timothy Kennedy of Buffalo is the lone Democrat representing the area. Worries that upstate will lose out under Democratic control has even prompted Cuomo to assert that he is the "voice" for upstate New York in Albany. The thinking goes that if Democrats miscalculate, then they could endanger their Senate majority in the next round of elections – rather than get the chance to relegate the GOP to a permanent minority party through redistricting, once and for all.
The key person in keeping the state Senate Democrats united is incoming Senate Majority Leader Andrea Stewart-Cousins. Democrats are eager to do big things with their majority, and her mix of patience and pragmatism will be needed to push through their legislative agenda. She has said in interviews since the election that she will start the upcoming session with easy wins like passing the Reproductive Health Act and other bills with little fiscal impact that had been blocked by Republicans. What comes next will likely be determined when the conference meets for the first time at a meeting scheduled for Dec. 11 in the Albany area. Democrats could take up bills in early 2019 that would give in-state tuition and driver's licenses to undocumented immigrants, limit outside income for legislators, tighten campaign finance laws, expand gun control, eliminate the use of student test scores in teacher evaluations, pass sexual harassment protections and figure out what universal rent control means legislatively – but they have to do so despite likely contentious battles over funding for the Metropolitan Transportation Authority and education, taxes and single-payer health care. A misstep could cause a fault line to crack wide open between New York City and suburban Democrats, endangering the party's long-term prospects of holding the majority.
"There's no question that some of the fiscal measures are trickier for a whole host of reasons," said Mark Guma, a Democratic political consultant who helped knock out several state senators who were members of the now-defunct Independent Democratic Conference. "But people, for some reason, seem to forget that Andrea Stewart-Cousins has been a suburban legislator for going on three decades now. She understand the suburbs. She's lived them. She's governed them."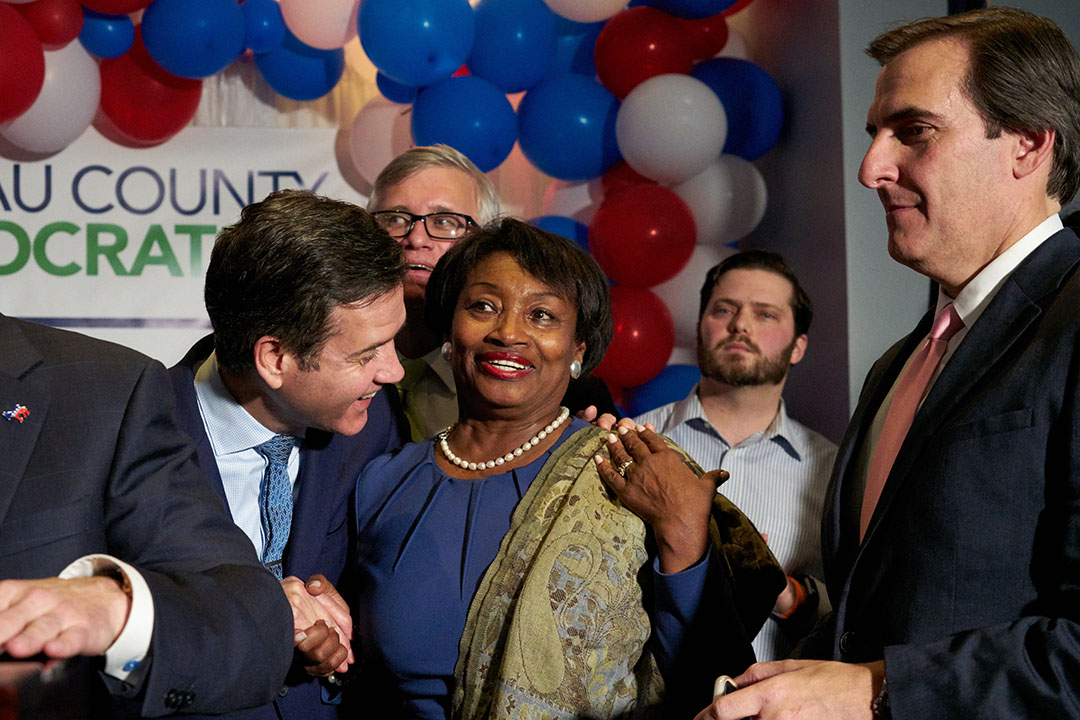 For now, suburban Democrats are optimistic that there will be a strong counterbalance to city lawmakers next year. Interviews with senators, Democratic insiders and activists show that there is abundant optimism following the elections. "I think we can eliminate the us versus them, upstate versus downstate, or upstate versus Long Island," said state Sen. Neil Breslin, a veteran Democratic lawmaker who represents the Albany area. "We're all on one team."
Stewart-Cousins has suggested that she has an open mind about what should be considered by the state Senate next year. In a recent appearance on "The Brian Lehrer Show," she said that legislative action would be relatively quick and straightforward on issues like codifying Roe v. Wade into state law, increasing the waiting period for gun purchases from three to 10 days, reforming bail, passing the Child Victims Act and the state DREAM Act, which would allow undocumented students to pay in-state tuition at public universities statewide. But she hedged on saying definitively that these issues will come up first next year, with Democrats yet to meet as a full conference. "We collectively have not had a conversation on most of these things and so I will see what is on the table, examine everything carefully," she said during the radio interview. "Obviously my members will be very, very involved in it."
Activists are not losing any time in trying to sway lawmakers before they gather, and there is increasing competition over what they will prioritize first. In recent weeks, tenant advocates have marched in the snow to urge legislators to address rent control early on. Others say campaign finance reforms need to happen first in order to limit the influence of landlords and the real estate industry. The Roman Catholic Archdiocese of New York has signaled that it's willing to work with legislators on the Child Victims Act, a bill it had long opposed because it could reopen child sexual abuse claims against the church by temporarily dropping the statute of limitations.
Still others think the confirmation of Brett Kavanaugh to the U.S. Supreme Court means that the Reproductive Health Act should be the first piece of legislation taken up by the new Senate majority. "We have not a moment to waste," said Christina Chang, chief external affairs officer at Planned Parenthood of New York City. LGBTQ advocates also say that Trump administration policies necessitate quick passage of the Gender Expression Non-Discrimination Act, or GENDA. "We are definitely hopeful that it will pass early in the session," said Shijuade Kadree, chief advocacy officer at the The Lesbian, Gay, Bisexual and Transgender Community Center.
I think we can eliminate the us versus them, upstate versus downstate, or upstate versus Long Island. We're all on one team. – state Sen. Neil Breslin
The good news for state Senate Democrats is that they have wiggle room, which is a key difference from the slim majority they held in 2009 and 2010 when they last controlled the chamber.
Similarly, Republicans have had to contend with narrow majorities in recent years, including last year when the GOP had a one-seat majority. In some years, Republicans maintained power thanks to a controversial power-sharing agreement with the breakaway Independent Democratic Conference. More recently, nominal Democrat Simcha Felder continued to caucus with Republicans this year, even as the eight former members of the now-defunct IDC rejoined the mainline Democrats. With six of the eight former IDC members having lost their seats in this year's elections and Felder's influence diminished – he may or may not be the 40th member of the Democratic majority – there is little reason to believe that individual senators will be able to exert outsized leverage.
The Democrats' commanding majority in the state Senate means that they can afford to have some members defect on an issue without endangering the passage of a bill. And while only one issue can be voted on first, it is possible that the Democratic Senate could pass legislation on all these fronts with ease.
Judging by the outcomes on Election Day, social issues don't seem to be dividing suburban and urban Democrats, although the same may not be true for issues with a significant fiscal impact.
On Long Island, Democrats now control six out of nine Senate seats, largely because they ran as progressives on social issues while at the same time touting their support for tax relief and funding for education and transportation. Several Long Island Democrats beat Republican incumbents by running as unabashed progressives on issues like GENDA, the Child Victims Act, the Reproductive Health Act and gun control. "We as a state needed to be more progressive and I believe the voters in District 6 really believed that they needed change," state Sen.-elect Kevin Thomas told City & State after his upset win over Republican state Sen. Kemp Hannon in Nassau County.
This strategy of mixing social liberalism with issues like tax relief extended upstate where progressives notched several wins. Rachel May handily defeated Syracuse-area state Sen. David Valesky, who drew criticism for having joined the IDC, in the Democratic primary. Progressive policies were also an asset rather than a liability for Rosendale Councilwoman Jen Metzger, who won an open seat in the Hudson Valley vacated by retiring GOP state Sen. John Bonacic.
In past years, upstate and suburban Democrats have at times had to distance themselves from their party in order to appeal to voters. Democratic state Sen. Ted O'Brien, for example, was the only member of his party to vote against the state DREAM Act in 2014, but it was not enough to win re-election against Republican Rich Funke, who cast his opponent as beholden to New York City interests. But issues like immigration and abortion may not have the hold they once had on upstate and suburban voters. This was a year when the Republican candidate for governor even embraced protecting abortion rights. "I think it's a new game," said Robin Chappelle Golston, president of Planned Parenthood Empire State Acts, which represents the organization statewide.
Activists are even optimistic that rent regulation – long an issue that pitted New York City and several suburbs against the real estate interests in the state Senate GOP – now has a much broader appeal as rents continue to rise across the state. While the real estate industry is battling advocates over preferential rent, vacancy decontrol and other related issues, they have hedged their bets on the GOP by donating more to the other party – even if they have little chance of influencing Democrats, who appear increasingly poised to do more than ever next year to expand tenant protections. Whatever happens on the issue, it does not appear primed to divide Democrats, especially since the party appears willing to pass campaign finance reform along with tenant-friendly legislation. "This is not going to be cast as a New York City versus suburbs, or New York City versus upstate with the Democratic caucus," said Michael McKee of the Tenants Political Action Committee. "I think you're going to find a good deal of support from senators statewide to protect tenants."
When you poll Long Island voters about what concerns them most, the first three are: taxes, taxes, taxes. – Lawrence Levy, Hofstra University National Center for Suburban Studies executive dean
Three issues in particular could pit New York City Democratic senators against their suburban counterparts. "When you poll Long Island voters about what concerns them most, the first three are: taxes, taxes, taxes," said Lawrence Levy, executive dean at the National Center for Suburban Studies at Hofstra University. Referring to the six Democratic senators who will represent the region next year, Levy continued, "The 'Long Island Six' have to show they are at least holding the line on taxes."
Taxes are also a hot-button issue for other Democratic senators who represent suburban districts – like Stewart-Cousins – that were hurt by the new $10,000 federal cap on state and local tax deductions. "Those of us that face high property taxes like in Long Island and the Hudson Valley obviously have very strong concerns," said Democratic state Sen. Shelley Mayer of Yonkers. This bloc of senators who want to limit property tax increases could narrow the options that Democrats have for striking compromises on issues involving spending – especially given Cuomo's insistence that the 2 percent cap on state budget increases remain in place.
"I think the challenge here will be, can that Democratic conference collaborate in a way where they come up with a common agenda that does not put forth a mushy type of centrism but a vital type of centrism that can re-elect Democratic senators from these hard-to-win seats," said Bruce Gyory, a Democratic political consultant. "If they can do that, they'll be in a good place."
With Democrats now having their largest state Senate majority since 1912, there is a strong incentive to avoid fostering factionalism, whether it be ideological or geographic. The primary election losses by former IDC members made an example of senators who undermined party unity, but the lopsided nature of the Democrats' new majority has nonetheless spurred talk of how the suburbs and upstate can provide a counterbalance to New York City lawmakers. "The Long Island Six would be smart if they joined arms with suburban lawmakers from other areas of the state to pursue a suburban agenda," Levy said.
Such an alliance could prove especially effective on the fiscal front when senators consider how to increase funding for the MTA and education. While some form of congestion pricing – which would impose a charge on vehicles entering the central business district of Manhattan – may pass next year, it would not be enough to fully fund the MTA's needed fixes. The agency has estimated it will require about $40 billion in new revenue over the next 10 years to modernize the deteriorating subway system. Assuming that congestion pricing would provide $1 billion or so in additional funding for the MTA annually, there would still need to be some type of increase on gasoline, sales or income taxes, or fees on auto registrations, according to an analysis by transportation expert Charles Komanoff. But a deal to increase funding for city subways would also need to include money to improve service on the Long Island Rail Road and the Metro-North Railroad – which each serve millions of suburban customers a year – in order to garner support from suburban lawmakers. The MTA payroll tax is cited as a key reason why two Long Island Democrats lost their Senate seats in 2010 and Democrats relinquished their majority. The tax was subsequently reduced, but it remains unpopular in suburban counties because of the costs it adds to businesses, nonprofits and schools. Reducing or eliminating it could help buy goodwill for senators from Long Island and the Hudson Valley.
A similar give-and-take will likely play out with education. Billions of dollars in Foundation Aid is still owed to districts across the state. How and when that money is allocated determines who gets teachers, art programs and other funding for schools. The primary campaign of state Sen. David Carlucci serves as a warning of what can happen if lawmakers fall short in delivering such funding to their districts. Back when Carlucci was still a member of the IDC, he joined other members of his conference in proposing $1.47 billion in Foundation Aid funding last year. But critics pointed out that a bill that Carlucci supported in March included much smaller funding increases for his district than originally proposed, inspiring a tough primary challenge from educator Julie Goldberg. Carlucci lived to legislate another day, but was quick to mention in an interview with City & State that Foundation Aid is a key priority for his Hudson Valley district in the upcoming year, along with issues like GENDA, voting reforms, rent regulation and recreational marijuana legalization.
Asked whether there had been any talks since the election about how suburban senators might unify on a formal or informal basis, Carlucci said "no." That's a sentiment shared by colleagues across the state. The Democrats are firmly in control of state government and they say they are ready to make good on years' worth of promises, whether on social issues like abortion or addressing tougher problems like MTA funding. But New York state politics has had its fair share of intrigue in the past, and the future of the Democratic majority will depend on just how well Stewart-Cousins and other senators can work together and remain unified in the months before she, Assembly Speaker Carl Heastie and Cuomo get in a room to hammer out the final state budget due in the spring. If the dominance of three downstate Democrats somehow appears unfair to the suburbs or upstate, then new factions could emerge among Democrats. Yet, as Breslin put it, "I think it's a little bit early to move quickly in that direction."
But for now, suburban, upstate and urban Democrats alike remain hopeful that they can govern together in relative peace and unity – at least for as long as they can hold it together.
RELATED: The progressive bills of 2019
Correction: Planned Parenthood Empire State Acts advocates for Planned Parenthood in New York. The organization's political arm is a separate entity.  
Powered By
NEXT STORY: Albany's education to-do list