New York State
Going green through congestion pricing
Congestion pricing may be intended for raising revenue rather than reducing pollution, but it will have environmental benefits and it is is potentially just the first step towards lower carbon emissions and getting polluting cars off the roads.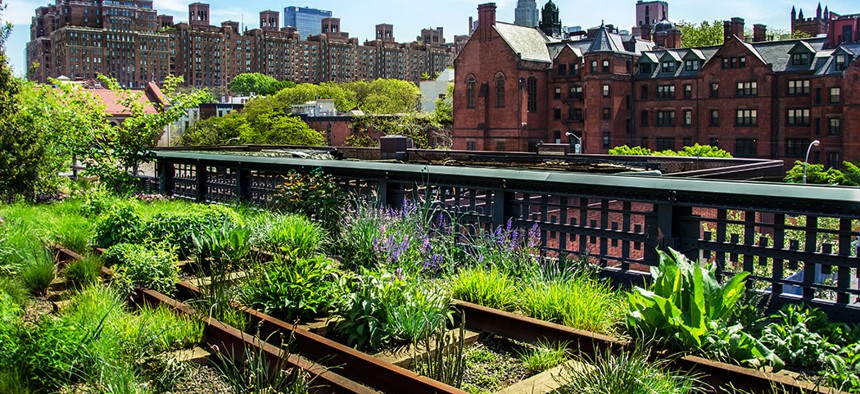 New York City residents may soon be able to breathe a little bit easier thanks to the passage of congestion pricing as part of the state budget. Although most details remain to be determined by a commission, fewer cars in Manhattan and more efficient public transit would logically lead lower emissions and better air quality. But for the city, and the state, congestion pricing could be just one step towards a greener New York.
While much of the discussion around congestion pricing in New York so far has been focused on the projected revenue and discontent among potential payers of the fee, available data shows that the implementation of congestion pricing has measurable positive impacts on the environment and public health. A form of the tolling scheme exists in three cities – London, Stockholm and Singapore. In each, air quality has improved considerably thanks to decreased traffic congestion. While, climate change gets the most attention these days, cities still struggle with conventional pollution and reducing the number of cars – or the amount of time they spend idling in traffic – will lessens that pollution, along with the carbon dioxide emissions that cause global warming.
One year after the toll was put in place in London, nitrogen oxide levels in the air decreased over 13 percent, carbon dioxide by 15 percent and particulates by 7 percent, downward trends supported by more recent analyses. Stockholm also saw reductions in these pollutants following the beginning of congestion pricing, as well as up to a 50 percent reduction in asthma-related hospital visits.
Those numbers spell good news for New York City, especially considering the high rates of asthma in both the Bronx and Manhattan. Transportation emissions are the greatest contributor of carbon pollution in the state. According to the Environmental Defense Fund, stop-and-go traffic – which New York City is plagued with – contributes three times more pollution than when cars are steadily moving.
One factor that seemed like it could be a complication is the fact that, unlike in other cities, New York state has a target revenue goal as opposed to a target congestion or emissions reduction goal. New York City Mayor Bill de Blasio even said at a recent press conference that the point of congestion pricing is to fix transit, not reduce congestion. While the panel that will determine toll prices and other mechanisms of the program has been directed to consider the environmental impacts of congestion pricing, decisions must still optimize monetization in order to raise the established $1 billion a year. A toll optimized for the greatest reduction in congestion, unconcerned with how much money it may make, would perhaps be higher and reduce driving so much that it would raise less revenue.
However, environmental advocates are pleased with the plan that passed, believing the revenue goals and environmental goals truly go hand-in-hand. They argue any toll will lead to fewer cars, meaning freer streets and less pollutants. Since the commission tasked with setting prices has been instructed to consider environmental impact, they believe the commissioners will take that into account when deciding on the optimal structure. Perhaps more importantly, they say new investment in public transportation is inherently green. "A reliable transportation system, reliable subways, reliable buses that can actually move at a steady pace on the roads in the city, would also serve that purpose of getting cars off the road," Conor Bambrick, air and energy director at Environmental Advocates of New York, said. Redesigning the city's bus system and electrifying the fleet is a key component of the MTA's Fast Forward Plan being funding in part by congestion pricing. And the subways are already electric, so it already provides a fairly clean travel option. "There's no way we can achieve the climate targets that are aligned with the Paris Agreement if we don't invest in transit," Andy Darrell, New York regional director at the Environmental Defense Fund, said.
However, the MTA has a poor track record when it comes to efficient money and time management, so a steady influx of new cash from congestion pricing doesn't constitute an automatic solution to the problems plaguing the system and leaving commuters unhappy with service. Darrell and Bambrick both said that they feel confident in the leadership of Andy Byford, the New York City Transit president who crafted the Fast Forward plan, but that the public must hold the agency accountable.
Even without the details, New York City has already become a national leader by passing congestion pricing and other cities around the country that may follow suit are closely watching. Congestion pricing is potentially just the first step towards lower carbon emissions and getting polluting cars off the roads. In addition to a central business district with a fee to reduce congestion, London has also implemented low-emission and ultra-low emission zones, which impose additional fees on the most polluting vehicles, providing a model that New York could follow. "We need a plan writ large on how the state, and preferably the region, addresses transportation emissions," Julie Tighe, president of the New York League of Conservation Voters said. "Congestion pricing is, in fact, the cornerstone that leads us to those broader policy discussions."
Perhaps that starts in part with exemptions or discounts for drivers of electric cars and trucks during the early stages of congestion pricing, which Darrell said could serve as an incentive to make the switch while putting New York City on the path towards measures like those in place in London. Or next steps might be the implementation of a low-carbon fuel standard, something Tighe expected to see discussions about soon. Either way, it would seem that the success of congestion pricing may have far reaching environmental benefits to go beyond the immediate effects of fewer cars on the road.
Powered By
NEXT STORY: New York City to pass water tank reforms