New York State
Can New York hit its environmental goals?
New York state just passed its most ambitious climate targets yet, but history suggests they won't be easy to hit.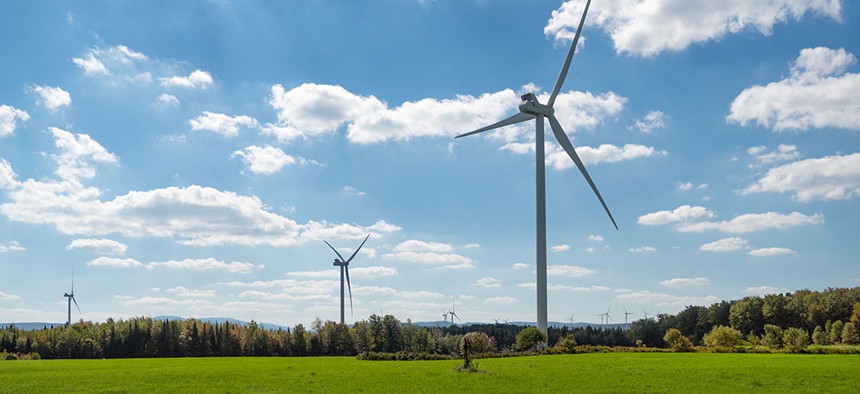 Once Gov. Andrew Cuomo signs the Climate Leadership and Community Protection Act into law, as he is expected to, New York will have adopted a series of ambitious goals to mitigate climate change. But the state has a spotty history of meeting climate-related goals, from increasing the state's use of renewable energy to reductions in greenhouse gas emissions.
In 2004, the state created the now-obsolete Renewable Portfolio Standard but failed to meet its targets. It set a share of the state's energy portfolio that should come from renewable sources such as wind and solar by 2013 and 2015. The original goal set in 2004 aimed to generate 25% of the state's electrical energy from renewable sources by 2013, an increase from the 19.3% the state produced in 2004. (The vast majority of New York's existing renewable energy production is hydropower, but there is limited potential for growth in hydro.) In 2010, the state upped that goal to produce 30% of electrical energy from renewable sources. The state came close in 2013 with about 23% renewable energy, but fell well short in 2015 when it was still stuck at 23%. According to the most recent New York State Independent System Operator Power Trends report, today, the state only produces about 26% of its electricity from renewable sources, meaning that it had still not quite hit the 2015 goal. 
Although the 2004 and 2010 laws predate Gov. Andrew Cuomo's tenure, their lack of successful implementation illustrates the potential pitfalls of the state's hopes to transform its power sector. 
After the Renewable Portfolio Standard, Cuomo introduced the state's current program, the Clean Energy Standard. It set a goal of creating 50% of the state's electricity by 2030. Cuomo proposed upping that target to 70%, a goal that was written into the new climate law as well and will soon be codified. The state's slow rate of renewable energy growth had already put into question the feasibility of hitting the original 50% goal, and makes the 70% goal appear impossible without dramatic growth of solar and wind energy deployment. Over the course of Cuomo's tenure so far, the state increased its renewable energy by less than 10% – in 2011, when he took office, the state was at 19% renewable.
The Clean Energy Standard is a part of Cuomo's larger Reforming the Energy Vision initiative, which includes energy production targets: 2,400 megawatts offshore wind by 2030, 1,500 megawatts of storage by 2025 and 3 gigawatts of solar by 2023. Cuomo increased those targets this year, creating new goals of 9,000 megawatts of offshore wind by 2035, increasing distributed solar deployment to 6,000 megawatts by 2025 and 3,000 megawatts of storage by 2030. Currently, the state has 8,480 megawatts of proposed solar energy, with only 1,809 megawatts currently available. New York also has 4,036 megawatts in proposed storage, but only 56 megawatts right now. (The ability to store energy so that solar or wind energy can still be used when the sun is not shining or the wind is not blowing is essential to achieving an all-renewable energy sector.) The state also produces no offshore wind energy, but produces 1,985 megawatts of energy from land-based wind farms. The state took a large step forward in meeting the energy-procurement goals with $1.4 billion awarded to 26 large-scale renewable energy projects in 2018, including 22 solar farms.
The state has had difficulty increasing its wind energy output, which has remained largely stagnant over the past several years, due in part to what developers consider a burdensome approval process. Many concerns revolve around the aesthetic of wind turbines and local habitat preservation. New York has so far procured only 90 megawatts of offshore wind, approved in 2017. The project has since been expanded to 130 megawatts and is expected to begin construction in 2021, although it still awaits final federal approval. The state was set to announce in spring a second procurement of up to 1,200 megawatts after receiving several bids in February of this year, but that announcement has been delayed and has no dates as to when those projects may begin or be completed.
The newly passed Climate Leadership and Community Protection Act also includes a goal of reducing greenhouse gas emissions 85% from 1990 levels by 2050 across all economic sectors, but the state has theoretically been working to reduce emissions 80% by the same year since 2009. That year, then-Gov. David Paterson signed an executive order creating the target, as well as a Climate Action Council to create a plan to reach it. Peter Iwanowicz, executive director of Environmental Advocates of New York, said that after Cuomo took over in 2011, that plan fell by the wayside. 
In 2015, Cuomo signed his own executive order reaffirming to 80% reduction of emissions by 2050, with a milestone of 40% reduction by 2030. Both were cornerstones of his Clean Energy Standard and Reforming the Energy Vision established the same year. In 2018, the state released a greenhouse gas inventory: in 2015, New York had only reduced greenhouse gas emissions by 8% below 1990 levels. 
While much of the more public efforts have been around the renewable energy goals, Reforming the Energy Vision includes a number of other projects that would help to address the broader emission goals, such as making buildings more energy efficient and decreasing the reliance on fossil fuels in the transportation sector. For example, the state has been working to expand its network of electric vehicle charging stations to encourage more consumers to use electric or hybrid cars, which will be key if New York aims to reduce overall carbon emissions 85%. There was a goal set for 3,000 electric vehicle charging stations across the state by 2018. As of 2017, the last year data for which data is available, the state created 700 new stations thanks to projects awards in 2012 and 2013, bringing the total number of charging stations to 1,700.
In 2018, the governor announced a $4.2 million investment to achieve a new goal to have 10,000 electric vehicle charging stations by 2021 in order to support the 850,000 electric vehicles the Cuomo would like the state to have by 2025 and 2 million by 2030. The state had about 37,000 electric vehicles on the road in 2018.
Julie Tighe, president of the League of Conservation Voters, acknowledged that certain projects are not moving as quickly as many advocates would like, but she feels confident that as the state continues to dedicate more time and money to getting those projects done, they will be able to get off the ground quicker. "There is no question that there is a pathway to achieving these goals within the timeline that has been proposed, or the governor wouldn't have proposed them in the first place," Tighe said. She added that the advancements will likely come in big jumps, rather than a smooth line.
Iwanowicz was not quite as optimistic. He said that, overall, the state has not done well in meeting its environmental and climate-related goals, from energy procurement to emissions reductions, in large part because action has almost exclusively come from executive orders rather than through laws in collaboration with the state Legislature. "You look at Rhode Island, they lead the nation in per capita energy efficiency. It's because their legislature's involved in the process," Iwanowicz said. "You're seeing the success of that shared responsibility."
Iwanowicz said that he and other members of the coalition group New York Renews have never been confident that goals set in executive orders will ultimately be met, and that they need the power of law, and consequences for inaction, in order to happen. That was why the group has long been pushing the Climate and Community Protection Act, which evolved and changed names slightly when it passed. "The law really has to be aggressively watchdogged, implemented, and then enforced, so that we do hit the 70% (renewable energy goal). But the pathway is clear," Iwanowicz said.
UPDATE: This article has been updated to reflect newer and more comprehensive solar deployment and energy storage figures.