Energy & Environment
How Democrats will tackle the power puzzle
Climate change isn't the only energy issue next session.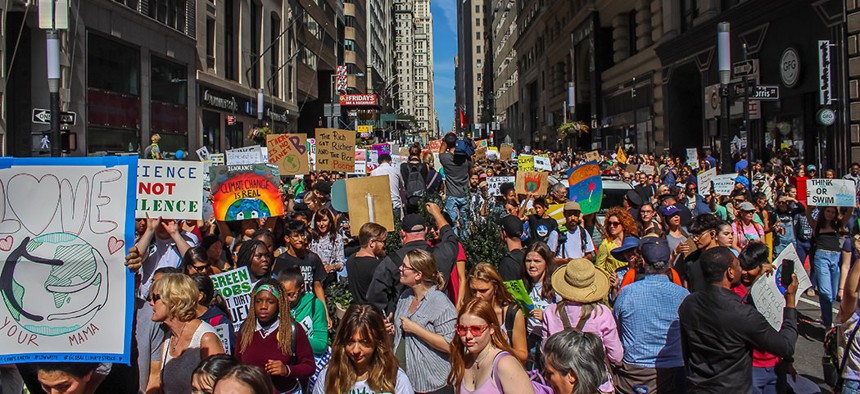 Earlier this year, Gov. Andrew Cuomo signed a landmark bill that not only is a roadmap for reducing the state's carbon footprint but has also been touted as a model for other states and countries. While the threat of climate change continues to grow more dire, there is no shortage of other energy and environmental issues that state policymakers plan on tackling in the months ahead.
State leaders still have to appoint the members of an important body charged with implementing the state's climate change policies. Hydraulic fracturing remains an issue in the state despite a ban on drilling since 2014, and support is growing for a public takeover of the New York City power grid, an idea that would likely require action by state lawmakers. Here's what is coming up in 2020.
Implementing the Climate Leadership and Community Protection Act
Now that the state has its climate goals etched into law, it has to implement its plan to reduce greenhouse gas emissions by 85% before 2050. Appointees to a 22-member state climate action council established in the Climate Leadership and Community Protection Act will determine a climate action plan for the state to implement. The leaders of the majority conferences in each house of the Legislature get three appointments each, while the minority leaders each get one. The governor, however, will in practice control the council through the 12 commissioners of state agencies and leaders of public authorities who will sit on the council, along with two "non-agency expert members" that the governor appoints. Most of the council appointments have yet to be named, though Republican minority leaders in the Assembly and state Senate have already named two energy industry insiders to the council, which was given two years to develop a scoping plan to implement the law. While not directly related to the climate change law, an updated version of a bill mandating that the state pension fund divest from fossil fuel companies was also recently introduced in both houses.
Public control of utilities
There is a growing movement on the political left to establish a public utility to deliver power in the New York City area – an idea that will likely provoke a backlash from business interests if it gains traction in the months ahead. Lawmakers have yet to introduce a bill that would further this goal, but electrical outages and a temporary gas moratorium in Brooklyn and Queens and on Long Island have generated some support for ending private control of the city's electrical and gas grids. Private utilities also cannot count on Gov. Andrew Cuomo to defend them, considering his recent criticisms of utilities National Grid and Con Edison. Legislators brought the issue up in September at a hearing examining Con Edison's performance in the city and there is an expectation that the issue will come up once the Legislature reconvenes next year. "We're not in session until January," Senate Deputy Majority Leader Michael Gianaris told City & State in September. "So we have a few months to figure out what might be the best way forward."
Fracking crackdown
New York state banned fracking five years ago, but that has not kept the controversial drilling method from affecting the state in several ways. While state lawmakers are not aiming to stop the importation of fracked gas in the upcoming legislative session, they are looking to continue efforts to prevent the importation of fracking waste material into the Empire State. One bill would classify all waste that comes from oil and natural gas production as hazardous, which would help prevent drilling fluids and other pollutants from getting into the air, soil and drinking water. Another bill aims to ban the use of production brine – wastewater from oil and gas extraction that has a high concentration of salt – for de-icing and/or dust control on roadways and land. A third bill would increase the state Department of Environmental Conservation's authority to regulate the gas and oil industry. The first two bills have already passed the state Senate by large, bipartisan margins, while the third was just introduced in October. It is unclear whether or not Cuomo supports any of the three bills. He has generally supported tougher environmental controls on pollution.
To see more Setting the Agenda pieces click here.