Infrastructure
Which infrastructure upgrades will get a green light this year?
Three ways that lawmakers, business interests, local governments and unions want to work with the governor to jump-start infrastructure projects across the state.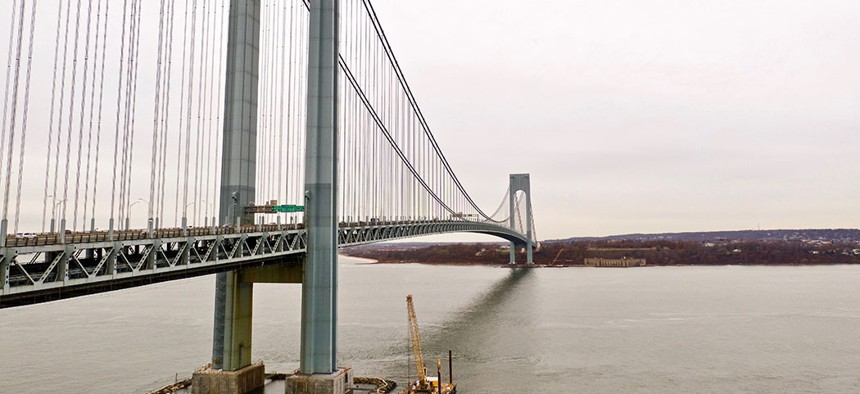 Gov. Andrew Cuomo likes to think of himself as a master builder, and he has plenty of examples to tout – from new bridges to renovated airports. While he typically likes to think big, some are pushing for him to focus on smaller projects in the months ahead. Here are three ways that lawmakers, business interests, local governments and unions want to work with the governor to jump-start infrastructure projects across the state.
Transportation funding
The race is on to lobby lawmakers and Gov. Andrew Cuomo on the state Department of Transportation's next five-year capital plan. A coalition of construction and business groups called Rebuild New York Now is pushing for more funding of local transportation infrastructure, with a particular emphasis on small projects to fix issues with roads and bridges. This effort includes an ad campaign to highlight the potential economic benefits of increased spending at the local level. While much of this effort has focused on western New York, Long Island is also looking to get its share of new funding in the upcoming capital plan. A new report commissioned by the Long Island Contractors' Association found that four out of five roads on the island needs to be repaired. While these interests want Cuomo to focus more on smaller projects, the governor is likely to give at least some attention – and resources – to higher-profile projects. His previous budget address highlighted $150 billion in infrastructure spending, though the state's looming budget deficit could dampen his appetite for proposing any new massive projects this time around.
State and Municipal Facilities Program
Funding for capital projects through Cuomo's control of the Dormitory Authority of the State of New York, which oversees the State and Municipal Facilities Program, is one of the low-profile ways that the governor can exert leverage over lawmakers. At the end of the legislative session, lawmakers secured a $385 million increase in borrowing authority to fund the State and Municipal Facilities Program, money which can be used to fund everything from police cars to skate parks in members' districts. Press releases from lawmakers over the summer show just how good legislative life can be when they play nice with the governor. Rewards include a new playground for children with disabilities, library improvements and surveillance cameras to benefit legislators' constituents.
While the program had more than $1 billion in funding as of this past summer, there is always the possibility that lawmakers will want to secure more for their pork projects – especially since the associated debt is kept on the ledgers of a public authority rather than in the state budget. With a multibillion-dollar budget deficit now facing the governor and the Legislature, this might become an increasingly attractive option to keep constituents happy at a time when officials are looking to cut spending and raise taxes to close the fiscal shortfall.
Rural broadband
State lawmakers have been meeting in recent months to develop solutions for expanding internet access across upstate rural areas. This has included a joint hearing of state senators and Assembly members in Albany as well as the creation of a new Upstate Cellular Coverage Task Force. While the efforts often involve securing more funding in the state budget, in part to match federal funding, it is also an issue with significant parochial differences between different areas of the state. In the North Country, for example, there are formidable restrictions on what can and cannot be built within the Adirondack Forest Preserve, where cell towers have to be as inconspicuous as possible. Lawmakers from that area are already making plans to push for more subsidies in the upcoming budget to motivate businesses of all kinds to open in the area. Making that possible depends in part on ensuring high-speed internet access, which is far from a sure thing in rural areas of the state. There are already a number of bills proposed in the Legislature to address the matter by studying current access, creating grant programs for municipal broadband and requiring the state to step up its efforts to expand broadband access.
To see more Setting the Agenda pieces click here.