New York State
Cuomo vetoes bill aimed to help people of color keep custody of their kids
Advocates will renew the fight to increase the burden of proof needed to substantiate child neglect cases in 2020.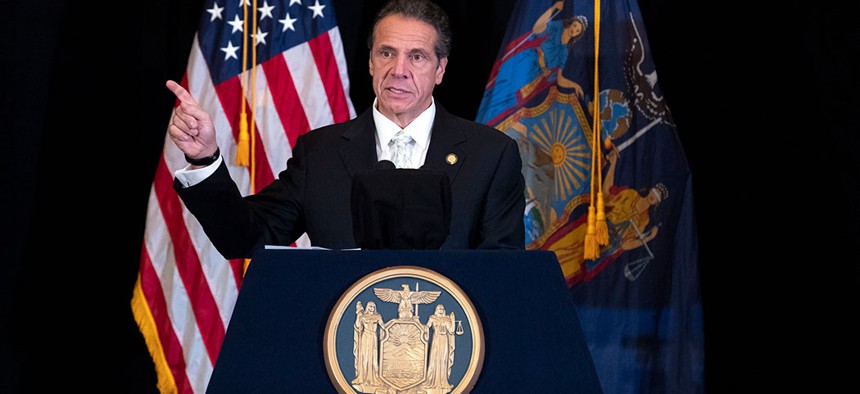 People of color in New York disproportionately lose custody of their children because of child neglect cases that begin with alleged transgressions as innocuous as smoking marijuana. Efforts to address this source of inequality have faced a setback after Gov. Andrew Cuomo vetoed a bill that would have changed how the state handles allegations of child neglect – which can shadow a parent for decades, impacting their chances of getting a job along the way. 
Legislation passed by state lawmakers earlier this year would have required a higher standard of proof to substantiate allegations of neglect, while also making it easier for parents or guardians to improve their employment prospects by having their names removed from the State Central Registry, which lists allegations of child neglect and abuse for as long as 28 years, and is checked when someone applies for "employment, certification, or licensure in the child care field," according to the state Office of Children and Family Services. 
The bill passed the state Senate and Assembly by overwhelming margins in June with the support of many child welfare nonprofits, but there had been concerns from advocacy groups like the New York Society for the Prevention of Cruelty to Children that the proposal would endanger children by making it harder for caseworkers to act when they suspect a child needs help. 
In his veto message, Cuomo echoed those concerns, adding that the bill had unbudgeted fiscal implications and would require an unrealistic timetable for adoption by the state. "Certain child abuse and maltreatment cases in the statewide central register would be automatically sealed upon enactment," reads the veto message. "By allowing the records of individuals with serious histories of abuse or maltreatment of children to be sealed, New York can place children at risk of harm." Cuomo spokesman Jason Conwall told City & State that the governor was "firmly committed" to reaching a deal with lawmakers on the issue moving forward.
The state child welfare system disproportionately affects poor families of color, a dynamic that advocates for reform were looking to rectify by requiring a "preponderance of evidence" rather than "some credible evidence" in child neglect cases – though not child abuse cases. Examples of factors in neglect cases include parents smoking marijuana or dropping a child off at school with dirty clothes. An abuse case, in contrast, involves allegations of physical harm or sexual abuse. Supporters of the legislation argued that parents accused of neglect should be allowed to clear their names more easily by showing they have addressed the issues associated with their cases. 
The Democratic takeover of the state Senate after the 2018 elections had raised advocates' hopes that the legislation – sponsored by state Sen. Velmanette Montgomery of Brooklyn and Assemblywoman Ellen Jaffee of Rockland County – would be able to pass the state Legislature and become law this year. Lawmakers could still override the veto by voting for the legislation by the same margins as before, but it is unclear whether Montgomery and Jaffee will pursue that legislative avenue rather than seeking to find common ground with the Cuomo administration. 
Advocates, meanwhile, pledged to renew their effort to win the governor over to the cause in the upcoming session. "Due to structural inequities, families of color are disproportionately involved in the child welfare system," reads a joint statement from the Citizens' Committee for Children of New York, Children's Defense Fund-New York, the Council of Family and Child Caring Agencies, and the Schuyler Center for Analysis and Advocacy. "These reforms are an important step in addressing those disparities. We are eager to work with (the Office of Children and Family Services) to move needed (State Central Registry) reforms forward as they are essential to the economic stability, safety and well-being of NYS children and families."
In an interview with City & State, Montgomery said that she expects the governor's concerns will be resolved in the first few weeks of 2020. "They have promised that the first thing that we will work on with them is this legislation to see if we can come up with a compromise position that they could accept," she said. "The main issue on the sealing of records was related to employment in particular (and whether employers and law enforcement) would still have access, but only for a limited length of time."
Editor's note: This story has been updated with comments from Montgomery.
Powered By
NEXT STORY: Ring security scare hits home in New York