Coronavirus
Gig workers left in the lurch as state passes emergency paid sick leave
Cuomo punted the gig worker debate to a task force, but some want the state to provide relief for gig workers amid the coronavirus pandemic.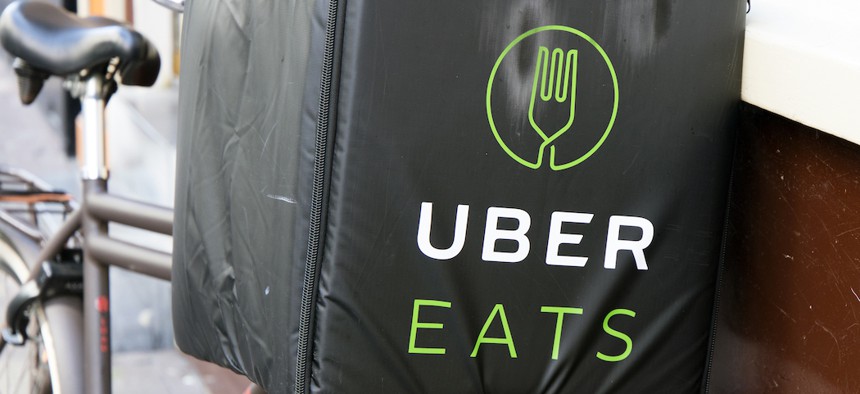 The wheels of progress are quickly turning in Albany, as Gov. Andrew Cuomo and the state Legislature race to adapt to the coronavirus pandemic and finalize the state budget. On Wednesday, the state Senate passed an emergency paid sick leave bill that will provide sick leave for employees across the state who are quarantined because of the coronavirus, and also keep those employees from being fired or punished for taking sick leave because they were quarantined.
While that emergency paid sick leave legislation may offer some relief to employees across the state who don't currently have paid time off or paid sick days, some of the workers most vulnerable during this public health crisis aren't covered by those measures. Gig workers, including Postmates delivery cyclists, Uber drivers and others wouldn't be covered as independent contractors.
Cuomo's broader paid sick leave proposal – not tied to the coronavirus – is expected to be part of the state budget, and it too would not apply to independent contractors.
The emergency paid sick leave legislation sets different requirements for employers of different sizes. For companies with 10 or fewer employees that have a net income under $1 million, employers must provide unpaid sick leave to anyone ordered to quarantine or self-isolate because of the coronavirus, and those employees must be made eligible for paid family sick leave and short-term disability benefits. Small companies with a net income over $1 million, and larger companies, are further required to provide employees under quarantine or isolation with five or more paid sick days. The legislation, which was endorsed by Cuomo as part of his comprehensive paid sick leave plan, has broad support in the Assembly and is expected to pass in the chamber.
The fact that gig workers were left out of the legislation isn't an oversight – it's a result of their employment status as independent contractors and not employees. "We cannot include gig workers in the emergency paid sick leave coverage because they are not considered workers under the law. Changing that definition is a bigger task we've already taken on and hope to address as soon as we have a responsible solution," state Sen. Jessica Ramos, who sponsored the emergency paid sick leave bill that passed the state Senate on Wednesday, said in a statement. "These workers play a crucial role in our economy, and we're working on ensuring access to a safety net during this trying time."
The effort to classify gig workers as employees – affording them the same labor protections that employees receive – is a battle between labor advocates and the tech companies that want to keep them as independent contractors by coming up with other solutions to provide labor protections, like portable benefits. Gig workers themselves – watching this same debate play out in California over its new law classifying most gig workers as employees – have come down on both sides of the debate.
But with so many gig workers filling the new demand for delivered meals and alternative transportation options – and with more people likely to join that workforce during the coronavirus recession – some are calling for relief for the people powering the gig economy. "How on earth can legislation at this moment in time exclude gig workers or bona fide independent contractors?" asked Bhairavi Desai, executive director of the New York Taxi Workers Alliance, an advocacy group that represents for-hire vehicle drivers like those working for Uber and Lyft. "The impact of New York state not including misclassified workers and independent contractors for paid sick leave – many of whom are the front-line service workers facing high risk and whose labor allows others to stay safely at home – would be not just immoral and financially devastating to workers, but an absolute failure to protect public health." Desai suggested that New York City – which already has a paid sick and safe leave law, should amend that law to establish a public-private emergency fund to include all workers regardless of employment classification or immigration status.
Under a new minimum pay rule for ride-hailing drivers in New York City, drivers for large companies like Uber, Lyft and Via are able to accrue some paid sick leave. In response to the coronavirus pandemic specifically, many gig economy companies have been working through the crisis to come up with solutions to help their workers. Uber said it would compensate drivers who are diagnosed with the coronavirus or placed under mandatory quarantine. Other companies like Lyft, DoorDash, Instacart and more have announced similar measures.
But Desai said that comprehensive relief or mandates by the state or federal government – not just voluntary action on a company-by-company basis – are called for as well. "I think that neither the voluntary programs or the state's legislation are enough," Desai said.
Some state lawmakers have also raised possibilities for this kind of action. Assemblywoman Linda Rosenthal sent a letter on Monday asking Cuomo to include in the budget emergency relief measures not just for app-based gig workers but for freelance and other workers like home health aides and house cleaners. It's not yet clear what those emergency measures would look like, but it might include emergency funds for workers. "That's what I'm calling on the governor and others – with the Department of Labor and experts – to develop to ensure that people who are involved in the gig economy can get some relief from the government," Rosenthal said. She added that she has not heard much feedback from the governor's office, except that they are looking into ways to protect gig workers. A representative from Cuomo's office did not immediately respond to a request for comment on Wednesday.
Other state lawmakers have spoken to a need to protect gig workers, even while supporting the emergency paid sick leave bill that does not include them. "I voted for the paid sick leave proposal today, which represents a major step forward during this state of emergency," state Sen. Brad Hoylman said in a statement. "But I recognize that for some gig workers it may not be enough, which is why I'll be advocating for further gig worker protections with my colleagues in the Legislature, and pushing for aid from the federal government to every impacted American worker during this unprecedented crisis."
It's also possible that emergency relief – whether in the form of emergency funds, lost wage replacement or some other solution – could be put forward by the federal government. U.S. Rep. Alexandria Ocasio-Cortez called for a bailout of tipped, freelance, hourly and gig workers on Tuesday, saying that such a bailout could include cash assistance, rent, mortgage and debt payment suspensions, paid leave for every worker and more.
As many national reports have pointed out recently, the flexibility that gig economy companies have long touted as a benefit of their work doesn't come with the kinds of protections that employees enjoy. During a public health emergency in which the demand for gig workers will likely increase, that's more clear than ever.
Earlier this year, Cuomo weighed in on the debate over whether gig workers should be classified as employees, but proposed that the question should be handled by a state task force that would make recommendations by May 1.
At a press conference in Albany on Wednesday, in response to a question about whether a task force was still the right approach for the state, Assembly Speaker Carl Heastie said that the state needed to see what it would be getting from the federal government. "I really think we have to get an idea of what we believe the federal government is going to give us, before I can tell you what I really think the state will be able to do in terms of how this is going to affect independent contractors and things like that."
In the midst of an emergency, some say gig workers can't wait months to figure out what kinds of labor protections they might receive. "We should not be waiting," Desai said. "Gig workers have been fighting for five years to have their poverty and exploitation be recognized. Because the state has not acted on those issues up to now is why we find ourselves in a greater crisis."