Criminal justice
Will coronavirus spring people from jail?
The conversation around criminal justice has shifted dramatically.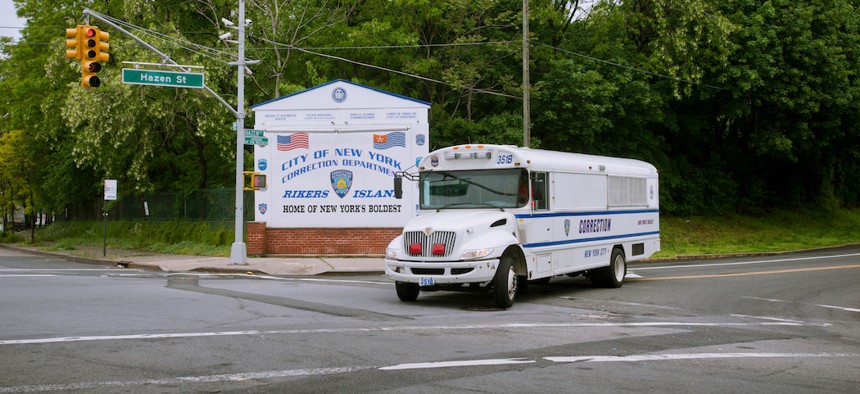 In normal times, the New York Post's conservative editorial page acts as a house organ for New York City's tough-on-crime police unions, spreading a lock 'em up message across the region. 
But these are the days of a coronavirus pandemic, with more than 1,000 New York City residents testing positive for the disease known as COVID-19 as of Wednesday morning. The discussion around criminal justice has changed so rapidly in the city that the Post, which less than two weeks ago was calling for the state to keep more defendants in jail before their trial, has changed its tune.
"OK," the editorial board conceded on Tuesday evening. "Cops will certainly need to show more discretion about who they bother to arrest, and the city may even want to do compassionate jail releases at some point soon."
The Post was responding to a call from the Legal Aid Society, the city's largest organization of public defenders, for the NYPD to stop all arrests and for anybody sitting in New York City jail before a trial, or for violating parole, be immediately released. (The Post balked at this more far-reaching proposal, calling it "insane.")
Extreme or not, experts say that because of poor resources and close quarters, jails and prisons could serve as a petri dish, spreading even just a single case to hundreds of inmates. That could be happening soon. On Wednesday afternoon, the Daily News reported the first case of an inmate at Rikers Island testing positive for COVID-19. 
A number of officials are backing that call, at least in part. New York City Council Speaker Corey Johnson and Council members Rory Lancman and Donovan Richards released a letter saying that people should be held in jail "only when absolutely necessary" and calling for a halt to arrests for low-level crimes and "victimless offenses" like soliciting prostitution and marijuana use. (Marijuana arrests have already slowed to a trickle in the city, with just over one per day citywide in the last three months of 2019.) Anti-incarceration activist groups like VOCAL-NY and the Release Aging People in Prison Campaign echoed the call statewide, calling for Gov. Andrew Cuomo to grant clemency to prisoners across New York with the greatest health risks, such as older people and those with compromised immune systems. And on Wednesday afternoon, New York City Public Advocate Jumaane Williams and New York City Councilman Brad Lander hosted a virtual press conference to endorse the suspension of low-level, "broken windows" arrests and to release most people in jail who are over 50 years old, since older people are at a higher risk for the disease.
If the city keeps too many people in jail, Lander said, "The death toll is going to be on our hands, and no amount of soap is going to wipe it away."
The New York City Board of Correction seemed to agree with Lander about the gravity of the situation, saying Tuesday that "the city must drastically reduce the number of people in jail right now and limit new admissions to exceptional circumstances."
The board oversees the Department of Correction, but doesn't actually have any power to release people from jail. Judges and district attorneys would each have to play a role. Although New York City Mayor Bill de Blasio appoints the board's nine members, in consultation with the City Council and certain judges, the mayor didn't agree with the board's advice yet. He announced at a Tuesday press conference that he was still evaluating the situation in the jails and would determine "if, case-by-case, any of those individuals should be taken out of our jail system."
By Wednesday evening, the mayor hadn't moved, but he did set a deadline, telling WCBS radio that inmates will be identified who need to be brought out of jail "in the next 48 hours."
De Blasio, who oversees the NYPD, didn't seem eager to slow arrests either, telling WCBS that the NYPD has already reduced arrests overall during his tenure, and that he would continue to balance public safety with health in the jails. 
De Blasio did announce one major change on Tuesday: Anybody arrested with flu-like symptoms would be seeing a judge via video conference, reportedly the first time anybody would be arraigned by video in New York's criminal court system. 
The wheels of justice kept turning in New York City, and Manhattan was already doing video arraignments Tuesday afternoon. A spokeswoman for Bronx District Attorney Darcel Clark's office, Patrice O'Shaughnessy, confirmed to City & State that the office had gone even farther, moving full to video arraignments, even for defendants that weren't showing symptoms. The office had arrainged 44 people by video between Tuesday afternoon and Wednesday afternoon. 
The city's five district attorneys are all handling the call for limiting – or suspending – prosecutions differently. O'Shaughnessy said the Bronx has been declining to prosecute low-level offenses like trespassing and turnstile jumping for a year. Brooklyn District Attorney Eric Gonzalez and Manhattan District Attorney Cy Vance both signed onto a letter with a few dozen reform-minded prosecutors from across the country promising to release anybody on bail unless they're a serious public safety risk and to release a wide swath of vulnerable inmates. Gonzalez also confirmed to the Post he would be seeking to reduce the number of people in the criminal justice system.
Others seemed less open to the suggestions. Queens District Attorney Melinda Katz released her own letter Tuesday saying that, to limit exposure to the virus, the office will push back court dates at least 30 days for people who are currently in jail. That policy would seem to keep more people incarcerated for a longer duration, but Katz's office declined to clarify the policy to City & State on Wednesday, saying the statement spoke for itself.
Staten Island District Attorney Michael McMahon also did not seem eager to stop or limit prosecutions. His office didn't respond to a request for comment, but he pushed back on Twitter against the Legal Aid Society's call for a moratorium on arrests. "I have a better idea," he wrote Monday, "how about a moratorium on criminal activity instead?"
This discussion on reducing incarceration is taking place at the same time that Cuomo and state lawmakers are considering making changes to the bail law passed in 2019. That law severely limited the number of offenses where judges could ask a defendant for cash bail in criminal court. This year, Cuomo and a number of Democratic legislators are eager to roll the law back somewhat, which would likely increase the number of people incarcerated across the state. 
Those discussions appear to be ongoing. Cuomo met with Clark, Gonzalez, NYPD Commissioner Dermot Shea and the Legal Aid Society's Tina Luongo – and possibly other criminal justice leaders – last Wednesday at the Capitol to discuss bail reform. But with coronavirus seeming to change everything in the last week, the appetite for amending the bail law may be lessened. The state Senate's Republican minority has been among the loudest voices calling for reinstituting bail in more cases, but on Tuesday they asked legislative leaders to pass a simple budget that didn't include other policies – presumably leaving bail out of the budget. Along with the New York Post's signal that city conservatives would be OK with limiting arrests and letting some people out of jail because of the coronavirus, it shows just how far the criminal justice conversation has shifted in a few days.