Coronavirus
Can a curfew slow the spread of COVID-19?
Public health experts weigh in on new state curfew for restaurants, bars and gyms.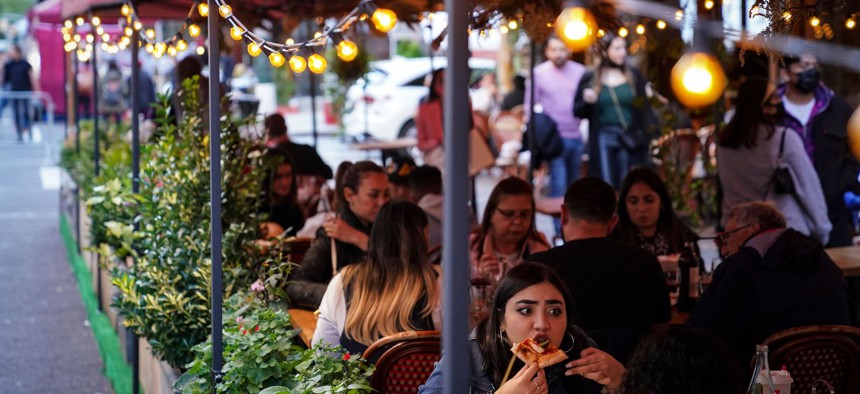 New York is the city that never sleeps, but new COVID-19 restrictions have called into question whether state officials are aware that the virus, too, never takes a rest. 
On Wednesday, after Gov. Andrew Cuomo announced a new 10 p.m. curfew would be instituted for establishments with state liquor licenses – such as bars and restaurants – as well as gyms, some wondered about the rationale, noting that if the state acknowledges the risk of COVID-19 transmission at indoor restaurants and gyms, how is it safe for them to stay open at all? After all, the coronavirus isn't any more transmissible at 10:30 p.m. than it is at 9:45 p.m. 
The announcement of the new restrictions has reignited calls for New York to go much further – pausing high-risk activities including indoor dining and reclosing gyms in order to curb the spread of the virus as cases rise all over the state. On Wednesday, The New York Times editorial board urged exactly that. "Indoor dining at city restaurants should end. Gyms and some other nonessential businesses ought to be closed again. Religious leaders should tell their congregants to stay home, for safety's sake, until the current surge is brought to heel," the paper wrote.
"We all know what a sane response would be: Close indoor dining. Close bars. Close gyms," state Sen. Brad Hoylman, from Manhattan, wrote on Twitter on Thursday. "Pay them to stay closed until COVID rates are under control."
Not all public health experts were dismissive of the benefits of a curfew, although some thought the state should go further and stop indoor dining altogether. A closing time, especially if thought of as an added layer to existing restrictions that limit capacity and, in the case of gyms, require mask wearing, might help, albeit to a lesser extent.Lindsey Leininger, a health policy researcher and a clinical professor at the Tuck School of Business at Dartmouth, referred to these multiple restrictions as a "Swiss cheese layering" approach, with the goal of these policies complementing each other to mitigate the risk of virus spread.
At bars and restaurants in particular, some suggested that the later people stay out, the more alcohol they'll drink, leading them to grow less responsible with measures such as mask wearing and distancing. A curfew that empties bars and restaurants by 10 p.m. could curb some of that behavior. "Like our moms told us, nothing good happens after midnight, and that was because people make poor decisions when under the influence of alcohol," Leininger said.
Dustin Duncan, an associate professor of epidemiology at Columbia University, said he also saw some value in a curfew. "It's important to have people limit their social interactions," Duncan said. "My assumption is that if people are not out late, they're more likely to be home and less likely to be socializing, less likely to interact with someone to carry the virus to other people."
But if New York's primary goal is reducing the risk of transmission, a complete pause on indoor dining – and possibly other businesses – could be called for, despite the high economic costs that business owners and employees will face if forced to shutter again. "I don't think any indoor dining should be happening," Duncan said. "When it comes to indoor dining, I'm totally sympathetic to restaurants and I also believe it's part of our culture as New Yorkers, but I just think there's such a high risk with indoor dining."
Requiring bars and restaurants to close at 10 p.m. might also just lead some New Yorkers to start their drinking and irresponsible behavior earlier. Just look at the United Kingdom, where for decades pubs were required to close by 11 p.m., but British alcohol consumption rose steadily.
The state has pointed to a few explanations for the curfew. First, the 10 p.m. curfew puts New York in line with neighboring states including New Jersey, Connecticut and Massachusetts, which all have 9:30 p.m. or 10 p.m. curfews or "last call" deadlines for dining. When indoor dining started again in New York City this fall, restaurants were given a curfew of midnight. The idea is that moving up that curfew to 10 p.m. and applying it statewide will discourage people from neighboring states from coming to New York after establishments in their own states have closed. But it's not clear how much that kind of interstate travel was happening, much less how much it was driving the rising infection rate. Another explanation is the one that Leininger and other experts outlined, which is that keeping restaurants and bars open later could mean more alcohol consumption and patrons who are more lax about health precautions. 
The rationale behind a curfew for gyms is less clear. A spokesperson for Cuomo didn't comment on that specifically, apart from saying that, in general, fewer hours of operation for any of these establishments means less time for COVID-19 transmission. A critic might counter that rather than foregoing their workout, some New Yorkers who exercised after 10 p.m. will simply go earlier and perhaps make distancing in the gym more difficult. 
Of course, the real villain responsible for an incomplete or incoherent policy is the federal government, especially President Donald Trump and U.S. Senate Republicans. These incremental restrictions reflect a desire to balance the public health risk of transmission with the economic burden that business owners and their employees now face. With no federal aid to make up for lost business, many could face financial ruin if forced to shutter again. Many are facing that possibility even now, due in part to existing restrictions such as capacity limits on indoor dining. 
Cuomo addressed his intention to balance those priorities on Wednesday. "(This) is the calibration that we've talked about: increase economic activity, watch the positivity rate, positivity rate starts to go up, back off on the economic activity," he said. "It was never a light switch. It was never binary – economic activity or public health – it was always both."
Still, New York could soon be locked down regardless of those economic concerns. "I think there's been presented this false dichotomy between the virus and the economy. We need to get this virus dealt with," Leininger said. "It's the virus, stupid," she added, refashioning a phrase made famous by political strategist James Carville in Bill Clinton's 1992 presidential campaign. "We need to be advocating for proactive public health policies, and we also need to be lifting our voices in support of economic support for the people who are on the losing end of this," she said.
New York's approach to rising cases and positivity rates this fall has been focused on targeting "microclusters" with more stringent restrictions – including the complete rollback of indoor and outdoor dining in red zones, areas the state identified as microclusters But as COVID-19 cases rise citywide, that targeted strategy may make less sense. "What we're seeing now is rises in cases in all five boroughs. And we're just in the early days of seeing that very clear upward trend," said Anna Bershteyn, an assistant professor of population health at New York University's Langone Health. "I think if that upward trend continues, there may be no choice but to do a more widespread shutdown, and that's what everybody's afraid of, with the holidays coming (and) cooler weather coming."
Cuomo said as much on Wednesday. "If these measures are not sufficient to slow the spread, we will reduce, we will turn the valve more and part of that would be reducing the number of people in indoor dining. If that doesn't work, these numbers keep going crazy, you have some scientists who believe we're going to go back to closedown," he said. "I'm just praying that doesn't happen."