Health Care
Black women leading the charge to end the pandemic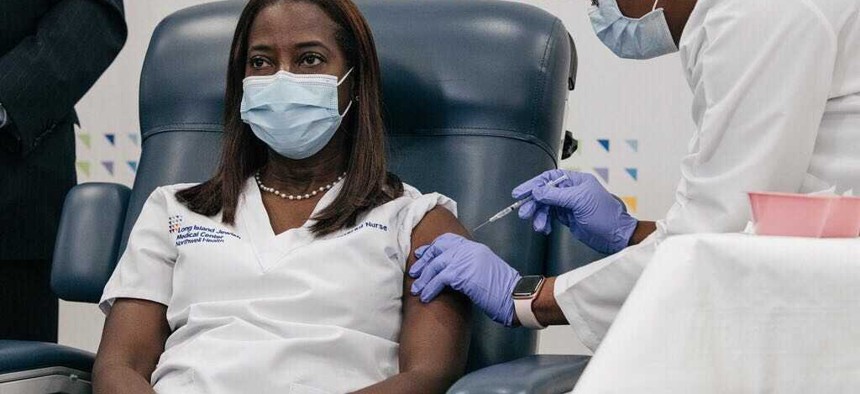 White men like President Donald Trump, Gov. Andrew Cuomo and New York City Mayor Bill de Blasio have called the shots since the coronavirus pandemic began – for better or worse – but Black women are ending the greatest public health crisis to face the country in a century.
Today, Sandra Lindsay, an ICU nurse from Queens became the first New Yorker to get a federally approved vaccine when she received a vaccine developed by a Black scientist that was administered by a Black health care worker.
The image of Black women taking the lead in beginning the vaccine distribution process not only highlights their leading role in ending the pandemic, but also helps address vaccine hesitancy in communities of color. 
Lindsay is not the first person to get vaccinated against COVID-19. Thousands of people – including at least one Democratic state senator and a Republican member of the New York City Council – participated in drug trials that have assessed the efficacy and safety of vaccines, but she appears to be the first person in the country to receive a vaccine under the emergency use authorization approved by the FDA and swiftly green-lighted by a state panel late last week.
"What an example you're setting. Black women for the win!" Oni Blackstock, a physician with a focus on the intersection of health equity and racial justice, tweeted. "And she's a nurse! Nurses spend so much time physically with patients as they care for them." 
The vaccine distribution process marks the beginning of the end of a pandemic that continues to kill thousands of Americans each day. Immunity from the two-dose vaccine requires at least three weeks to take effect and scientists remain unsure as to whether people can still spread the coronavirus after they get inoculated. Herd immunity against COVID-19 will require somewhere around 75% of the population to get vaccinated, and it also remains unclear just how many people will refuse to get shots as they become more available to the general public in the coming months.
WATCH: First New Yorker gets vaccinated for COVID 19. She is an ICU nurse in Queens pic.twitter.com/5fuJzAQO5h

— Zach Williams (@ZachReports) December 14, 2020
Vaccine hesitancy is a real problem in communities of color, which have been hit especially hard by the pandemic. Having a Black woman of Lindsay's professional stature could go a long way towards spreading the message that the COVID-19 vaccine distribution effort will not be a repeat of infamous episodes like the Tuskegee Syphilis Study of the mid-20th century. "If we were to compare the COVID vaccine to the Tuskegee experiment, it would mean that Black people sick from Covid are told they ARE getting treatment when they are NOT," tweeted Nikole Hannah-Jones, a staff writer for The New York Times Magazine who leads the 1619 Project. "I understand the skepticism, but us NOT getting access to a life-saving vaccine would not be justice."
Lindsay is no ordinary critical care professional, according to her LinkedIn profile. She is the director of patient care services-critical health at Long Island Jewish Medical Center Northwell Health, where she received the vaccine. Before that, she was the nurse manager at Lenox Hill Hospital in Manhattan for more than 20 years. 
The process that selected her as the first recipient of the vaccine remains unclear. A spokesperson for Northwell Health and Gov. Andrew Cuomo could not be reached before publication time, but Lindsay made no secret of why she was getting vaccinated in a national broadcast. "I want to instill public confidence that the vaccine is safe," she said. "We see the light at the end of the tunnel, but we still need to wear our masks and stay socially distant."