Health Care
How New York could improve vaccine equity
Members of a new state task force explain what needs to be done to beat COVID-19.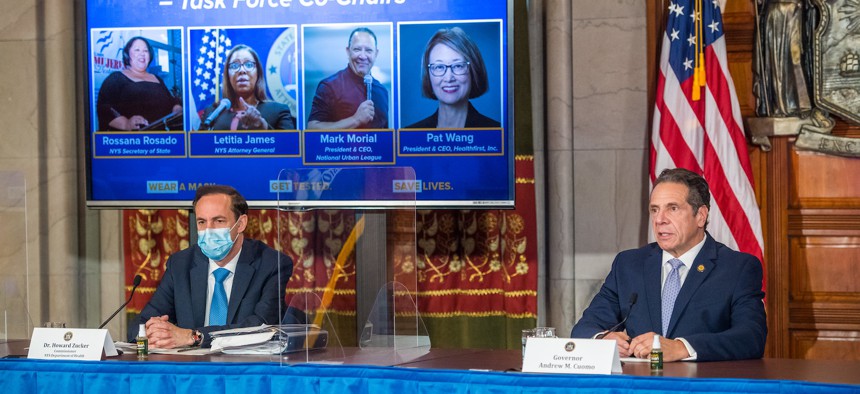 Pandemic déjà vu includes an ongoing surge of COVID-19 hospitalizations, new efforts by President Donald Trump to downplay the severity of the crisis and renewed attempts by Gov. Andrew Cuomo to attract the national limelight. "New York will lead the way," Cuomo proclaimed in mid-November as he promised a nation-leading vaccine distribution effort. It's like the spring all over again, except vaccines are the new ventilators and the governor is enlisting advocacy groups – rather than literal troops – to help distribute them.
"The weapon that wins the war is the vaccination," Cuomo said Wednesday of just how high the stakes are for the Empire State. "The vaccination will take months – best-case scenario (is) June."
Distributing vaccines is different than delivering medical supplies. Some sick people need ventilators, but not everyone wants to get vaccinated. Some people have had bad experiences with doctors in the past. Others fear they will be the victim of yet another medical experiment exploiting people of color. "How do we get it into Black churches," Cuomo said this week. "How do we get into public housing authorities? How do we get it into community centers? How do we run a public education campaign to the Black community, to the Latino community and poor communities saying this is safe?" A new 20-member task force stacked with union officials, college presidents, clergy, nonprofit executives and other community leaders from across the state fulfills a three-month-old promise to bring more diverse perspectives into the vaccine distribution process.
Interviews with several members of the task force, whose four co-chairs include state Attorney General Letitia James, highlight how their cultural expertise, community relationships and experience with past public health crises could make the difference between getting enough New Yorkers vaccinated next year to end the pandemic.
The first meeting date for the new task force has yet to be announced, but members are already preparing to get in the governor's ear about what needs to be done in the months ahead. "Eighty percent – 40% is not going to make it," task force member Guillermo Chacón, president of the Latino Commission on AIDS and founder of the Hispanic Health Network, said of achieving herd immunity. "We have to not only go by neighborhood, but block by block."
Not only do advocacy groups and human services nonprofits know where such people live, they also have a grassroots credibility that is not so easily established in the limited time that the state has to hone its vaccine strategy. "They're all nonprofit leaders who've been keeping the community alive, getting them fed and doing remarkable work of just being front-line workers," Jo-Ann Yoo, a task force member and executive director of the Asian American Federation, said of the types of organizations that deliver billions of dollars' worth of senior services, emergency food and other social services on behalf of state and local governments. That gives them a type of credibility with vulnerable people that cannot be matched, task force members told City & State.
Social media posts in Chinese, Spanish or French Creole, peer-to-peer texting and extra "Know Your Rights" sessions that prepare people for confrontations with immigration officials are a few examples of the types of tools that community groups have to promote vaccines, according to Murad Awawdeh, another member of the task force and the interim co-executive director of the New York Immigration Coalition, who said his organization began discussing vaccine distribution issues with the Cuomo administration about six weeks ago. "We don't want to be caught off guard if anything were to happen," he said of any potential last-minute moves by President Donald Trump to tighten immigration enforcement during his final month in office.
A new president will hardly solve the problem of addressing fears among some immigrants that getting vaccinated could lead to deportation if people have to reveal personal information to get the shots. "It is one thing to change, you know, the heads of the agencies," Chacón said. "You have the policies that have been put in place by the current administration, including their budget." The same could be said for the various strains of vaccine hesitancy that run across the state, but any success that New York has in overcoming those doubts could prove to be a national model, according to Chacón. "My personal wish is to create a domino effect that all our governors will do the same," he said. "I always tell people that you know an incoming administration, yes is important, it might change things, but it will take awhile."
Task force members also said they want the governor to move some essential workers higher up in the five-phase vaccine distribution process, including grocery store clerks, farmworkers and the front-line workers who are employed by human services nonprofits. "I hope that these advocates continue to hold the state accountable," said Wayne Ho, president and CEO of the Chinese-American Planning Council, which is one of many organizations involved in promoting the vaccines. "Not just on vaccine distribution, but also holding the state accountable to providing recovery supporting nonprofits and taking up other policy issues that will ensure equity." That could prove to be easier said than done.
The big issue moving forward will be just how much the governor will listen to suggestions from members of the task force. Only time can answer that question, but task force members like Yoo said they have confidence their voices will be heard one way or another in the months ahead despite their past political differences with the governor. "I felt like it was my duty to say 'yes,'"she said of being appointed to the new task force. "There have been times where I've said, 'I think this is going to impact my community adversely,' and I have privately sent a very detailed email to his folks." This time around is different, she said, especially since the task at hand involves matters of life and death like never before.