Budget
Legislation to watch in the final weeks of the 2021 session
A dozen outstanding bills remain on criminal justice reforms, single-payer health care and more.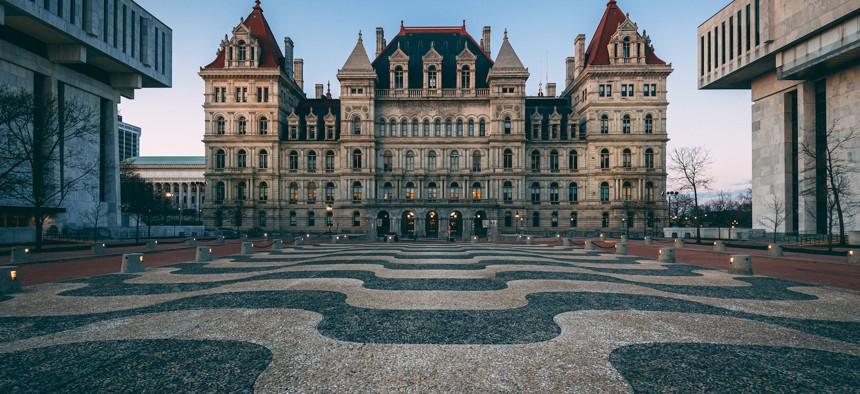 Democratic state lawmakers and Gov. Andrew Cuomo have reached deals on a number of complicated issues since the legislative session began in January, including legal pot, solitary confinement and workplace health protections. They even reached a peace agreement on a long-running fight over public school funding. However, legislators say they have a lot to do before they adjourn for the year on June 10, even though the governor has already said he passed everything he wanted to in the 2021 legislative session by the time the budget process wrapped up in early April.
Some controversial ideas such as single-payer health care, and a proposed carbon tax are all but certain to fall short this year, while some other outstanding proposals appear to have a better chance of passing. This includes legislation that could have a big effect on the state laws governing the environment, housing, criminal justice reforms, adult survivors of abuse, workplace health and wage theft.
In Albany, what is politically feasible can shift suddenly. Just a year ago, the largest civil unrest in decades opened a legislative path for police reforms that had been long stuck in the legislative muck. So no one can say for sure what will and will not pass this year, but here is a rundown of the odds on a dozen prominent proposals. 
Health care
More than a few Democrats campaigned last year on their support for the New York Health Act, which would establish a single-payer health care system statewide, but it remains a longshot despite outstanding hopes from the political left. State Senate Majority Leader Andrea Stewart-Cousins of Yonkers has yet to appoint a working group on the legislation, which has been her way of signaling her conference is planning to actually pass something. Some moderate Democrats might also be wary of getting behind a bill that would add another $139 billion or so to the state budget weeks after passing a record-high $212 billion state budget. That could mean big tax hikes on businesses and individual New Yorkers, even if a single-payer system saved people money in the end, which could make suburban moderates reconsider whether they really want to vote for the bill if it endangers their reelection.
Still, supporters of state-level, single-payer insurance have reasons to be optimistic. A majority in the 63-member Senate and the 150-member Assembly have signed onto the legislation as co-sponsors. The election of a Democratic president makes it much more likely that the federal government would grant the waivers necessary to redirect billions in federal Medicaid money to the cause. Plus, Assembly Health Committee Chair Richard Gottfried of Manhattan (who has sponsored the bill for three decades) and state Senate Health Committee Chair Gustavo Rivera of the Bronx say they are fighting to advance the bill this year despite the odds. "I remain forever hopeful," Rivera said in an interview of getting the bill passed this year. 
The current status of the bill – it has yet to pass committee in either chamber – underscores an important point about the legislation. There is a big difference between getting lawmakers to sign on to a bill as co-sponsors, and actually getting them to vote for it. 
Criminal justice reforms
Bail reform and deep-pocketed conversative donors like billionaire Ronald Lauder gave swing district Democrats a run for their money in the 2020 elections, but that has not stopped them from continuing to pursue changes to the criminal justice system. This includes "clean slate" legislation sponsored by state Sen. Zellnor Myrie of Brooklyn, and Assembly Member Catalina Cruz of Queens that would allow the automatic sealing and expungement of felony and misdemeanor convictions. The legislative language states that eligible applicants cannot be on parole, have pending criminal charges in the state or be registered sex offenders. Other ideas within the "Justice Roadmap" unveiled by activists months ago include proposals to make it easier for people over age 55 to get parole, and a bill that would require incarcerated people to receive parole unless they pose a "current and unreasonable risk" upon release. Also, there are efforts to end predatory court fees sponsored by state Sen. Julia Salazar of Brooklyn, and Assembly Member Yuh-Line Niou of Manhattan. 
Labor
Democratic legislators and the governor have their differences, but both want to keep powerful friends in organized labor. That could mean that a bill targeting wage theft in the construction industry could make it across the finish line in the coming weeks. It has the support of powerful groups like the New York City District Council of Carpenters, and the New York State Building and Construction Trades Council, but business interests like the Real Estate Board of New York are opposed to the idea of making contractors responsible for the misdeeds of subcontractors. Assembly Labor Committee Chair Latoya Joyner of the Bronx has already gotten the bill passed by the Assembly, but her state Senate counterpart, Labor Committee Chair Jessica Ramos of Queens, has yet to get it through her committee. 
There is also talk about legislation passing this session that would grant collective bargaining rights to gig workers, even though associated legislation has yet to be submitted as of publication time.
Housing
This has been a big year for left-leaning lawmakers, but passing a "good cause" eviction bill through the state Legislature would really show how far they have come since the state Senate and Assembly passed sweeping, tenant-friendly package of rent reforms that dropped the "good cause" bill before final passage. The idea behind the bill, sponsored by Salazar and Assembly Member Pamela Hunter of Syracuse, is to prohibit landlords statewide from evicting a tenant, or denying a lease renewal except in very specific circumstances, such as when a tenant is using the domicile for illegal purposes. The bill would limit rent increases to either 3% or 1.5 times the rate of inflation for the location, whichever is greater. Opposition from the real estate industry, however, makes this a tough bill to pass in the coming weeks, according to Salazar. 
One last bill to keep an eye on is legislation backed by AARP New York that would make it easier for people to rent accessory dwelling units on their property. 
Environment
Environmental activists have been pushing hard for the Climate and Community Investment Act, which would impose a carbon tax on polluters that could add billions of dollars to the state effort to reduce its greenhouse gas emissions by 85% before 2050 compared to 1990 levels. The only problem is that sponsor Assembly Member Kevin Cahill of the Hudson Valley says it has next to no chance of getting done this year despite the rosy projections of his state Senate counterpart, Kevin Parker of Brooklyn. "I think Kevin is realistic to know that we're not passing it in his house this session," Cahill said in an interview. "It's a pretty big stretch to consider doing it this session … but that doesn't mean we shouldn't try and continue to move it up on the priority list." 
Some significant progress has been made in the state Senate. A hearing was held weeks ago, and there are now nearly enough co-sponsors to ensure that it would have enough votes to pass the chamber in theory. Activists meanwhile are targeting key holdouts like state Senate Environmental Conservation Committee Chair Todd Kaminsky of Long Island. However, Stewart-Cousins has yet to give her blessing to the formation of a working group, and progress has been even slower in the Assembly. A hearing on the legislation has not yet been scheduled, and Cahill would need to recruit three dozen or so more colleagues to his cause to have any chance of passing the bill. Success in the end could come down to assuring skittish Democrats and voters that Republicans are oversimplifying the effects of a complicated piece of legislation by talking up a supposed 55-cent per gallon hike in gasoline. 
Kaminsky and Assembly Member Patricia Fahy of Albany are looking to jumpstart sales of electric vehicles by lifting the state cap on the number of dealerships that manufacturers like Tesla can operate. Allowing more than five such businesses across the state sounds simple enough, but traditional auto dealerships present some roadblocks. "It's probably going to take more work," Fahy said in a text. "We're trying to grow the pie, not hurt any existing dealers (but) we are not giving up."
Adult Survivors Act
This legislation, sponsored by Manhattan Democrats state Sen. Brad Hoylman and Assembly Member Linda Rosenthal, is a lot like the Child Victims Act that passed the state Legislature in 2019. It would establish a one-year lookback window for people to file civil litigation against their abusers for offenses committed when they were over the age of 18. One major hang-up though could be how it might allow lawsuits against the governor, considering the litany of accusations against him.