Eric Schneiderman
With Schneiderman out, what happens now
You probably have questions about New York's unusual approach to replacing attorneys general. We have answers.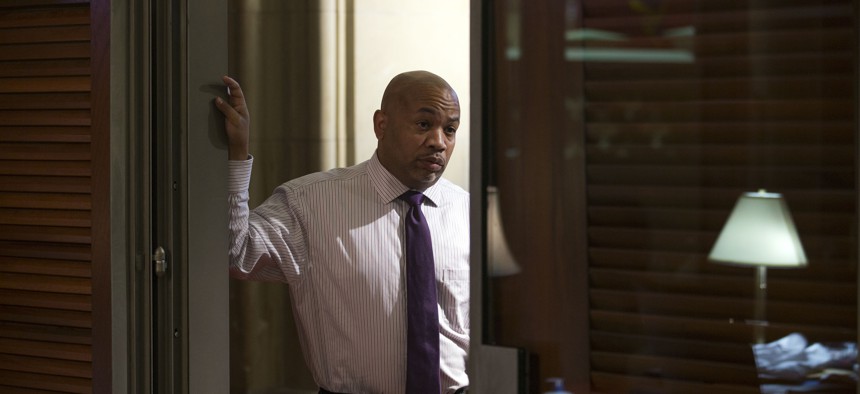 State Attorney General Eric Schneiderman abruptly resigned on Monday night, hours after The New Yorker published an article revealing allegations by four women that he had physically abused them. With his departure, one of the most important elected statewide posts is now open, and several candidates are lining up to fill the vacancy. Here are the answers to the questions you may have about who's in charge and what happens next.
Who's running the state attorney general's office?
Solicitor General Barbara Underwood is serving as acting attorney general. In a statement, Underwood said that "this extraordinarily talented, dedicated, and tireless team of public servants will ensure that our work continues without interruption." This often high-profile work includes several open lawsuits against the Trump administration, as well as an investigation into Exxon Mobil.
What happens now?
According to New York's Public Officer Law, Section 41, if an attorney general resigns while the state Legislature is in session, "the two houses thereof, by joint ballot, shall appoint a person to fill such actual or prospective vacancy." This means that all 213 members of the Assembly and the state Senate will be voting together, with 107 votes needed to choose a successor. As there are 104 Assembly Democrats, nearly enough for a majority, the outcome will largely be determined by the Democrats in the Assembly and Speaker Carl Heastie. There are already a slew of potential candidates with legal expertise being considered for the post.
Assembly Democrats held a meeting on Tuesday morning to discuss filling the vacancy. Heastie said afterwards that they "didn't discuss candidates," but considered the Legislature's role in the process. Heastie also said he would discuss convening a joint session with state Senate Majority Leader John Flanagan.
What happens if the state Senate refuses to convene a joint session?
Democrats in the Assembly and the state Senate have the majority to elect a successor, and the decision would go to court. In 1993, Republican state Comptroller Edward Regan resigned to run a think tank. Democratic members of the state Legislature elected H. Carl McCall as Regan's successor, over the boycott of the Legislature's Republican members. Republican lawmakers filed a lawsuit in the state Supreme Court, but McCall's appointment was ultimately upheld.
Are there other examples of the Legislature filling a vacancy?
Yes. In 1993, the state Legislature chose G. Oliver Koppell, a Democratic assemblyman, to replace Attorney General Robert Abrams, who had resigned to join a private law firm. Koppell lost the Democratic primary in 1994 to Karen Burstein, who was in turn defeated by Republican Dennis Vacco.
In 2006, state Comptroller Alan Hevesi resigned due to a corruption scandal. Assemblyman Thomas DiNapoli was chosen as his successor, angering then-Gov. Eliot Spitzer, who believed that DiNapoli was "thoroughly and totally unqualified" and wanted an independent committee to screen potential candidates.
What happens after an attorney general is chosen?
Underwood could, in theory, be selected by the state Legislature as Schneiderman's replacement, allowing her to serve until the end of the year. Whomever they choose, that person is not guaranteed victory in the Sept. 13 primary elections or the Nov. 6 general election. The open field could make the Democratic primary a bloodbath of high-profile New York officials with legal experience. There is currently a Republican candidate as well, Manny Alicandro, but other Republicans may jump into the mix now that it's an open seat.
When do potential candidates have to register to run?
Candidates can begin collecting petitions for statewide office on June 5. According to New York election law, a candidate must obtain 15,000 signatures to qualify for the primary. The candidates can file these petitions from July 9 until July 12. State parties may choose a nominee during their state conventions, which will happen in late May.
Powered By
NEXT STORY: Schneiderman's downfall the talk of the Met Gala