New York City
Crowley ties Ocasio-Cortez to Hiram Monserrate
Rep. Joe Crowley says Alexandria Orcasio-Cortez sought Hiram Monserrate's endorsement.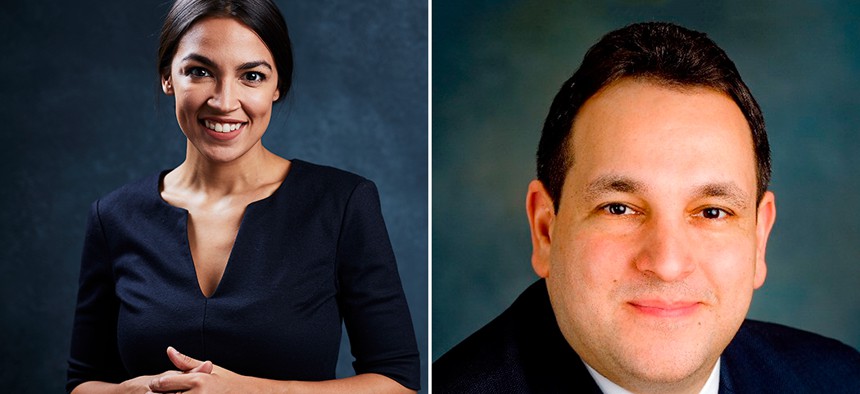 Rep. Joe Crowley's primary challenger, Alexandria Ocasio-Cortez, has successfully sought support from the Democratic Party's left wing, most recently by cross-endorsing with Cynthia Nixon. But Crowley alleges that his opponent isn't just seeking support from liberal Democrats, but from a corrupt, physically abusive, anti-gay rights former state senator who caucused with Republicans.
At a debate last Thursday, Crowley accused Ocasio-Cortez of seeking the endorsement of Hiram Monserrate – a claim that Ocasio-Cortez strongly disputed.
Monserrate's history could be a liability for any progressive candidate if they were associated. In 2009, Monserrate and Pedro Espada switched to caucusing with the Republican Party, returning to the GOP to the majority it had lost in the 2008 elections. (He eventually switched back.) That same year, Monserrate was convicted of assaulting his girlfriend, for which he was expelled from the state Senate in 2010. In 2012, he was sent to prison for two years after pleading guilty to stealing $100,000 in government funds for his campaigns.
At the debate, Crowley asked his opponent – a first-time candidate who is running to Crowley's left – why she had recently appeared in front of the East Elmhurst Corona Democrats, a club led by Monserrate. "Why have you sought his support?" Crowley asked.
"That's a lie. I have not sought his support," Ocasio-Cortez retorted. "I was at the only Latino Democratic Club in East Elmhurst and Corona. That's where I was."
She added that, "women tend to be made responsible for the actions of every man in the room," but that she is not responsible for Monserrate's previous behavior. "I totally denounce that crime and I totally think that's disgusting to put that on me," she said about Monserrate's conviction of assault.
City & State obtained a flyer that said Ocasio-Cortez would be honored at a luncheon hosted by the East Elmhurst Corona Democrats, and would receive the "political activism award" alongside other women in the community. However, photos from the night of the event show a nearly identical flyer, only without Ocasio-Cortez's name. She does not appear in any of the photos taken at the event on Monserrate's Facebook page.
Ocasio-Cortez was not honored at the event, and at no point was she going to be honored at the event, said Corbin Trent, a spokesperson for the Ocasio-Cortez campaign, although her campaign bought tickets. Trent said that the campaign bought tickets exclusively to see an award given to Bertha Lewis of the Black Institute. A representative for Monserrate had not respond questions at press time.
Lauren French, a spokesperson for Crowley's campaign, noted that Ocasio-Cortez appears to have been chosen for an honor by Monserrate and criticized her refusal to shun him. "It is truly shocking that Ms. Ocasio-Cortez spoke at Hiram Monserrate's political club while campaigning and was selected to be honored by him at a political fundraiser," French said. "That she continues to defend her decision to appear alongside a man who physically assaulted his partner shows a profound lack of judgment."
A Democratic official who works for New York City who heard Ocasio-Cortez speaking at the club on June 1 said that she was trying to reach out to the Latino community. "She was speaking to about 20 to 30 people about her candidacy and the fact that the district is 70 percent Latino and black and is represented by Congressman Joe Crowley, who hasn't had a challenge in 14 years," the official, who requested anonymity to discuss sensitive topics, said.
Crowley is a non-Hispanic white man of Irish descent. The official added that Monserrate sat near Ocasio-Cortez and it appeared that was a signal of support.
The official seemed to think that her presence indicated that Ocasio-Cortez was seeking the endorsement of Monserrate. There are other Democratic clubs in the district with diverse members, such as the Frederick Douglass Democratic Association and the Geraldine Ferraro Democratic Club. However, these clubs do not appear to be majority-Latino.
When asked for comment by City & State, Trent, the Ocasio-Cortez spokesman, argued the candidate should not be held responsible for the behavior of Monserrate. "We feel that it would be absolutely undemocratic of us to exclude an entire area and entire group because of the decisions of one person in that area and in that group," Trent said. "It's not his group, it's not their club, it's that group of Democrats' club, it's a pan-American club."
Nonetheless, Monserrate still runs the club, and the question is not whether Ocasio-Cortez should be held responsible for his behavior, but whether she is currying favor with Monserrate or his allies. Although he is a divisive figure, Monserrate remains popular in some communities. He nearly wona race for Assembly district leader in 2016 and New York City councilman in 2017.
Despite the fact that Ocasio-Cortez seems to, at the very least, have the attention of Monserrate. He has not endorsed her, but he has promoted news stories about her campaign on Facebook and Twitter.
At the debate last Thursday, when Crowley pressed the issue of Ocasio-Cortez appearing at Monserrate's club, she refused to respond further. "I'm not going to deal with this mistruth, thank you," she told the moderator.
Powered By
NEXT STORY: Left-wing candidates are challenging entrenched Democrats