Andrew Cuomo
What's the Buffalo Billion trial about, again?
The pay-to-play trial against Cuomo-affiliates begins this week, here's what to know about the "Buffalo Billion" trial.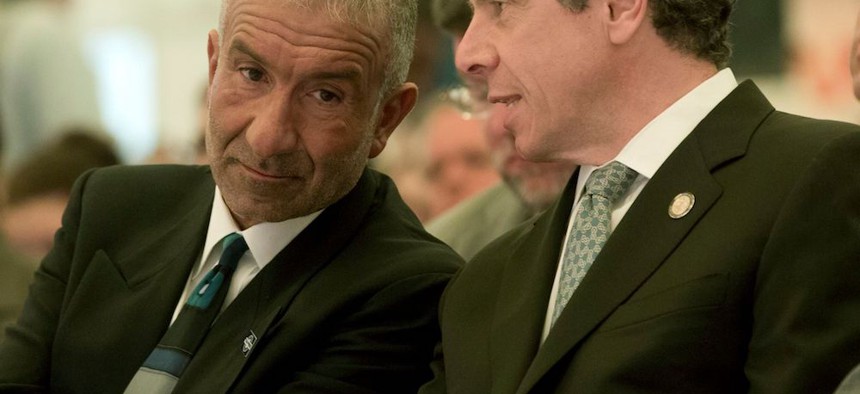 The Buffalo Billion corruption case is slated to enter into opening statements today. It comes shortly after Joe Percoco's corruption trial that embroiled Gov. Andrew Cuomo in a scandal several months ago and it features several overlapping characters. Here's what you need to know about what's at stake for the defendants and the Cuomo campaign.
 
What is the Buffalo Billion?
Buffalo Billion is a name of Gov. Cuomo's signature plans that offered $1 billion in state funding for economic development projects in the Buffalo area.
 
What is the trial about?
State University of New York Polytechnic Institute President Alain Kaloyeros, in addition to three upstate developers, are accused of rigging the open-bidding process to ensure that certain companies favorable to Cuomo received the extremely profitable contracts.
 
What was the scandal?
Through the program, contracts worth hundreds of thousands of dollars went to contractor LPCinminelli and COR Development, a real estate development, brokerage, construction and property management company. The prosecutors allege that the defendants conducted a fraudulent bidding process in which former Cuomo aide and lobbyist Todd Howe and Kaloyeros rigged the proposal procedure to favor two companies that were major donors of Cuomo's campaign.
What are the alleged crimes?
Kaloyeros, the central defendant, faces two counts of wire fraud and one of wire fraud conspiracy. He will stand trial with Buffalo-area developer Louis Ciminielli and two officers of COR Development, Steven Aiello and Joe Gerardi. Kevin Schuler, formerly an executive at LPCiminelli, admitted to the wire fraud and conspiracy charges, a month before the trial, but not to paying bribes.
 
How is Joe Percoco involved?
Percoco, another former Cuomo aide, was convicted of fraud and accepting more than $300,000 in bribes in March. The common link between the Percoco trial and the Buffalo Billion scandal is Todd Howe, who is said to have coordinated the bribes between the COR Development officers to Percoco. In Percoco's trial, Aiello and Gerardi were convicted of corruption charges in an attempt to win favorable treatment for the developer.
 
What does this mean for Cuomo?
Cuomo isn't accused of doing anything illegal in these charges. But the indictment does point to both developers' donations to his 2014 gubernatorial campaign, so his name is certainly being muddied at an inopportune time for his reelection. Based on the fact that jurors were told the trial could last up to six weeks, the case is bound to have an effect on Cuomo's primary campaign against Cynthia Nixon in September.