New York City
How to vote smart in judicial elections
Candidates are relatively obscure when they run for judgeships but they can have a big effect on people's daily lives.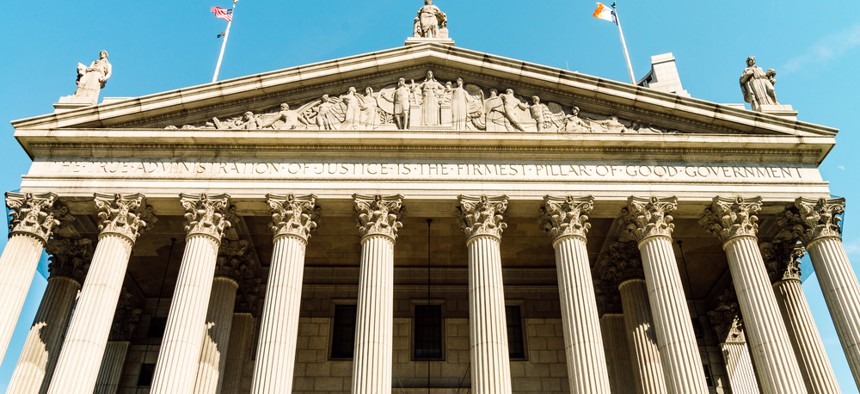 For months, New York City voters have been the targets of campaign advertisements, partisan mailers and media coverage about races that will determine who controls Congress, the state Legislature and the governor's mansion. Yet, there is not much to go on in deciding how to vote in dozens of county judicial races.
There are a few reasons why judicial candidates have such low profiles compared to candidates in other races. One is that candidates have to avoid saying things that might jeopardize future decisions they would make if they are elected to the bench. Partisan politics can also limit competition and scramble party loyalties, either because parties agree to back a competent incumbent or they decide to cede some races in exchange for having a free hand elsewhere. There are also some candidates who run for judgeships to satisfy state requirements for removing them as candidates for other races, such as Doug Seidman, who was a placeholder Assembly candidate but was put up for a Kings County Supreme Court position in order to get Cynthia Nixon off the ballot as the Working Families Party's candidate for governor.
There are no quick ways for voters to make informed choices in judicial elections, but a little research about candidates and some awareness of the dynamics in judicial races compared to other elections can go a long way towards making an informed choice. Here are a few things to keep in mind to do just that – today and in the future.
What are these courts and why do they matter?
Candidates are running for three types of judgeships: Civil Court, Surrogate Court and Supreme Court. Civil Court decides cases that involve claims up to $25,000, including small claims cases that total up to $5,000. Judges are elected to 10-year terms and also decide landlord-tenant matters and housing violation cases. Surrogate Courts decide matters related to inheritance issues, and the Supreme Court – which in New York state is below the Court of Appeals – hears civil cases and criminal cases involving a felony. "The judiciary is one of three branches of government (but) it's the least understood and the least-watched branch," said Denise Kronstadt, director of advocacy and policy at the nonpartisan Fund for Modern Courts. "Every day those judges are making decisions that are really affecting the daily lives of people."
How do I decide who to vote for?
Websites like WhosOnTheBallot.org list candidates based on addresses, but they only state who is running and what party or parties they represent. The New York City Bar Association also rates judicial candidates as either "approved" or "not approved." The methodology behind these rankings, while nominally extensive, are also opaque in how different factors determine whether a candidate gets approval or not. Overall, a significant fraction of candidates did not receive approval from the bar association, which did not respond by press time to a request for comment. Then there is the voter guide from the New York court system, which has candidate biographies, organized by county, about whoever bothered to provide one. The New York Commission on Judicial Conduct also issues an annual report about allegations of wrongdoing or incompetence by judges at all levels of the New York state court system.
Just as effective as a way to judge candidates is to simply search for a campaign website or Facebook page to learn about their judicial philosophy and background, according to Susan Lerner, executive director of Common Cause New York. Is the candidate a former prosecutor, a former public defender, or just a longtime political insider? The answer to those questions could make a big difference between electing a judge who emphasizes a community-based view of the law or one who sees everything from a law and order perspective. What's important to remember is that many candidates are on the ballot more for their political connections than their legal acumen, according to Lerner.
"There are always people who are on the bench who are not the leading lights of judicial thought," Lerner said. "It's more about party loyalty and waiting your turn than the skills you will bring to the bench (so) people should really, really do their best to engage and pay attention to who is running."
Why do so many judges have multiple ballot lines?
Unlike many other races, it's not uncommon for judicial candidates to run on both the Republican and Democratic lines. This sometimes is the result of proactive efforts from a first-time candidate who reaches out to multiple parties, but it mostly happens when incumbents run for reelection – unless they have been involved in some sort of scandal or face allegations of incompetence, according to Jerry Kassar, a former chair of the Brooklyn Conservative Party. "We will work together because they're basically qualified incumbents that just do their job," he said.
But critics of the judicial election process say that having a candidate endorsed by multiple parties poses problems. "When you have these cross endorsements then you don't have choices in those races," said Kronstadt. Parties can also limit competition by agreeing to run a candidate in one race, while letting an opposing party run unopposed in a different race.
However, while some may see the current system as heavily favorable to candidates who have the support – and money – that goes along with political connections, there are instances when political parties decide to work together in a way that's unheard of at higher levels of electoral politics. "It's not always as diabolical as sometimes people want to believe in relation to the political party process," Kassar said.
Correction: The New York City Bar Association rates judicial candidates. Its name was mistyped in an earlier version of this story.