New York State
Cuomo: State budget deal reached, except public financing
Everything we can expect to see in the New York state budget thus far.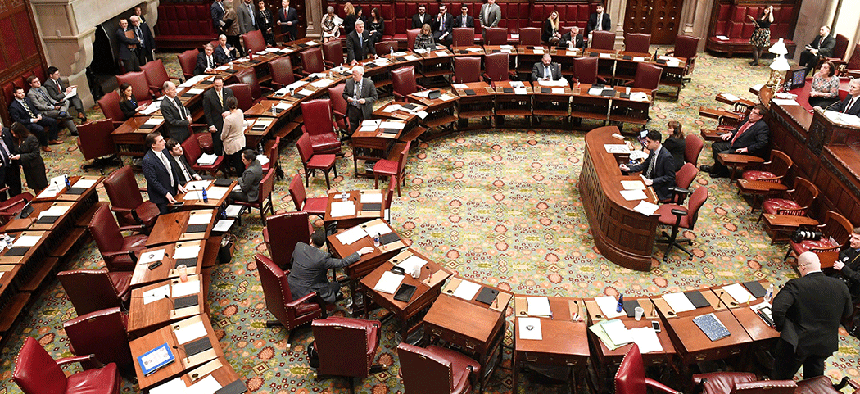 State budget negotiations appeared to be on the brink of a final deal on Saturday evening, with Gov. Andrew Cuomo announcing that the only major sticking point to an on-time budget is whether or not to include a plan to establish public financing of political campaigns statewide.
Congestion pricing, bail reform, increases to education funding and a permanent cap on property tax increases have made the cut. Marijuana legalization is out. More bills are expected to be submitted on Saturday night as lawmakers race to meet an April 1 state budget deadline. Though there had been serious doubts about an on-time budget this year, a deal seemed within reach by Friday afternoon.
It remains to be seen though whether members of the Assembly will agree to drop their opposition to including campaign finance reform in the budget, or risk missing the deadline and sacrificing a scheduled pay increase in order to block the measure.
By announcing deals on other major issues, Cuomo placed more pressure on lawmakers to concede to his demand that a final budget include campaign finance reform. "Some legislators oppose public financing and I respect their opinion," Cuomo said in a statement. "However, many more legislators have unequivocally pledged support and now they must act."
If a final deal is reached by April 1, it will represent a remarkable turnaround in a year when the relationship between Cuomo and state Senate Democrats has, at times, reached the breaking point. The failed Amazon deal, fights over congestion pricing and campaign finance reform, and fiscal disagreements on revenue projections and an unexpected multi-billion revenue shortfall presented unique challenges in a year when Democrats controlled both houses of the Legislature and the governor's mansion.
Final details of the budget have yet to be released. Here's where things stand, according to the latest budget bills and reporting from around the Capitol.
Congestion pricing
One of the most contentious issues in the budget has been a proposal to raise money for the Metropolitan Transportation Authority by tolling drivers who enter the central business district of Manhattan. While the deteriorating conditions of the New York City subway system are well documented, it was not a given that lawmakers could agree on a deal – but it appears that they are on the cusp of doing just that.
A key sticking point in negotiations was resolved by splitting funding by region, Newsday reports, with 10 percent going to the Long Island Rail Road, 10 percent to Metro-North Railroad and the rest going to New York City. Lawmakers from the Hudson Valley and Long Island had demanded a piece of the future congestion pricing revenues for the LIRR and Metro-North, as well as funding for transit west of the Hudson River. About $1 billion is expected to be raised through congestion pricing each year once it takes effect by 2021, and the funds would be used to service bonds supporting the MTA's upcoming capital program.
Upstate New York will also get some more transportation funding in the budget, according to The Buffalo News. This includes a new 6 percent tax on car rentals upstate, which will fund upstate transit agencies.
Heastie told reporters on Friday that a pied-à-terre tax on homes in New York City will not be part of the funding mix for the MTA. Instead, a combination of revenues from congestion pricing, a real estate transfer tax – applicable to New York City – and an internet sales tax will be enough to provide $28 billion in bonding capacity. The pied-à-terre tax could be considered later in the year, according to Heastie, but "constitutional issues" and other complications have doomed it in the budget process.
Education funding
Cuomo touted a $1 billion increase in funding in the budget proposal he unveiled in January, but that only included an increase of $338 million in Foundation Aid. This key source of funding for needy districts has been a huge sticking point between the governor and Democratic lawmakers. Activists and some lawmakers demanded as much as $1.2 billion in additional Foundation Aid in recent days, but it looks they will get about $620 million in the end, according to The Buffalo News. Cuomo told reporters on Friday evening that total education spending would increase by $50 million from what he proposed in January, a 3.7 percent bump from last year for a total of about $27.8 billion.
Cuomo also appears to have gotten some of what he wanted in the budget as well. This includes a proposal that will require individual school districts to account for per-pupil spending at the school level, an issue that opponents said would give the state more power over individual school districts. "All these groups, everybody does a press conference, we have to get more money for poor schools," Cuomo said on Friday evening "Yeah, well then why hasn't the state ever said local school districts should prioritize poor schools? This year we will, there will be a transparency addition so we'll know exactly where the funding is going."
It is still unclear what will be the fate of expense-based aid the helps districts acquire things like buses and textbooks, which lawmakers had said Cuomo was effectively trying to cut through a proposal to combine different categories. Asked by City & State on Friday afternoon whether the proposal would remain in the budget, Heastie declined to state its fate. "The big thing for us is Foundation Aid," he said, "Making sure that we get money to the neediest of schools."
Will the budget end the long-running dispute between Cuomo and lawmakers about the legacy of the landmark Campaign for Fiscal Equity lawsuit? It appears that fight will live on past this budget season.
Permanent tax cap
It appears that Cuomo will get his permanent tax cap in the end. The cap, which limits annual increases in local property taxes to 2 percent, had been a top priority for the governor and state Senate Democrats but had faced opposition in the Assembly, where lawmakers feared they would lose a source of leverage to secure legislation on rent regulations. The Times Union reports that the Public Protection and General Government bill includes a permanent extension of the cap on local property taxes, which some local officials, teachers unions and others had opposed.
Heastie said on Friday afternoon that the cap will be included in the budget but declined to tell reporters whether it will be permanent. "You got to read the bill," he said.
Criminal justice
Cuomo had said he would not sign a budget that did not include "criminal justice reforms," and there has been widespread agreement that New York needs to update three keys parts of the criminal justice process. This included abolishing cash bail, reforming discovery laws and making the trial process move faster. A key sticking point has been whether or not the "dangerousness" of a criminal suspect should factor in to whether they are released before their trial. On Friday, state Senate Deputy Majority Leader Mike Gianaris confirmed that "dangerousness" would not factor into whether a suspect is held pre-trial – a major win for criminal justice advocates. Heastie said on Friday afternoon that about 85 percent of suspects would no longer be subject to cash bail once the deal is approved.
The final budget will also include a proposal to reduce the maximum sentences of class A misdemeanor to 364 days, just short of a full year. This change would prevent some undocumented immigrants from facing deportation post-sentencing.
Marijuana legalization
Cuomo proposed legalizing recreational marijuana in his budget proposal, then appeared to put the issue on the backburner in mid-March. But a combination of opposition from law enforcement, school officials and black lawmakers intent on using revenues to benefit communities of color that have been harmed by prohibition convinced Cuomo to give up on the revenue in the budget. However, state Sen. Liz Krueger and Assembly Majority Leader Crystal Peoples-Stokes – two leading advocates of legalization – insisted it could still happen in the budget.
On Thursday afternoon, the proposal appeared to be out of the budget, according to the Times Union. By noon on Friday, it appeared the activists have given up on making it happen in the budget as well. "At this point the hopes for budget are dissipating," said Melissa Moore, New York deputy state director at the Drug Policy Alliance. "But we're still here in Albany and still fighting. If it doesn't happen now we carry all of this momentum into session and start immediately pushing for marijuana justice."
Plastic bag ban
Lawmakers reached a deal to ban plastic shopping bags by March 1, 2020. Language in one budget bill also authorized a five-cent fee on paper carry-out bags. The fees would not apply to people receiving benefits from the Supplemental Nutrition Assistance Program. There would be plenty of additional exceptions to the ban, which would still allow plastic bags for food takeout, deli or meat counter purchases, bulk items, newspapers, garment bags, according to the Times. Proceeds would be split between counties for the promotion of reusable bags and a state environmental protection fund.
Publicly-financed campaigns
Though not the most high-profile proposal in the budget, there was a late campaign to include a measure funding publicly-financed political campaigns. It remains to be seen whether it will make the cut. Cuomo said on The Capitol Pressroom on Friday that negotiations remain ongoing. "It's a complicated question," Cuomo said. "It's an expensive question and it's a time when our revenues are down." But he added that the overriding issue of changing the campaign financial system remains a key sticking point. Heastie has yet to commit to it being the budget, especially given outstanding issues such as the cost of the program – estimated at about $500 million over a four-year cycle – and how it would affect people running on multiple parties' ballot lines. "There are really some legitimate things you have to think about," he said. "How are you going to pay for this?" As of Friday evening, this was the only remaining sticking point preventing a final budget deal.
2020 Census
The Daily News reports there is a deal to provide $40 million in funding for census outreach. This had been a top priority for human services advocates – and anyone else concerned about making sure that as many residents as possible took part in the upcoming population count, which will determine congressional representation and federal funding levels for many programs. While Cuomo and lawmakers set up a 16-member Complete Count Commission last year, the governor slow-walked appointments and left out funding for census outreach in his original budget proposal.
Voting reforms
A budget bill has already been introduced that includes a measure to allow upstate voters to cast ballots in primary elections at the same time as their downstate counterparts, 6 a.m. until 9 p.m. Online voting registration is also part of the deal, as are the electronic polling books that will make early voting practical.
Powered By
NEXT STORY: March Madness: The presidential tournament, round 2