New York City
Seddio goes out like a boss
The Brooklyn Democratic leader united the party, but left it broke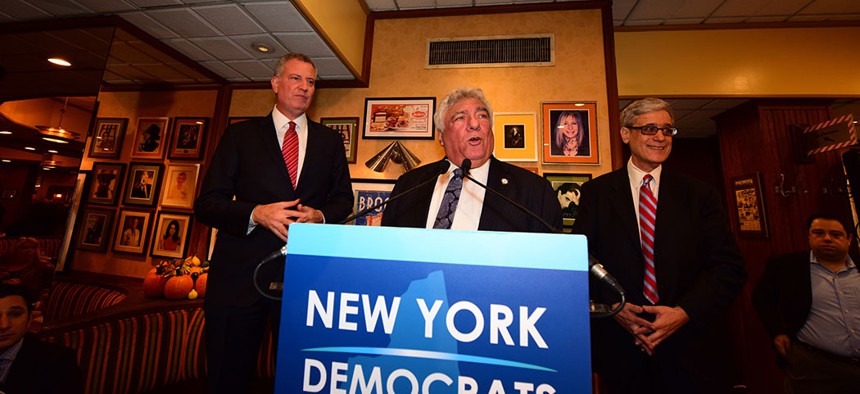 After more than seven years at the top of one of the country's most storied Democratic organizations, Frank Seddio is resigning the only way a Brooklyn Democratic Party boss can – by handpicking a successor, with little to no input from the party faithful.
Seddio kept the Brooklyn Democrats unified during a period of great change, even as the organization weakened under his watch and ended up nearly broke. And now he's hoping to hand over the reins to a black woman for the first time in the county's history. 
Seddio plans to make the transition official on Wednesday night at Pizza D'Amore in Mill Basin, at a previously scheduled meeting of the borough's 42 Democratic district leaders. There, the 73-year-old Seddio will urge them to pick Rodneyse Bichotte, a Haitian American assemblywoman some three decades his junior, as the new party chair. The party plans to hold another meeting on Monday, Martin Luther King Jr. Day, to officially choose Bichotte to serve the remainder of Seddio's term, until September 2020. A challenge to Bichotte seems unlikely. 
"She's a young member of the Assembly. She has the opportunity to be a good fundraiser. She has leadership qualities that I don't think people have appreciated in her," Seddio told City & State on Monday. "She had become the one that I believe best serves the party."
Seddio said that Bichotte didn't ask for the position. "I've gone to her," he said. "I've evaluated all the different leaders, and I've gone to her."
That's just the way things are for a party boss, a role that Seddio played with gusto. He practiced "cannoli diplomacy" showing up at meetings with treats. When he hosted politicos in his own home in Canarsie, there'd be home-cooked Italian food. The annual lighting of his garish Christmas display was a can't-miss event for Brooklyn electeds. Seddio styled himself as a modern day Boss Tweed – pot-bellied, ruddy-faced, with a smile that lights up a room. But his team insists he wasn't all old school.
"Frank, he looks like an old-fashioned guy, but he's a very open-minded guy," said Bob Liff, a spokesman for the Brooklyn Democrats. "As long as you don't say anything bad about his Christmas lights."
Seddio has been a part of the Thomas Jefferson Club, the storied Democratic club of southeast Brooklyn, for more than 50 years. Over those years he has been a police officer, an attorney, a member of the Assembly, a Surrogate's Court judge and the leader of the leader of the executive committee of the Kings County Democratic County Committee – his official title. As New York City Councilman Alan Maisel joked to City & State in a 2015 profile, "he can't hold on to a job." 
Seddio was elected chairman in September 2012, replacing the scandal-scarred Vito Lopez, who stepped down after being accused of sexually harassing his staffers. Seddio's victory was met with skepticism by many. After all, he was an ally of the morally repugnant Lopez. Seddio had his own minor scandal as well, stepping down from the surrogate's bench in 2007 amid an investigation into his use of campaign funds. 
But this is county politics, where nobody seems totally clean, and Seddio worked hard to win over critics in the party throughout his tenure, withvarying success. His primary sparring partners were the New Kings Democrats, a reform group whose membership leaned towards the young and transplanted, as opposed to the older, more Brooklyn-native leadership of the Brooklyn Dems. N.K.D. pushed Seddio to democratize the party by opening up the party's finances, holding more meetings, and allowing county committee members to vote on more decisions. Seddio instituted the reforms, but only to a point. He held more meetings – but at locations with limited subway access. Committee members could vote – but Seddio held a majority of the votes himself. Nonetheless, Seddio wanted credit for working with the reformers.
"If I have a disappointment, it's that no matter what we've done, in that community, it never seems to be enough," Seddio told City & State.
N.K.D. President Mariana Alexander said the outgoing boss deserved kudos. "Frank, actually in some ways has been a good partner to us," she said. "He's always been willing to listen, even when we've disagreed. … I think he's genuinely tried to unify the party."
But major concerns remained, both for N.K.D. and the party regulars. The most obvious of which was the County Committee's dwindling bank account. Before Seddio took over in 2012, the party was sitting on nearly $640,000. At the most recent official campaign finance filing, in July 2019, the account had fallen below $33,000. The next campaign finance filing is due this week, and Liff says it will show only slight growth, with about $45,000 in the bank. At times, Seddio had to keep the account afloat by loaning money from his own campaign account, Friends of Frank Seddio.
Seddio said County's finances dwindled following the departure of Lopez, the previous boss, who could drum up donations using his sway as chairman of the Assembly Housing Committee. And while Seddio has given into reformers' demands of holding more meetings, those meetings cost money – and the reformers aren't donating. 
"It's unreasonable to ask us to fundraise for an entity that we have no control over how the money gets spent," Alexander, the N.K.D. president, said, "or even no insight into how spending decisions get made."
Criticism of Seddio hit a fever pitch last September, when the Daily News reported that Seddio owed more than $2 million on a business deal gone bad. Seddio said it was all his personal finances, and unconnected to the party's, but Seddio skeptics like Assemblyman Walter Mosley, a district leader from North Brooklyn, called for a full audit of the party's finances. 
Seddio often seemed loyal to a fault, sticking by favored Democrats no matter what the accusation. That meant talking tough about perceived enemies too, and when asked about Mosley's criticism this week, Seddio got testy.
"I'm sorry, who's Walter Mosley? Is he somebody?" Seddio said mockingly, noting that the assemblyman hasn't shown up to any executive committee meetings in a year.
Mosley declined to comment on Seddio's response.
It wasn't just the party's finances that suffered under Seddio, but also the party's power. Every county committee has lost influence with the decline of neighborhood political clubs and the rise of digital native political organizing, among other factors. But the shift seemed most abrupt in Brooklyn. Nothing could have exemplified the change more than the 2018 loss of longtime county ally Martin Dilan to state Sen. Julia Salazar, a democratic socialist organizer still in her 20s.
Where Seddio did have power, he wielded it in unusual ways, like during the 2013 New York City Council speaker's race when he flipped the borough's 16 members to support Melissa Mark-Viverito, giving her the win. Seddio and the borough had originally backed then-City Councilman Dan Garodnick for the leadership position, but switched at the urging of the newly elected Brooklynite mayor, Bill de Blasio, whom Seddio was eager to court after having backed his opponent, Bill Thompson, in the mayoral primary. Seddio secured some prime City Council positions for his borough's members, but enraged then-Queens County Democratic Chairman Joe Crowley, who felt that Seddio had reneged on a deal. Crowley reportedly gave him the silent treatment for years, and Seddio wasn't much of a factor at all in the 2017 speaker's race. 
While Seddio's power seemed to weaken, Democrats gained near-total control of Brooklyn, banishing Republican state Sen. Marty Golden and Republican Rep. Dan Donovan in the 2018 blue wave. Except for the Republican president, and a sliver of an GOP-held Assembly district that's mostly in Staten Island, every single elected official representing Brooklyn at the New York City Council level and above is a Democrat. 
The Brooklyn Democratic Party still holds some power, particularly in electing and appointing judges, and if Seddio gets his way, Bichotte will be the one to take the job. She's not an obvious pick, as she and Seddio have had some public disagreements over the years. But Bichotte was quick to praise Seddio when talking to City & State soon after the news of the transition broke on Monday, thanking Seddio for making the party more inclusive and "unifying the Democratic organization in Brooklyn." 
Bichotte has methodically accumulated political power in Central Brooklyn over the past few years, building alliances with her Orthodox Jewish neighbors and, most recently, getting her protege Farah Louis elected to an open City Council seat. Bichotte has worked well with the New Kings Democrats in the past, and the group is cautiously optimistic about the change, but other Seddio critics, like Mosley, are wary of the way Seddio is endorsing Bichotte. He told City & State on Monday that he was considering challenging her candidacy as party leader, but told Politico New York on Tuesday that he was bowing out of the "arbitrary and capricious" process. (Mosley, it should be noted, plans to attend a previously-scheduled Assembly-sponsored trip to Poland starting Wednesday night.) Other Seddio scolders, like the husband-and-wife district leader team of Charles and Inez Barron, also won't challenge Bichotte, but told Politico they plan to abstain from voting as a protest against the white chairman handpicking the next leader. 
So Seddio's choice of Bichotte seems likely to go through, which would be an impressive final win to cap a complicated tenure as county boss. Seddio told City & State that he's retiring because "I've done everything I think I can possibly accomplish." But Seddio may really just be using a lesson he learned from a previous Brooklyn boss, Meade Esposito. As Seddio recounted in 2015, Esposito used to say that "if you're being chased out of town by a mob, pick up the flag and make it look like you're leading the parade."
"Believe it or not," Seddio said, "I've used it quite a few times where it's actually worked."
-with reporting by Zach Williams
Powered By
NEXT STORY: How Cuomo's authorities keep costs off-budget