Bill de Blasio
All of de Blasio's COVID-19 missteps
The mayor really doesn't believe in leading by example.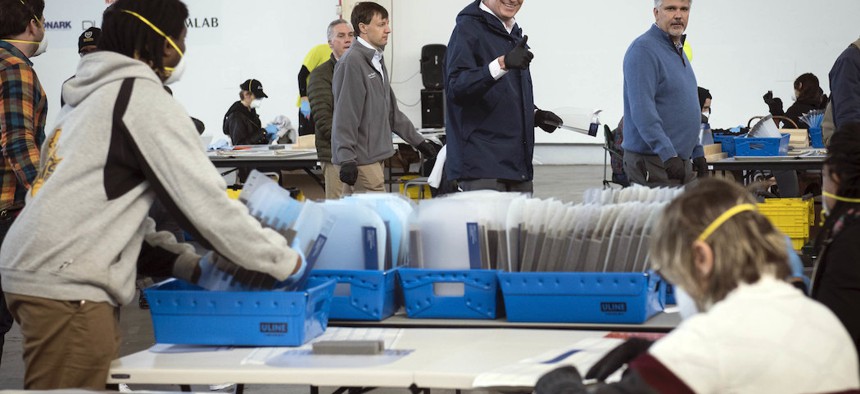 It wasn't the clearest photo – more Sasquatch sighting than mayor out on the town – but the silhouettes were easily recognizable: New York City Mayor Bill de Blasio and his wife Chirlane McCray were photographed taking a walk in Prospect Park on Saturday afternoon, in the midst of a coronavirus pandemic.
source sends along photo of Mayor de Blasio & Chirlane walking in Prospect Park earlier today pic.twitter.com/V6AtPLxQYk

— Ben Max (@TweetBenMax) March 28, 2020
City Hall press secretary Freddi Goldstein defended the stroll to City & State, saying that de Blasio and McCray were doing what they encourage all New Yorkers to do: "get out and exercise to keep your spirit, just do it safely and appropriately distance." 
Of course "distance" was the issue at hand – not the six-foot separation that all Americans are being asked to comply with to slow the spread of coronavirus, but rather the 11-mile drive between de Blasio's Upper East Side home in Gracie Mansion and Prospect Park, in the center of Brooklyn. That, when Central Park – a larger, rather famous, park designed by the same two men as Prospect Park – is merely one mile from de Blasio's front gate. That front gate, it's worth noting, lies within the confines of the 15-acre Carl Schurz Park which has walking paths of its own, including a promenade along the East River. 
Most New Yorkers, who do not have a chauffeured SUV to transport them at public expense, must currently forgo trips to far-away parks they may happen to prefer, since they have been advised by the city and state governments to "stay home to stop the spread of coronavirus" and to "stay at home as much as possible." In fact, even those who could afford to take a taxi have been advised not to do so unless necessary by public health professionals who say everyone should minimize in-person contact with others. As NPR reported on March 17, "The CDC is telling people to avoid discretionary travel … even if you're planning to drive to your destination, the whole goal of this 15-day hunkering down period is to keep your germs to yourself so we slow the spread of the virus – a concept known as flattening the curve. That means minimizing contact with others outside your immediate household."
City Hall said that while de Blasio was walking in Prospect Park he personally broke up groups of people that he felt were congregating too closely – a job he could have dispatched the NYPD to do and he himself could just as easily have done in one of the parks walking distance from his home. That's why his jaunt drew jeers on Twitter from some New Yorkers who noted that taking an unnecessarily long trip in the close confines of a car with his security detail was an example of what his own administration is urging people not to do. De Blasio wasn't breaking any laws or regulations, but he wasn't modeling good behavior either. 
Of course, this isn't the first time de Blasio has failed to lead by example or not taken the pandemic as seriously as public health experts say is necessary to limit the outbreak's severity and save lives. During a time when his fellow executive Gov. Andrew Cuomo has been receiving widespread – though not universal – praise for his response to the outbreak of COVID-19, de Blasio seems to only be receiving criticism for his missteps. Here's a guide to some of the most noteworthy ones.
De Blasio staffers threaten to resign
The mayor moved so slowly in responding to coronavirus, against the guidance of his top health officials, that some of them threatened to resign, according to reports on March 16 from The New York Times and the Daily News. De Blasio denied that anybody said they would resign, but seemed to admit to tensions, saying "people have had serious conversations," but sources told the Daily News there major disagreements over the mayor's "slow pace to adapt to information about how quickly (the disease) was advancing."
De Blasio goes to the gym
Mere hours before the state's mandate that all gyms close on March 16 in order to help stop the spread of the new coronavirus, de Blasio took part in his near-daily ritual of an 11-mile drive to the Prospect Park YMCA for a workout. 
De Blasio tells people to go to bars
By the afternoon of Sunday, March 15, it was quite clear that strict regulations on gathering at bars and restaurants were soon to come. A 50% capacity reduction was already in place, but compliance seemed inconsistent, and enforcement, sporadic to non-existent. Rep. Alexandria Ocasio-Cortez was just one of the numerous New Yorkers calling for more social separation that weekend. But instead of encouraging people to stay at home, de Blasio told New Yorkers to go for one last drink. "If you love your neighborhood bar, go there now," he said at a press conference, "because we don't know what the future holds."
De Blasio tries to avoid closing schools
By Friday, March 13, at least five other states less affected by coronavirus had already shut down their schools in order to slow the spread of the COVID-19, as well as Los Angeles and San Diego, two of the largest school districts in the country. But de Blasio wasn't ready to make changes yet, even though about one-third of New York City public school students were absent that day. Two days later, on Sunday the 15th, after Cuomo announced city schools would be closed starting the next day, de Blasio confirmed the news.
De Blasio tries to avoid shutting down Broadway
New York City's live theater industry shutdown for at least a month on Thursday, March 12, a day before the ban on gatherings of 500 or more people was set to go into effect. But that morning, de Blasio was still holding out hope that a different decision could be reached.
"I don't want to see Broadway go dark, if we can avoid it," he told CNN that morning. "I want to see if we can strike some kind of balance."
De Blasio gives a movie recommendation
The mayor isn't necessarily known for his artistic taste, but he was eager to share a movie recommendation the night of Mon. March 2, the day that New York City had its first confirmed case of coronavirus. "Since I'm encouraging New Yorkers to go on with your lives + get out on the town despite Coronavirus, I thought I would offer some suggestions," de Blasio tweeted. "Here's the first: thru Thurs 3/5 go see 'The Traitor"'@FilmLinc. If "The Wire" was a true story + set in Italy, it would be this film."
Weeks later, on Sun. March 29, de Blasio didn't seem eager to talk about movie recommendations with CNN's Jake Tapper. Was your message telling New Yorkers to go about their lives "at least in part to blame for how rapidly the virus has spread across the city?" Tapper asked the mayor.
"We should not be focusing, in my view, on anything looking back on any level of government right now," de Blasio replied. "This is just about how we save lives going forward."
Powered By
NEXT STORY: Andrew Cuomo finds his inner Mario