New York State
The state Senate is still hemorrhaging Republicans
A growing number of GOP incumbents won't be running for reelection.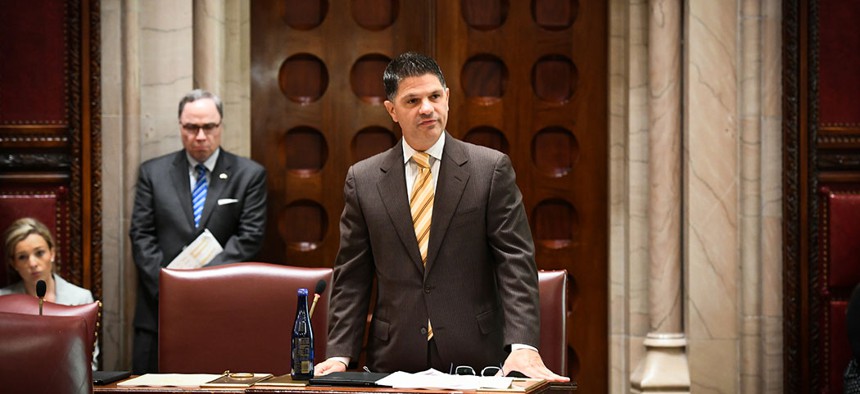 Life has not been kind to the state Senate Republicans over the past year. They lost their majority, their real estate donors and possibly their minds as the Democrats passed one landmark bill after another. Even state Senate Minority Leader John Flanagan is giving up (although state Sen. Robert Ortt fell short of getting the GOP nomination to succeed the felonious former congressman Chris Collins, so he is heading back to Albany for another tour of duty – just like we said he might). 
Sure, they still get to walk around their (mostly) upstate districts with the swagger becoming of the title state senator. But other than free Saratoga water and comfy leather chairs, there just is not that much left for them in the cozy confines of the state Senate chamber – other than some occasional grandstanding.They could (in theory) win back control of the chamber next year, but they would need to flip nine seats in the 63-seat chamber. It is not likely that the 23-member GOP conference is capable of such an electoral miracle, but there are more than a few vulnerable Democratic incumbents on Long Island, in the Hudson Valley and even in Brooklyn – so you never know! 
But given the long odds, it should come as no surprise that some GOP senators are already eyeing the exits. Here's who has already signaled that they are looking to get out of Albany.
Robert Antonacci
The freshman state senator didn't even make it halfway through his first term before he decided to ditch Albany for an open state Supreme Court seat. He'll now get to spend his days wearing judicial robes and hearing all about civil and criminal conundrums. Better than listening to the Democrats calling the shots!
George Amedore
Upsetting some pesky environmentalists along the way, he has championed the interests of businessmen like himself during three terms in the state Senate, following more than five years in the Assembly. After recently announcing that he will not run for reelection in 2020, the Hudson Valley legislator can get back to what really matters: a family construction business that made him the highest-earning state lawmaker – and maybe a return to reality television.
Chris Jacobs
The nephew of hockey baron Jeremy Jacobs, Chris Jacobs also fancies himself a congressman and has plenty of family connections to help him achieve that dream. Unfortunately, the 27th Congressional District is not big enough for both Jacobs and Robert Ortt. If Jacobs fails to get the party nod (and opts not to run for reelection in the state Senate), then he'll have more time to practice his MAGA pitch for his next tryout for the legislative bigtime.
Betty Little
The longtime North Country state senator is calling it quits after nearly 25 years in the state Legislature. While she cruised to reelection in 2018, she was facing another challenge in 2020. It's easy to see why she wants to retire, since there is more to life than campaigning – especially if you have 18 grandchildren.
Michael Ranzenhofer
"Family" considerations and a desire not to drop dead in office are the stated reasons why the western New York legislator is hanging up the old spurs after 30 years in elected office. Six terms in the state Senate have featured some wins and losses – but a successful fight to overcome opposition to making yogurt the official state snack must've left a delightfully sour taste in his mouth.
Joseph Robach
The Rochester-area Republican was willing to admit that Democratic dominance of the state Legislature was the reason behind his decision to leave Albany after 28 years, not all of them spent as a Republican. A big Democratic voter enrollment advantage in his district and a slate of Democratic challengers also probably made him feel antsy about his reelection prospects. Once he is gone, who is going to entertain (the remaining) GOP senators with a little Senate floor humor?
Rich Funke
The former Rochester TV anchor used the boob tube to announce he will call it quits after his sixth legislative season concludes next year. "I will end my time in elected office next year on my own terms." Sure beats getting canceled by voters.
Ken LaValle
Even the dean of the Senate is looking for a new job. The 80-year-old lawmaker's upcoming retirement after more than four decades in the state Legislature gives him the opportunity to take in more games at that eponymous sports stadium, but it looks like he's set on keeping busy with an unnamed new role at Stony Brook University. 
James Seward
The Otsego County legislator said in January that health issues mean he is giving up the seat he first won in 1986. His upcoming retirement means that, after 2020, there will no longer be any state senators who first came to office in the 1980s. So much for winning one for the Gipper ….
John Flanagan
While Flanagan had previously said that he was going to run for reelection, the Long Island lawmaker now says that he just has to spend more time with his family after spending 34 years in Albany. Nothing inspires confidence quite like having your leader quit on you, but at least some upstate Republican will get a chance to become state Senate minority leader now that Flanagan is on his way out.
Powered By
NEXT STORY: $2 trillion Senate bailout 'terrible for New York'