New York State
State legislative calendar still up in the air
State Senate source says it could resume this month, but lawmakers have no details.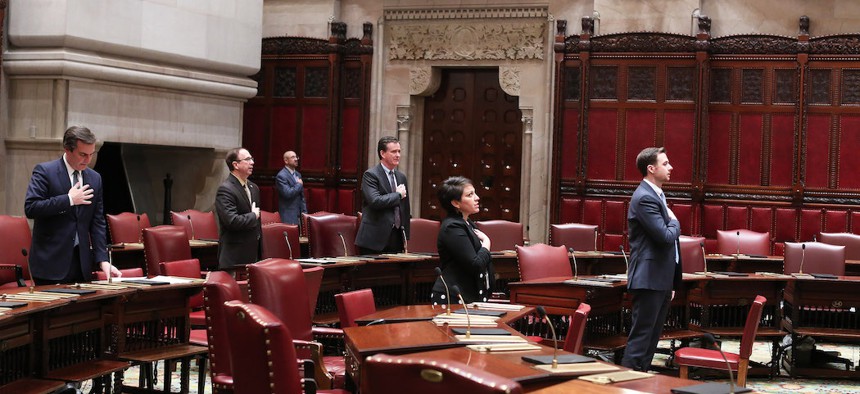 The state Senate and Assembly have been on break since they passed the state budget early this month. Their pre-coronavirus schedule had them returning to session on Monday, April 20, but legislative leaders have not announced any concrete plans at this point to continue lawmaking in the weeks ahead – though anything can always happen in Albany.
Though their counterparts in other states and New York City are finding ways to work through the crisis, legislative leaders in New York have yet to say when the lawmaking will continue. "The only update we've received is that the Senate will reconvene," said state Sen. Julia Salazar. "But not next week as the legislative calendar would otherwise say we would."
Yet there is a chance the state Senate could meet by the end of the month, according to a Senate source. A handful of legislators would be on the floor, similar to what took place during this year's state budget votes, while other members would be able to check in remotely for session and speak remotely on the session livestream. It's unclear whether the Assembly might explore similar steps, and a spokeswoman for Assembly Speaker Carl Heastie did not provide any clarity on the matter by publication time.
Both the Assembly and the state Senate are officially still in session at the calls of Heastie and state Senate Majority Leader Andrea Stewart-Cousins. While both leaders have said that they want to reconvene this year, logistical and political barriers stand in their way in making this happen in the short term.
Some lawmakers want to suspend rent and help undocumented immigrants left out of other government assistance programs. Others want to give state workers a pay increase. There is a long list of issues that could still be addressed this year, from marijuana legalization to asserting the state Legislature's power over looming budget cuts. 
But Democrats and Republicans alike say they are in the dark. "So many things are not being done," said Assemblywoman Yuh-Line Niou. "But I don't know what is going to happen." 
While some lawmakers say they want the session to resume this month as originally scheduled, others expect that will not happen until after the June 23 primary, which would help incumbents avoid any politically risky votes. Such a timeline would also allow the severity of the pandemic to subside enough to diminish the danger to lawmakers, many of whom are older and vulnerable to the coronavirus. "I would say July to the end of the year," Assemblyman David Weprin said of when he expects state lawmakers to start meeting again. 
Two issues that lawmakers might need to address sooner rather than later are tenant protections and billions of dollars in borrowing authority for New York City, which Mayor Bill de Blasio said on Thursday is necessary for the city to weather a dramatic drop in revenues. Neither Stewart-Cousins nor Heastie have taken anything off the table officially, though they have only spoken in generalities in recent weeks. "There is a very good chance that we will pass a bill that will help renters," Stewart-Cousins told WNYC on Monday. "We don't see (the session) as over, not only around COVID but also around other things." 
The process for making that happen would be based on the system used during the budget process, according to representatives of Stewart-Cousins and Heastie. During state budget votes, Assembly members didn't have to appear in the chamber unless they wanted to vote against their conference, but they did have to check in in person. Senators were able to check in remotely, but could appear on the floor to vote against bills they opposed. The Senate source said that while technology was available to allow members to speak remotely, none asserted their senatorial prerogative to do so during budget votes, though that could become common if session is held remotely in the upcoming weeks.
Whether it takes weeks or months to resume legislating, some among the rank-and-file say they want more clarity on how the process would work without requiring lawmakers to go to Albany to check in or enter the chamber to debate. "I don't know how it will work," Assemblywoman Deborah Glick said during an April 13 conference call with activists urging legislative leaders to iron out details as soon as possible. "I don't know how we will register votes."
Correction: This post has been updated to reflect that state senators did not have to appear on the floor to vote against budget bills they opposed, although several chose to do so.
Powered By
NEXT STORY: Cuomo's in charge – and that's an order